If you're on the hunt for a plant-based treat that's both satisfying and scrumptious, look no further than these Chewy Cranberry Oatmeal Cookies.
Packed with wholesome ingredients and bursting with flavor, these cookies are a delightful option for vegans and non-vegans alike.
With the perfect blend of chewiness, sweetness, and a hint of tartness from the cranberries, you'll savor every bite.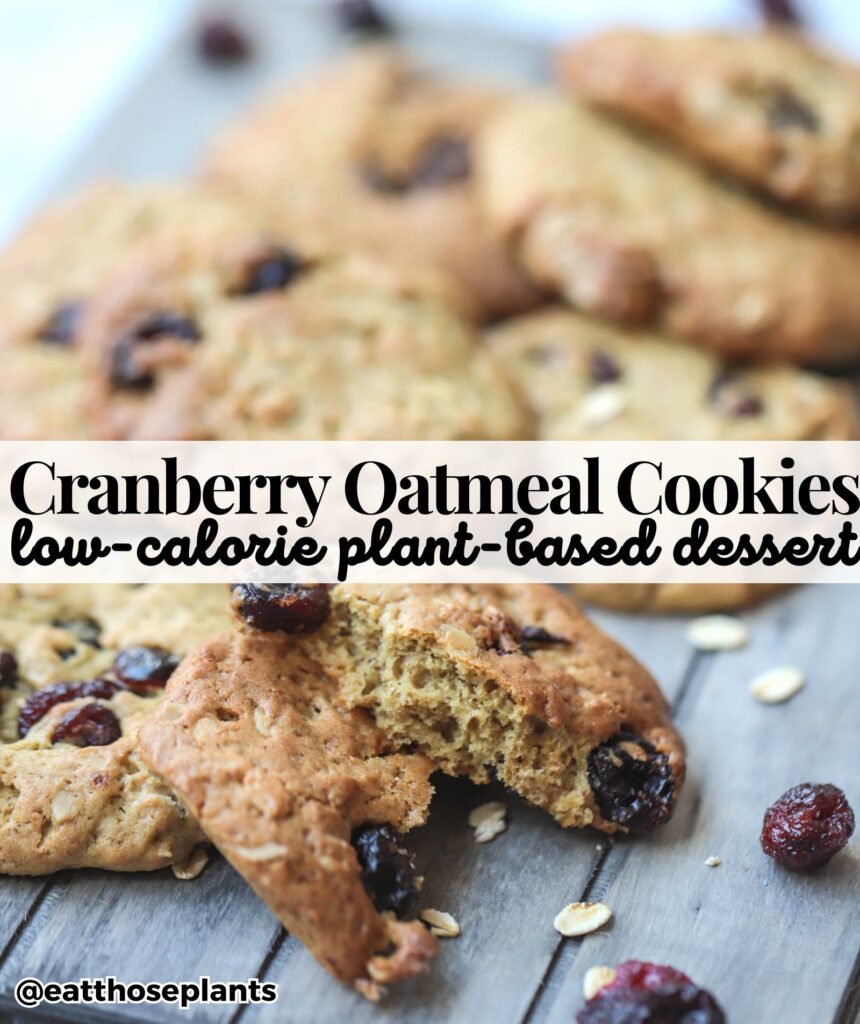 This post contains affiliate links, which means if you click a link and make a purchase, I may earn a small commission at no additional cost to you. See the full details
here
.
Cranberry Oatmeal Cookies Overview
Makes: 22 cookies
Prep Time: 10 minutes
Cook Time: 20 minutes
Calories: 146 per cookie
Fats: 5g per cookie
Carbs: 24g per cookie
Protein: 2g per cookie
Fiber: 1g per cookie
RELATED: Vegan Carrot Cake With Cream Frosting
Vegan Oatmeal Cookies Ingredients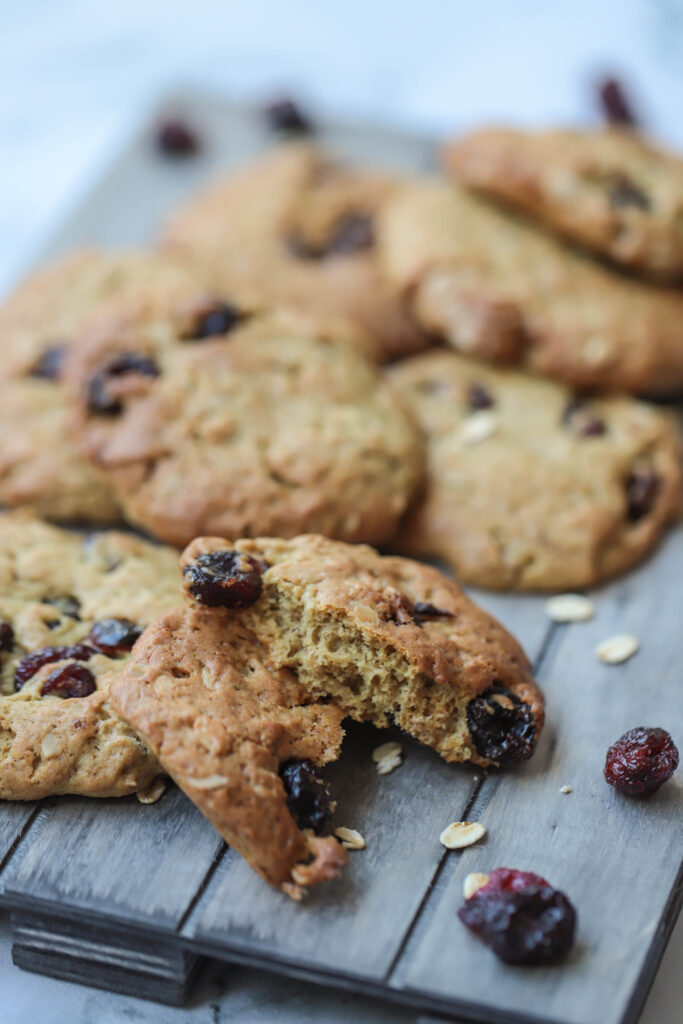 Wet Ingredients
1/2 cup (110g) solid coconut oil
1 cup (200g) brown sugar
1 banana, mashed
1/4 cup (60ml) unsweetened almond milk
1 tsp. vanilla extract
RELATED: Vegan Banana Muffins (Plant-Based Dessert Recipe)
Dry Ingredients
2 1/4 cups (270g) all-purpose flour
1 tsp. baking soda
1/2 tsp. sea salt
1 cup (80g) rolled oats
1/3 cup (40g) dried cranberries
RELATED: 8-Ingredient Peanut Butter Christmas Cookies
Plant-Based Oat Cookies Instructions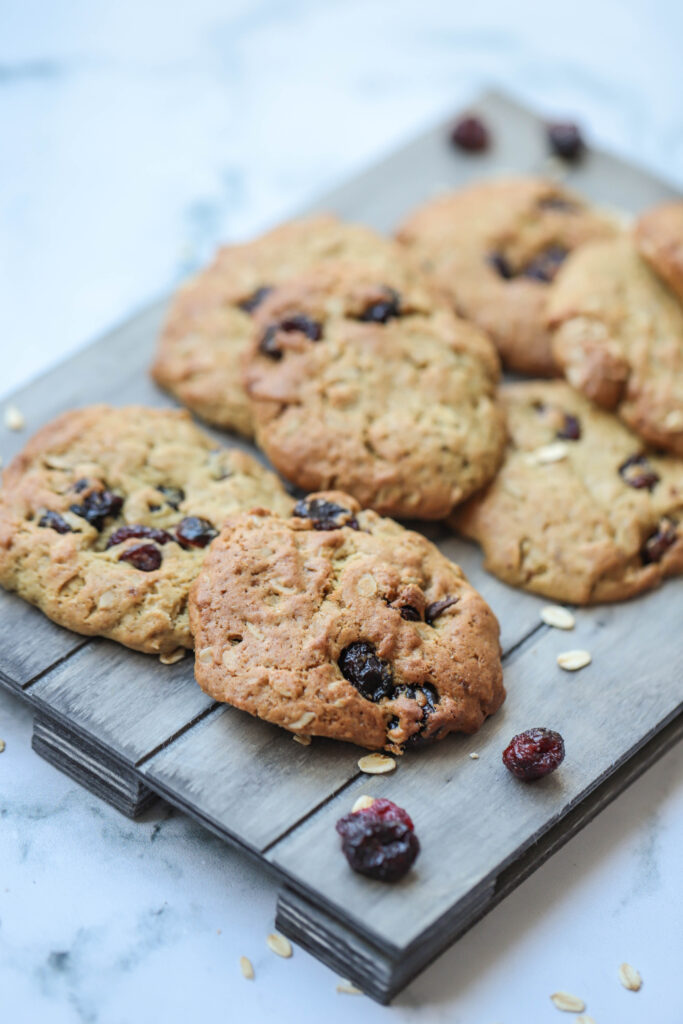 1. Preheat and Prep
Start by preheating your oven to 375°F (190°C) and line a baking sheet with parchment paper.
Or, you can use these super cool mats!
I used parchment paper for years before discovering these but now I save so much money (plus they're easy to clean too!) 😉
2. Blend the Wet Ingredients
In a food processor or using a hand blender, combine the solid coconut oil and brown sugar until they form a delectably smooth blend. The coconut oil adds a wonderful richness to these cookies, and the brown sugar imparts that perfect sweetness.
3. Combine with Plant-Based Goodness
Transfer the creamy coconut oil mixture into a bowl, then fold in the mashed bananas, unsweetened almond milk, and a dash of vanilla extract. This combination not only provides moisture but also infuses a lovely depth of flavor.
4. Mix the Dry Ingredients
In another bowl, whisk together the all-purpose flour, baking soda, sea salt, and the secret ingredient for chewiness: rolled oats. These oats add a comforting texture and a hint of nutty flavor. However, hold off on the dried cranberries for now; they'll make their entrance later.
5. Marry the Wet and Dry
Now, it's time to bring everything together. Gently fold the dry ingredients into the wet mixture until they harmonize beautifully. This will create a cookie dough that's just waiting for a burst of tartness.
Stir in the dried cranberries, which will provide delightful little pops of flavor and a touch of tartness in every bite.
6. Form and Bake
Take small portions of the cookie dough and shape them into balls. Place these delightful dough balls on the prepared baking sheet and gently flatten each one, leaving just enough space between them for that perfect cookie spread.
Slide the baking sheet into your preheated oven and let the magic happen. After just 10 minutes of baking, your home will be filled with irresistible aromas.
7. Cool and Indulge
Once they emerge from the oven, transfer the cookies to a wire rack to cool completely. This allows them to set beautifully, so they're ready for indulgence.
8. Enjoy the Plant-Based Goodness
While these cookies are cooling, you can savor the anticipation of their chewy, cranberry-filled goodness. The slight tartness of the cranberries pairs wonderfully with the sweetness of the brown sugar, creating a flavor symphony in every bite.
Pro tip: Rather than overcrowding the baking sheet, bake the cookies in two separate batches to ensure they have enough room to spread and become wonderfully chewy.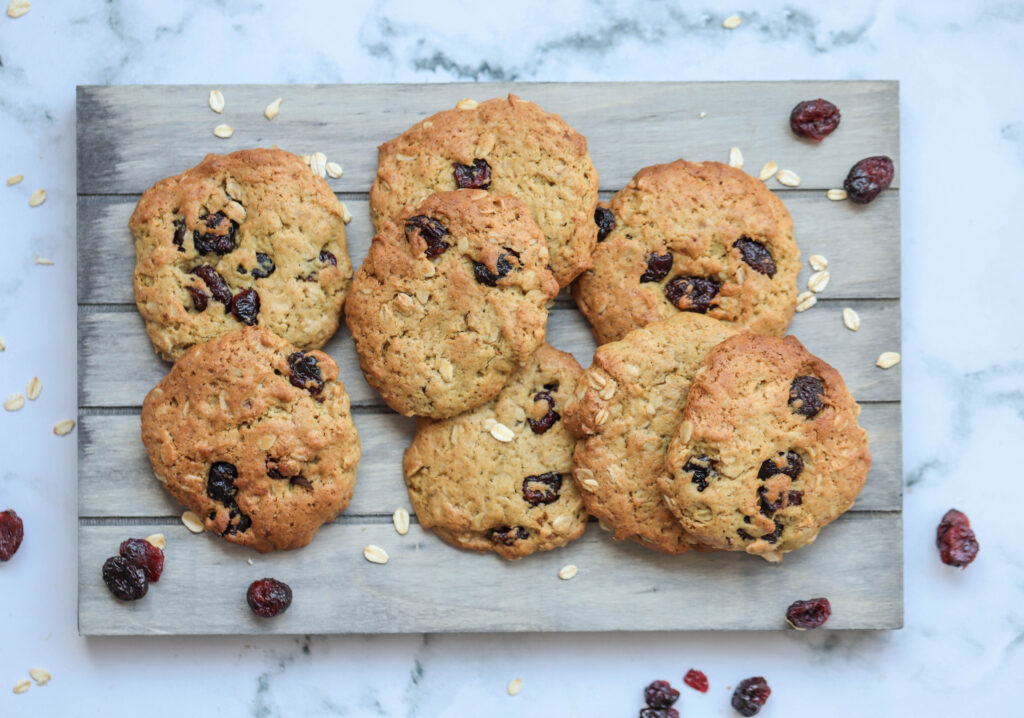 Final Thoughts
These Chewy Cranberry Oatmeal Cookies aren't just plant-based; they're a delightful testament to the joys of vegan baking. With every bite, you'll experience the heartwarming comfort of oats, the subtle richness of coconut oil, and the delightful tang of dried cranberries.
Whether you're a seasoned vegan or just curious about plant-based treats, these cookies are a must-try. Bake up a batch and share the plant-based goodness with family and friends.
They'll love every bite, and you'll revel in the delight of homemade vegan cookies that are both wholesome and utterly irresistible. Enjoy!
Try these plant-based cookies, too!