Summertime is fast approaching and let's be honest… who doesn't want to look skinnier in a bikini while lounging at the pool or beach?!
The sun is shining, there are waves crashing in the distance, and a fresh breeze blows by every once in a while.
It sounds like heaven on earth!
But when it comes time to actually put on your swimsuit, do you get nervous about how you look?
Do you think you look fat in your bikini?
If so, don't worry!
In this blog post, we're going to talk about how you can look skinnier in a bikini or swimsuit — so you can enjoy your summer too!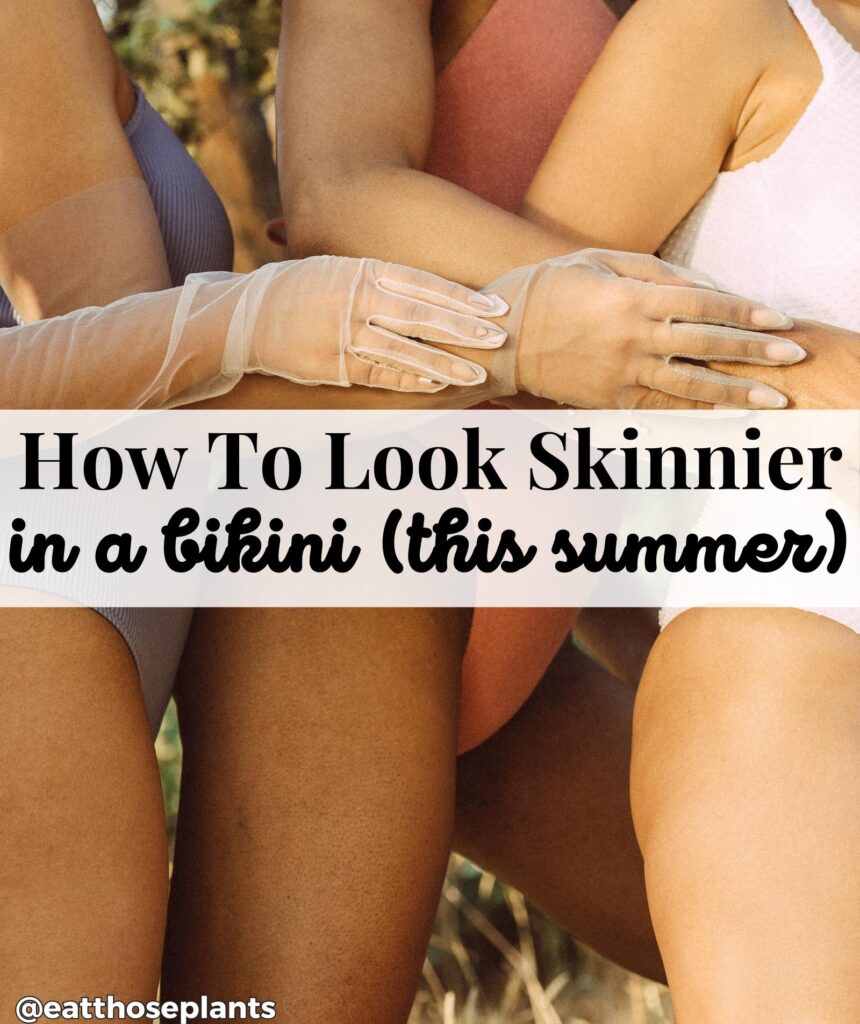 This post contains affiliate links, which means if you click a link and make a purchase, I may earn a small commission at no additional cost to you. See the full details
here
.
Can Chubby Women Rock Bikini Bodies?
Do you feel awkward wearing a bikini if you're on the chubby side?
Do you feel shy, always hiding behind your beach towel?
Well, you shouldn't!
As long as you find a bikini that makes you feel comfortable, that's the only thing that matters.
A little trick to help you feel more confident while wearing a bikini is simply just knowing that it's all about how confident you are.
The best thing for your confidence is remembering the things you love about yourself!
Knowing what makes you stand out will make people notice and appreciate those things, too.
You don't have to be stick-thin to rock a bikini. You just have to have confidence!
But if you don't have ALL the confidence you need right away, here are some tips to help you GAIN confidence by looking skinny in a bikini.
How To Look Skinny In A Bikini
1- Hide Belly Fat First
How do you hide belly fat in a swimsuit?
The most important thing to consider if you want to hide belly fat in a bikini is the cut of the suit.
If you're shopping for a bikini, look for one with high-cut sides and low back coverage to cover any bulges on your midsection.
Another great option is an asymmetrical design that will draw attention away from your stomach area and towards other parts of your body such as the hips or chest.
This High-Waisted swimsuit is perfect for plus-sized women to hide belly fat!
2- Wear darker colors
Wearing a dark color bikini can make you look thinner.
Darker colors tend to recede from the eye, which tricks your brain into thinking that what is darker on your body looks smaller than lighter shades of the same garment.
In other words, wearing a black swimsuit will draw less attention to any bulges or curves, and you'll automatically look slimmer in your bikini!
3- Use flattering lines or patterns
If you have a fuller tummy, try finding a bikini with flattering lines or patterns that will draw the eye away from your stomach.
A vertical stripe is perfect for this! The bold pattern draws attention upwards and can help elongate your figure to make you look skinny even if you're not!
What about an asymmetrical design?
As I said before, asymmetrical design is the perfect distraction to help you look skinnier in your bikini or swimsuit this summer.
It draws attention away from your waistline and instead, the eye moves to other parts of your body.
And if you're wearing a one-piece swimsuit, an asymmetrical neckline will help draw focus up and outwards.
A halterneck or deep V-back design can also be effective in creating the illusion that you are much slimmer, too!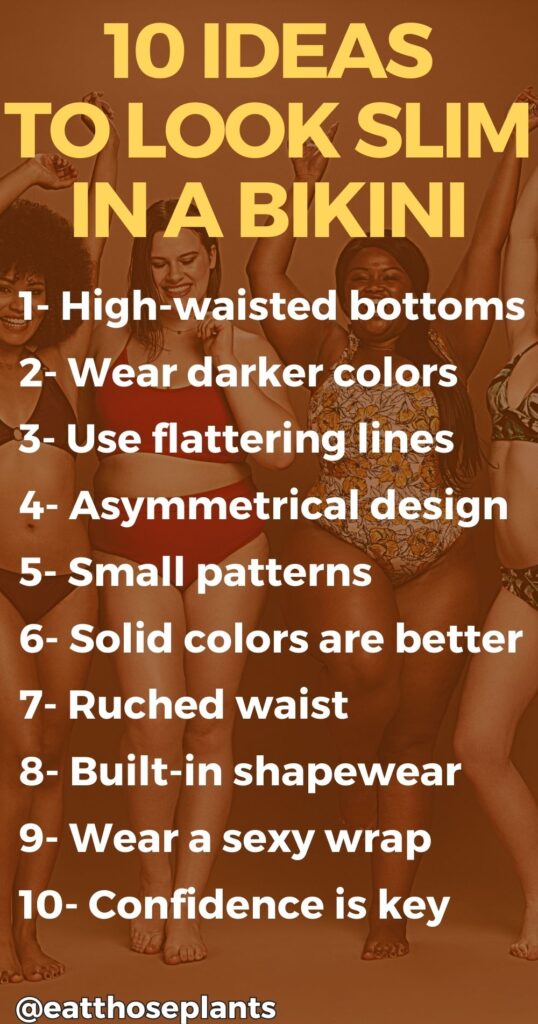 4- Solid colors or smaller prints work best
Solid colors or smaller prints are the way to go when you're trying to make a particular area of your body look slimmer.
Large, bold patterns will only accentuate any excess weight and draw attention away from what can't be hidden underneath!
Patterns like paisleys and polka dots are so perfect if you have extra bulges or belly fat to hide.
This super-cute plus-sized polka-dot bikini is an excellent example of a swimsuit that can help you look skinnier.
The polka dots are just the right size, and the contrast between the red and black is exactly what you need!
Furthermore, the high waist is perfect for hiding belly fat, and the looseness and length of the bikini top add elegance, flow and coverage to help you look leaner and also feel more secure.
5- Texture and ruching at the waist
Ruching is another great technique to slim the waist down.
Ruching is a technique where fabric is gathered and sewn to create a pattern.
Using this technique at the waistline gives you that exaggerated hourglass shape that many women seek.
Ruching also adds volume and weight to an area without adding bulk, which makes it perfect for hiding excess fat around your stomach or hips.
If ruched fabric is used in the lining of a garment, it will add structure and support to your silhouette.
This ruched bikini is perfect to hide belly fat and provides extra tummy control and support.
I especially like the tie-front detail. It's a simple black bikini but the ruching and the tie front give it a little extra flair to make it anything but basic.
6- Find a bikini with shapewear built-in
Next, shapewear is crucial if you really want to look as skinny as possible in your bikini!
If you're not sure what shapewear is, it's a type of undergarment that provides support and compression to the stomach area.
The best shapewear for a bikini includes tummy control panels or fabric which are designed specifically to slim your midsection!
Another critical component of shapewear is adequate bra support and coverage.
Go for the "lean and lifted" look if you want to look skinny.
This gorgeous purple and blue mermaid-inspired plus-sized bikini is the perfect example of what you should look for.
7- Wear a bikini wrap
Finally, the best way to look skinnier in your bikini is to wear a comfortable bikini wrap or an elegant robe.
This will conceal any curves you want help hiding and provide you with a more flattering silhouette!
I highly recommend this one on Amazon!
I have both black and white versions and have had them for years (as my body has gone up and down in size).
The material is breathable and the robes are long and flowing. I love how elegant and beautiful I feel floating around the beach or pool!
I get compliments on these every single time I wear them, and it never hurts to feel super sexy either, right?
Final thoughts
Overall, if you want to look slimmer and sexier in your bikini, there are so many different options you can try!
Best of luck to you in rocking it out with confidence on the beach or at the pool this summer! 🙂