Hummus is one of the best vegan dips and spreads if you want to eat healthier without compromising flavor.
But store-bought hummuses can be both expensive and loaded with ingredients that you'd be better off avoiding.
Lucky for you, making your own hummus at home couldn't be easier with this quick and tasty recipe!
And it can be made without oil and/or tahini if you're looking for an even lighter option!
Here's how to make your own hummus in just ten minutes.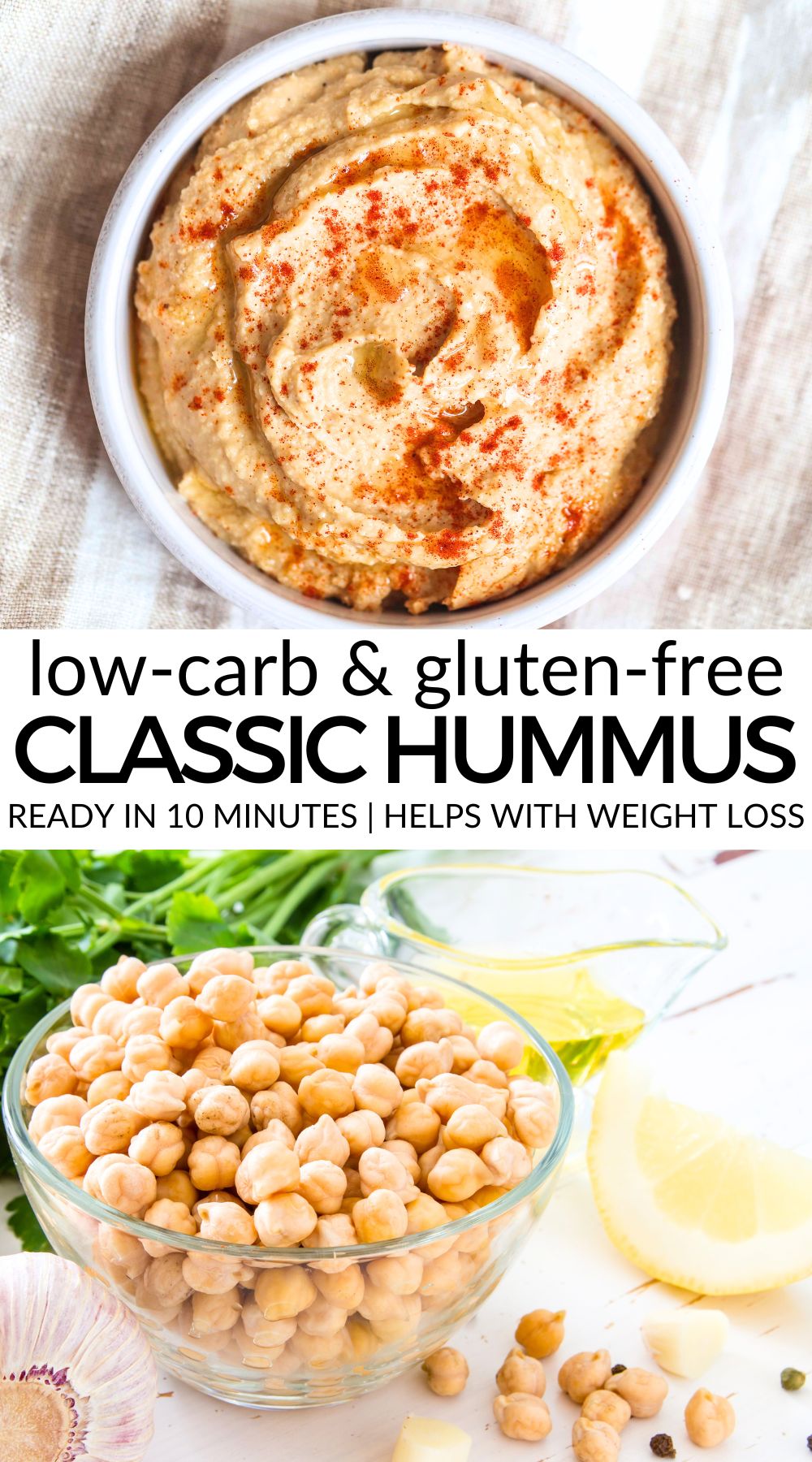 This post contains affiliate links, which means if you click a link and make a purchase, I may earn a small commission at no additional cost to you. See the full details
here
.
Recipe Overview
Prep time: 10 minutes
Calories: 100 kcal
Fats: 7g
Carbohydrates: 6g
Protein: 3g
Dietary Labels: Gluten-Free, Dairy-Free, Low-Carb, Meal Prep, Vegan, Quick
Homemade Hummus Ingredients
14 oz. (400g) can of chickpeas, drained
1 clove garlic
½ teaspoon cumin
Juice of ½ lemon
2 tablespoons tahini
2 tablespoons olive oil (use less or sub for water to reduce calories)
1 teaspoon salt
A pinch of black pepper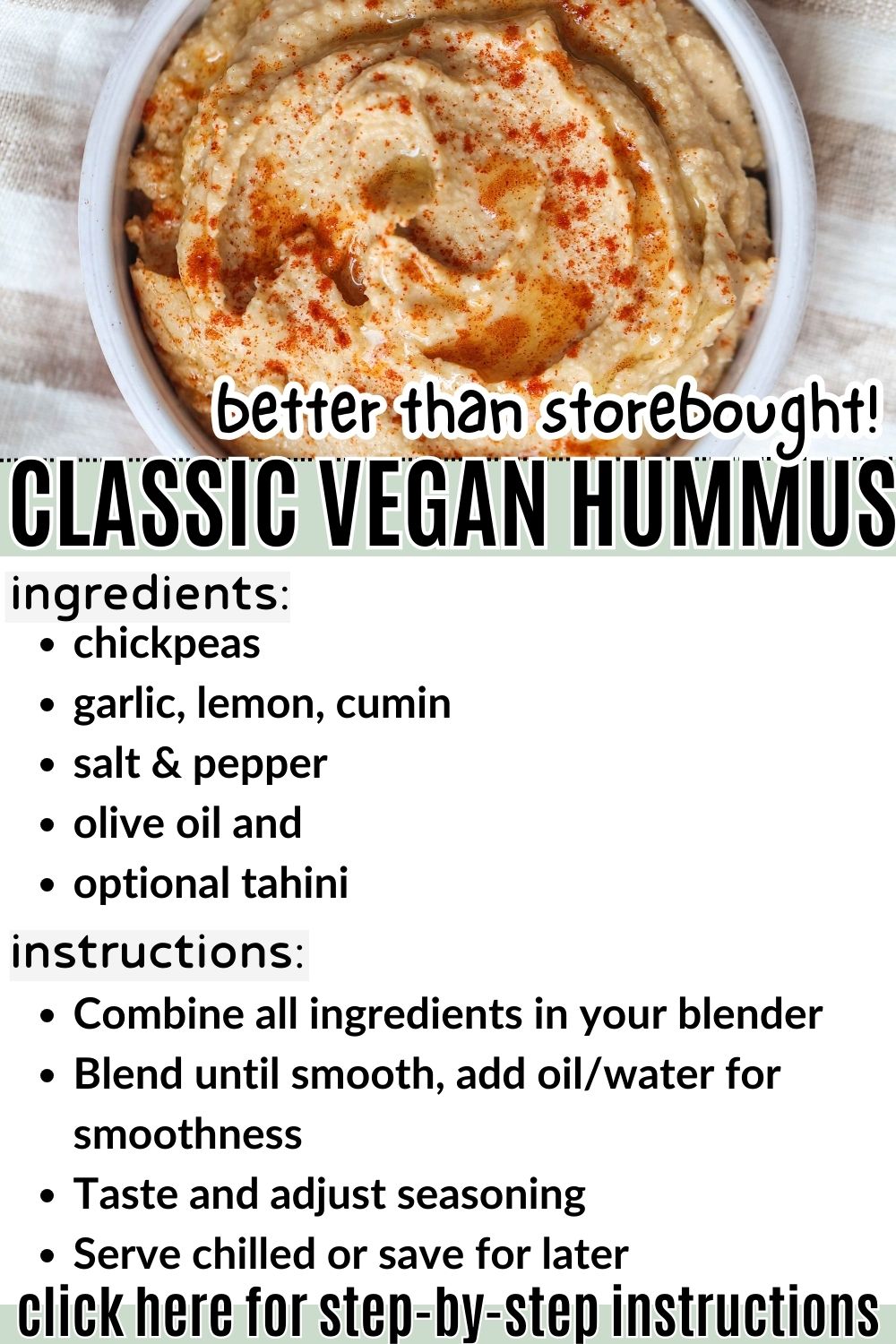 How To Make Hummus
Combine all ingredients in your blender or food processor
Blend until smooth, drizzling in oil or water if you need things to smooth out some
Taste the hummus and adjust the seasoning according to your preference
Transfer the hummus to a bowl or an airtight container and place it in the refrigerator to chill
Serve chilled or save for later
Serving Suggestions
Here are a few serving suggestions and ideas for enjoying your hummus:
Enjoy the hummus as a dip with a variety of fresh veggies like carrots, cucumbers, and bell peppers.
Spread it on sandwiches or wraps for an extra layer of flavor.
Use it as a base for a Mediterranean-inspired salad bowl.
Create a healthy wrap with tons of veggies, chickpeas and greens and add hummus for flavor and moisture.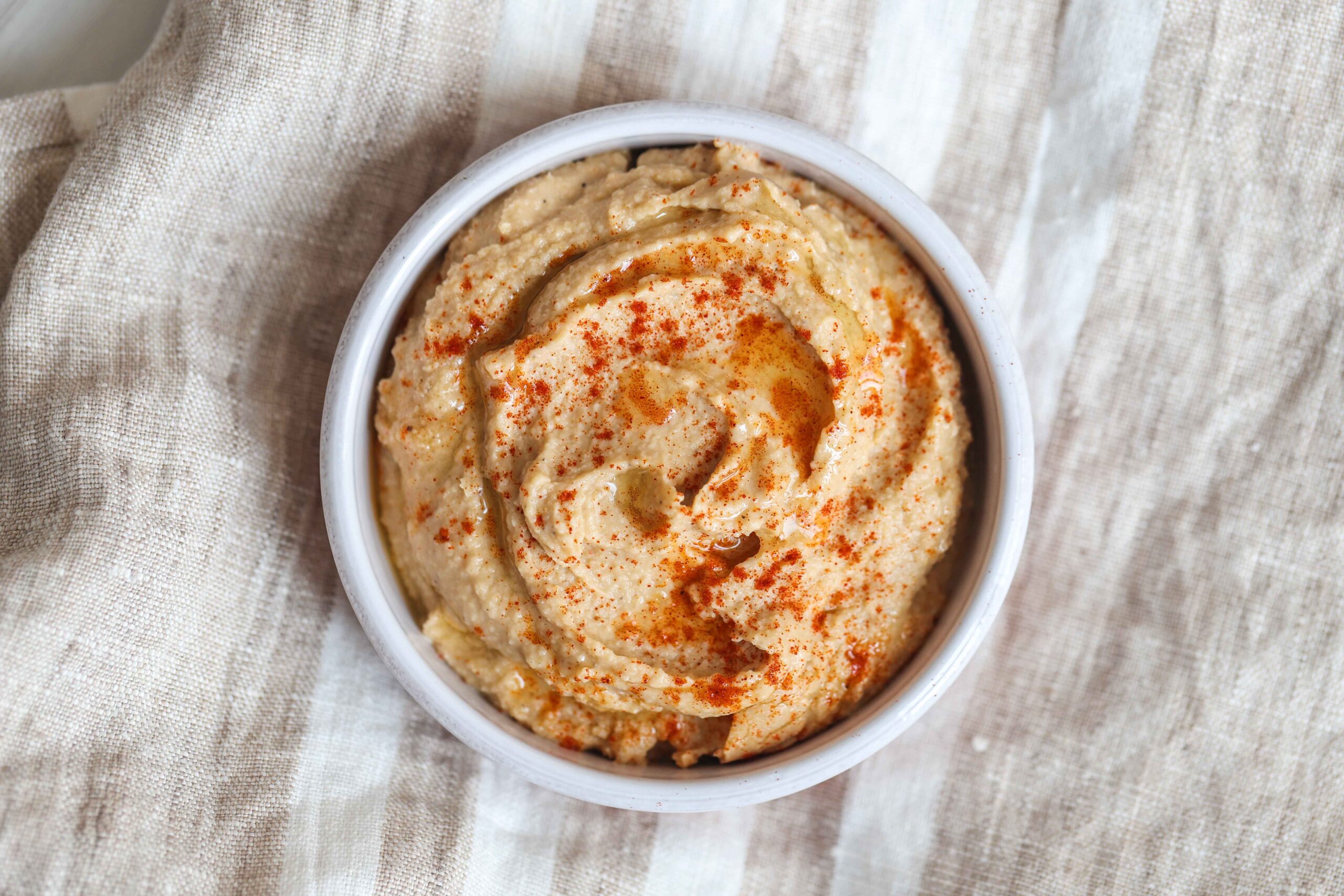 Make it Without Tahini
As previously stated, you don't have to use oil in this recipe if you don't want to (but it will help with the texture.)
Oil has so many calories and is 100% fat, so I tend to avoid it. But for this hummus recipe I use a dash of oil just to smooth things out.
You can also make this recipe without tahini if you don't have any or don't want to use it!
But I would not go without both oil and tahini.
If I had to choose I'd rather use tahini and no oil, but that's just me!
You may have to play around with ratios to see what works best for you, but I wanted to be honest and tell you what I always do!
The bottom line
I hope you enjoyed my favorite hummus recipe!
I usually make a batch on meal-prep days so that I have it on hand for a quick snack or addition to my vegan salads or bowls.
It really does save so much time and money to just make your own hummus.
Let me know what you think!