Looking for a high-protein vegan dinner that is also low-calorie, gluten-free, and comes together in just 30 minutes? This Italian Stuffed
Portabella Mushroom brings together the robust flavors of sun-dried tomatoes, fresh herbs, and hearty tofu to create a culinary delight that's as nutritious as it is delicious!
Whether you're a long-time vegan or just looking to incorporate more plant-based options into your meals, this recipe is sure to please your palate and support your protein needs.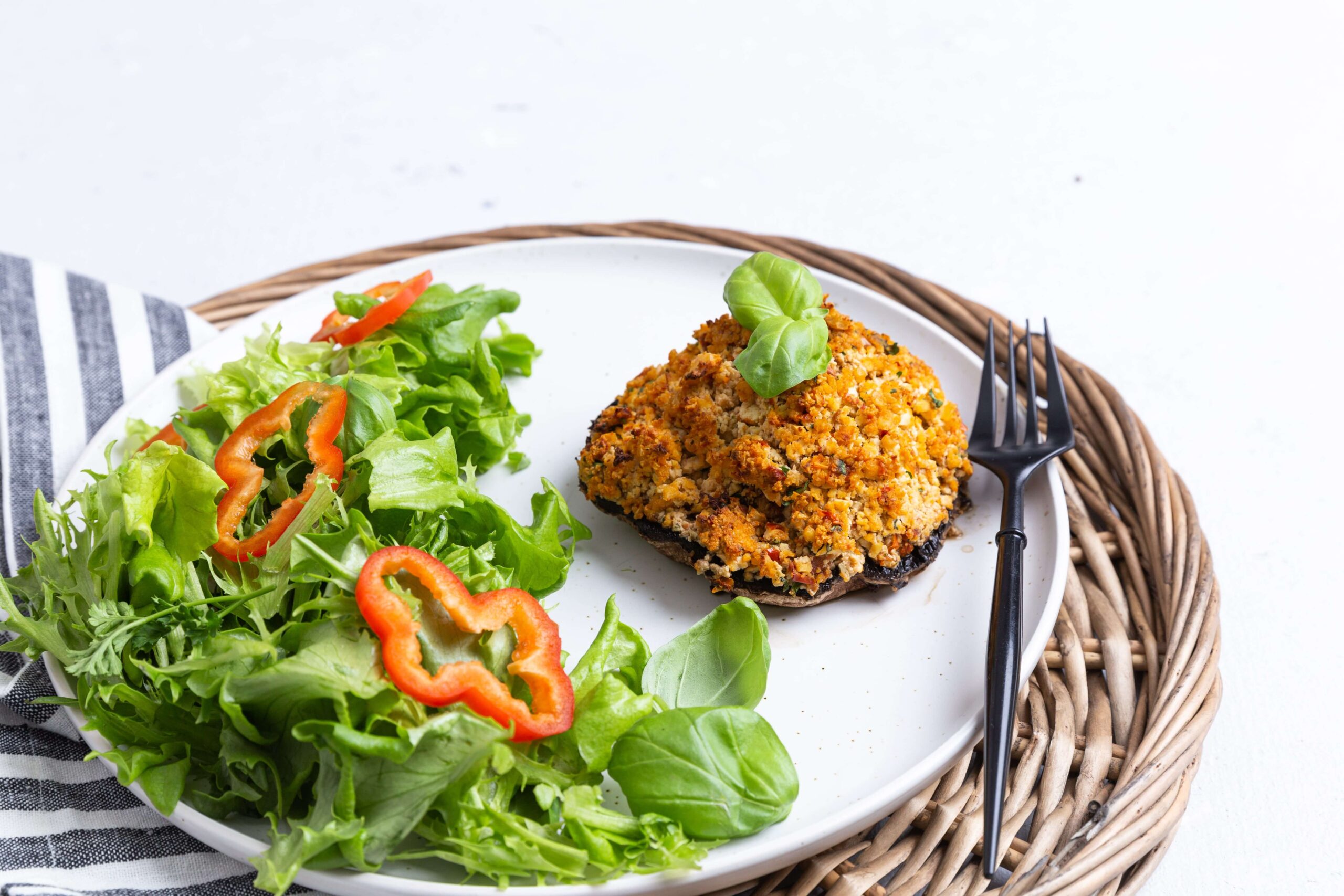 This post contains affiliate links, which means if you click a link and make a purchase, I may earn a small commission at no additional cost to you. See the full details
here
.
Stuffed Mushroom Nutrition Facts
Calories: 252 per serving
Fats: 8g per serving
Carbohydrates: 27g per serving
Protein: 24g per serving
Dietary Labels: Gluten-Free (GF), Vegan (V)
RELATED: "Where Do You Get Your Protein?" A Plant-Based Guide
Stuffed Mushroom Recipe Overview
Prep Time: 10 minutes
Cook Time: 20 minutes
Serves: 4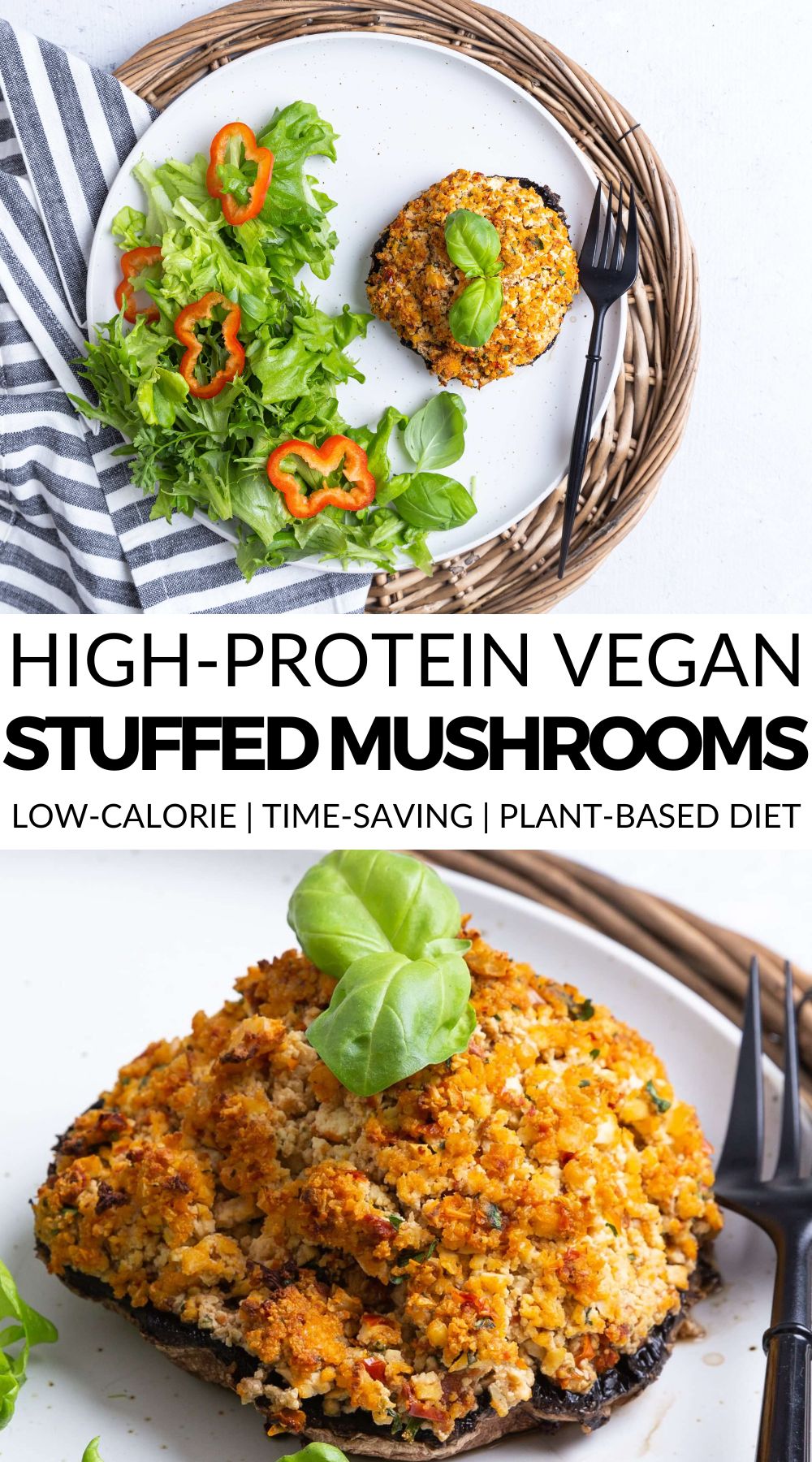 Stuffed Mushroom Ingredients
4 large portabella mushrooms
12 oz. (350g) extra firm tofu
1 cup (54g) sun dried tomatoes in oil, drained
½ cup (25g) packed fresh basil leaves
¼ cup (13g) packed fresh parsley
2 cloves garlic, minced
2 tbsp. nutritional yeast
Juice of ½ lemon
Salt and pepper to taste
8 cups mixed salad leaves
Vegan Mushroom Instructions
Start by preheating your oven to 350°F (180°C) and line a baking sheet with parchment paper.
Clean the portabella mushrooms and remove their stems, then place them cap-side down on the baking sheet.
In a food processor, combine sun-dried tomatoes, basil, parsley, garlic, nutritional yeast, and lemon juice. Add salt and pepper. Pulse until it forms a chunky paste.
Cut the tofu into large cubes and add to the food processor. Pulse until the mixture has a crumbly texture.
Divide the tomato-tofu mixture evenly and fill each mushroom cap.
Bake the stuffed mushrooms for 18-20 minutes until they are soft and the filling is warm.
Serving Suggestions & Tips
Serve the stuffed mushrooms with a side salad made from mixed salad leaves and any other favorite salad toppings.
For the best texture, press the tofu before chopping to remove excess moisture.
Make sure the filling is not too fine to keep some texture after baking.
Conclusion
This Italian Stuffed Portabella Mushroom recipe is a hearty, gluten-free, and vegan dish that's rich in flavor and protein, perfect for a satisfying meal. Enjoy the blend of sun-dried tomatoes, herbs, and tofu stuffed in tender mushrooms with a fresh side salad.