Carrot cake, a timeless classic, gets a healthy and plant-based makeover in this delicious recipe.
Packed with all the goodness of carrots and the richness of vegan frosting, this dessert is a treat for your taste buds and your health.
Plus, it's incredibly easy to make and will have you coming back for seconds!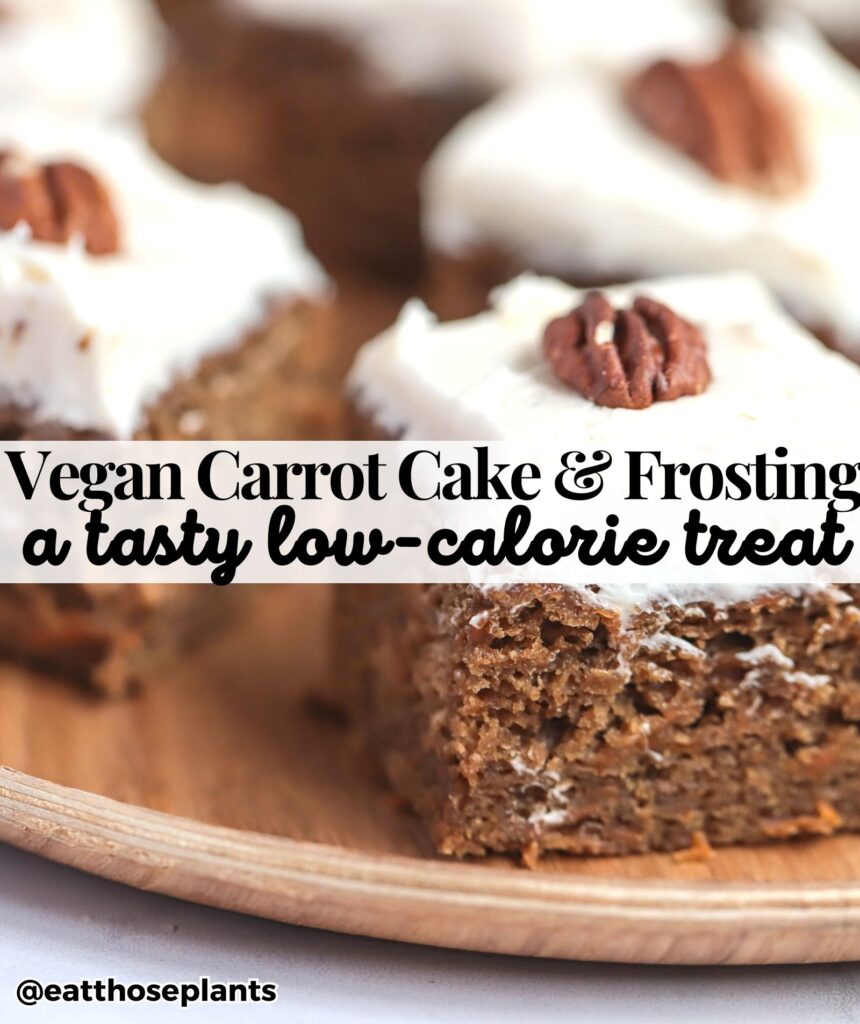 This post contains affiliate links, which means if you click a link and make a purchase, I may earn a small commission at no additional cost to you. See the full details
here
.
Vegan Carrot Cake Overview
Serves: 16
Prep Time: 15 minutes
Cook Time: 34 minutes
Calories: 245 per serving
Fats: 9g per serving
Carbs: 40g per serving
Protein: 2g per serving
Fiber: 2g per serving
RELATED: Chewy Cranberry Oatmeal Cookies (Plant-Based)
Vegan Carrot Cake Ingredients
For the Cake
1¾ cups (210g) all-purpose flour
2 tbsp. cornstarch
2 tsp. baking soda
1½ tsp. ground cinnamon
1 tsp. ground ginger
½ tsp. ground nutmeg
½ tsp. fine salt
¾ cup (255g) pure maple syrup
¾ cup (190g) unsweetened applesauce
2 tbsp. molasses
4 tsp. apple cider vinegar
1 tsp. vanilla extract
1¼ cups (200g) carrots, shredded
For the Frosting:
6.7 oz. (190g) vegan cream cheese
½ cup (115g) vegan butter, room temperature
1½ cups (195g) powdered sugar
½ tsp. vanilla extract
RELATED: Vegan Trail Mix Cookies
Vegan Carrot Cake Instructions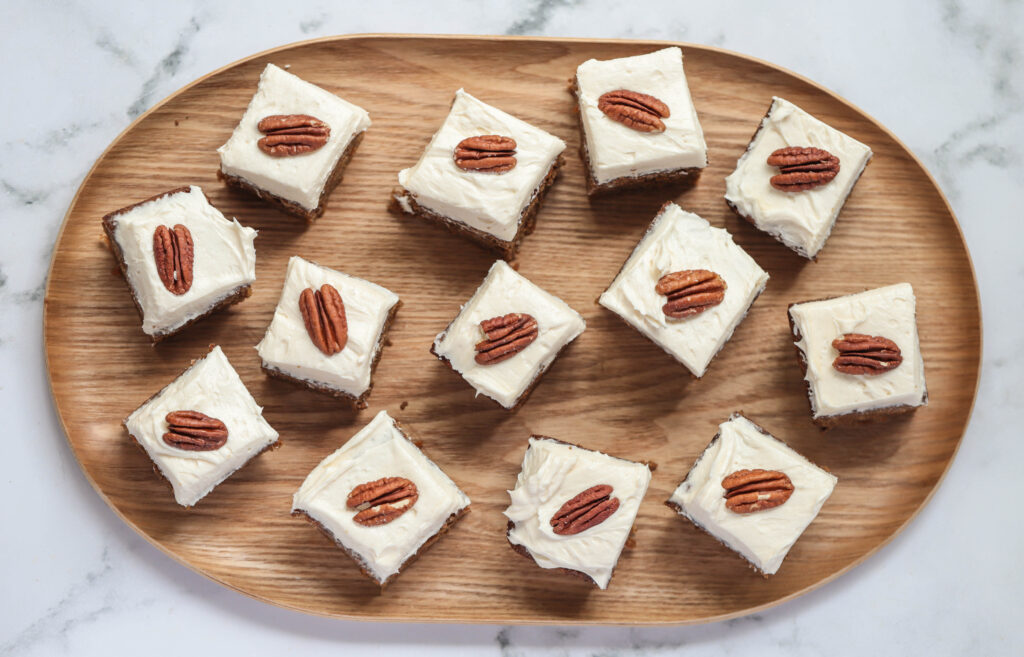 For the cake
Begin by preheating your oven to 350°F (180°C). Prepare a silicone cake mold or line a cake tin with parchment paper.
In a large bowl, combine the all-purpose flour, cornstarch, baking soda, ground cinnamon, ground ginger, ground nutmeg, and fine salt.
In another bowl, whisk together the pure maple syrup, unsweetened applesauce, molasses, apple cider vinegar, and vanilla extract until you have a smooth and luscious mixture.
Pour the liquid mixture into the dry ingredients, then add the shredded carrots. Gently mix until everything is beautifully incorporated. Your batter should be thick yet smooth, with vibrant flecks of carrot.
Transfer the heavenly batter into your prepared cake mold or tin. Bake it in your preheated oven for 30-35 minutes or until a toothpick comes out clean from the center.
Once your carrot cake emerges from the oven, let it cool down on a wire rack completely before proceeding.
RELATED: Vegan Banana Muffins (Plant-Based Dessert Recipe)
For the Frosting
While your cake is baking, grab your hand mixer and beat together the vegan cream cheese and softened vegan butter.
Gradually sift in the powdered sugar and add the vanilla extract. Keep mixing until you have a heavenly, fluffy frosting.
Pop your vegan frosting in the fridge, and it will be ready to work its magic when your cake is fully cooled.
Final Touches
Once your cake is completely cool, spread that dreamy vegan frosting over the top. It's the perfect crowning glory for your healthy carrot cake.
Remember, this cake is a celebration of health and flavor, so feel free to indulge guilt-free!
RELATED: Simple Vegan Oat Cookies (Easy Breakfast On The Go)
In Conclusion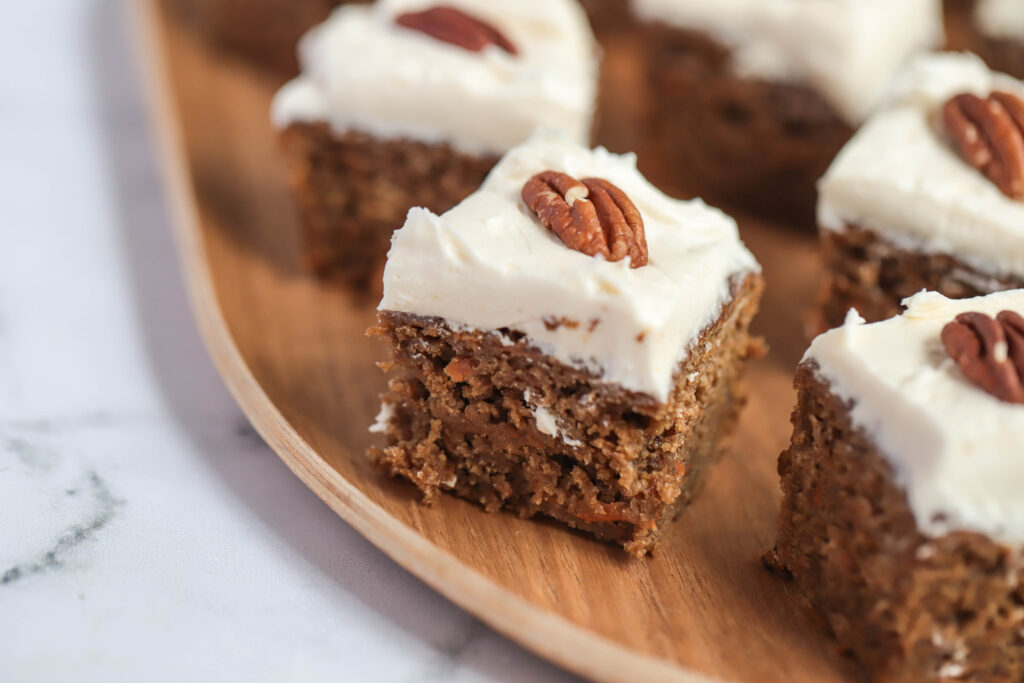 This tasty carrot cake is a testament to the fact that wholesome treats can be incredibly delicious.
With the natural sweetness of pure maple syrup, the comforting warmth of spices, and the goodness of shredded carrots, every bite is a celebration of flavor and nutrition.
Whether you're following a plant-based diet or simply want to enjoy a guilt-free dessert, this carrot cake is the answer.
Share it with friends and family, and watch their faces light up as they savor each bite.
Healthy eating has never been so delightful!
Enjoy every mouthful of this wholesome creation.