Looking for lighter, healthier dessert options this holiday season?
This collection of vegan Christmas cookies is just what you need!
Most of these recipes are easy and quick to make – perfect for busy holiday baking days!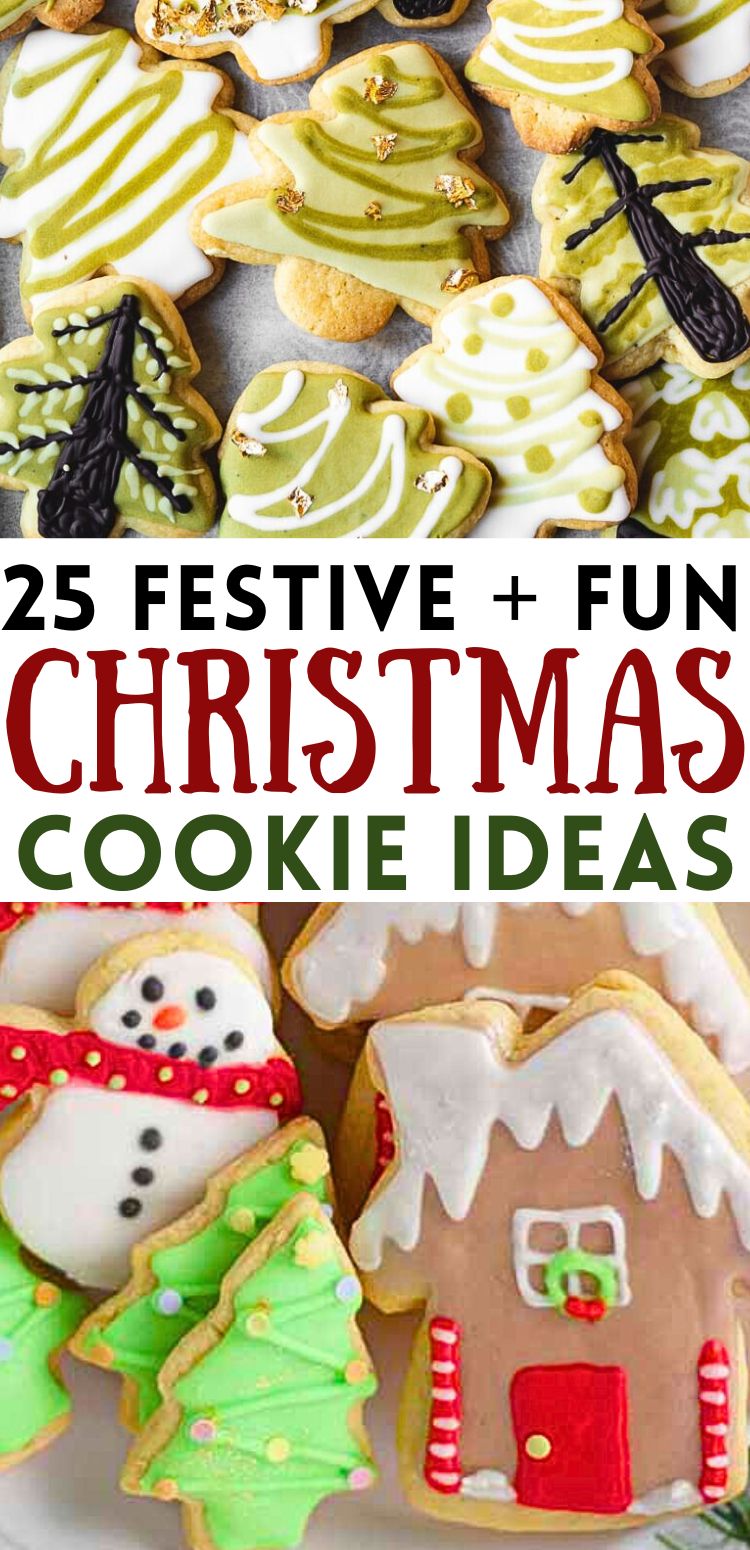 Vegan Christmas cookies are a great way to make healthier choices during the holiday season. Not only are they free of animal products, but they're also lower in saturated fat and cholesterol than regular cookies.
Enjoying vegan treats can help you feel fuller for longer without all the unhealthy ingredients.
Plus, these recipes usually don't require too many adjustments to make them vegan-friendly, making them a delicious option for all types of eaters!
Additionally, with so many different recipes available – there's sure to be something everyone will enjoy this holiday season.
So why not shake up your dessert course with some tasty vegan Christmas cookies?
From vegan sugar and gingerbread cookies to healthy oatmeal cookies and more, you're sure to find something that is perfect for your needs.
Vegan Oatmeal Cookies
If you love oatmeal cookies as much as I do, these vegan oat cookies are perfect for Christmas!
Whether you prefer a crispier texture, or something super soft and chewy, there's something here that will be perfect for your holiday gathering.
1- Simple Vegan Oat Cookies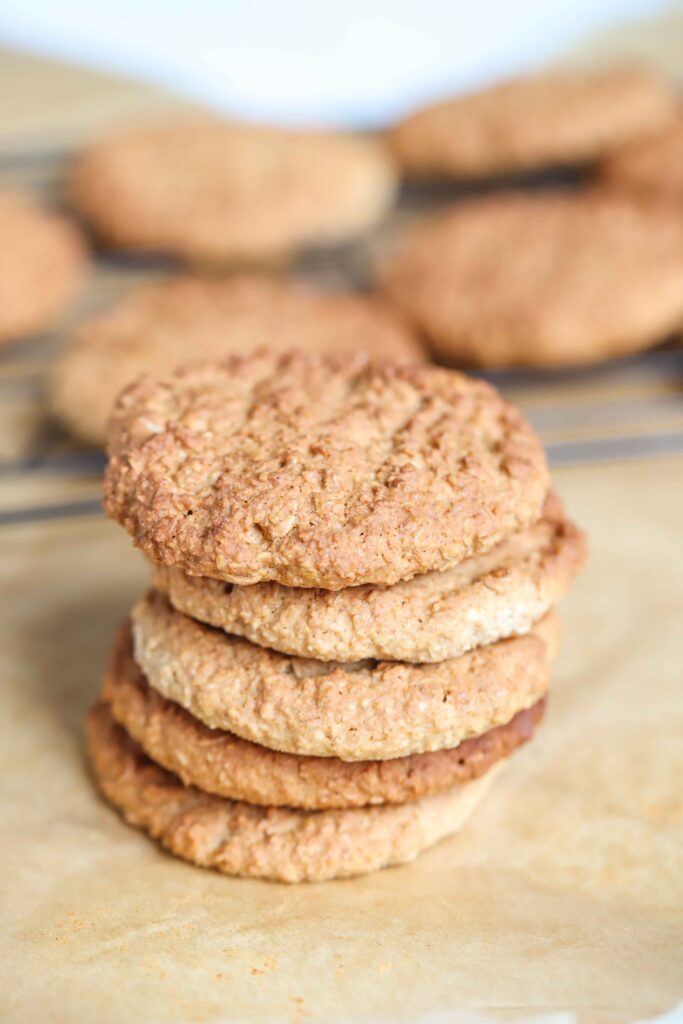 These plant-based oat cookies are super-simple, but don't let that fool you! They taste amazing and are great for the holidays (or any time!)
They come together super quick and use very basic ingredients that you likely have at home – which is always a huge plus in my book!
Source: Eat Those Plants
2- Chewy Cranberry Oat Cookies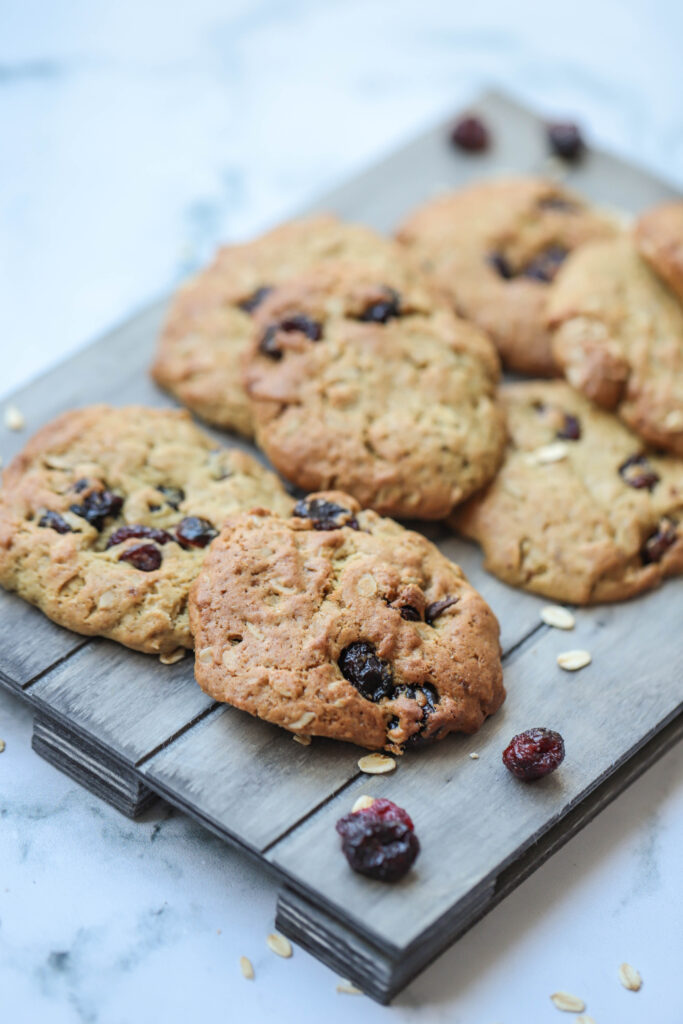 These cranberry oatmeal cookies are super-healthy and so chewy you won't be able to stop at just one!
Double up the batch so you'll have enough to go around!
Source: Eat Those Plants
3- Vegan Oatmeal Cookies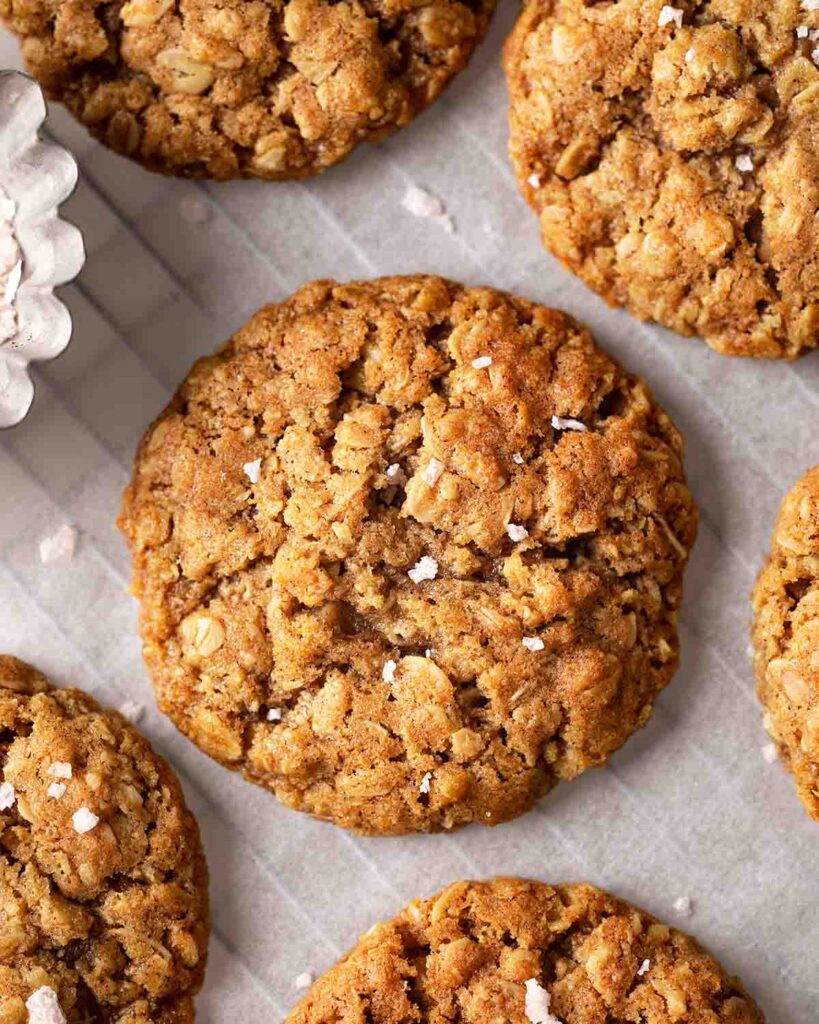 Whip up a batch of delicious vegan oatmeal cookies that are both soft and chewy!
With just one bowl and common pantry ingredients, you can have these cookies ready in no time.
No need to chill them before baking! Enjoy the simplicity and yumminess!
Source: Rainbow Nourishments
4- Easy Oatmeal Cookies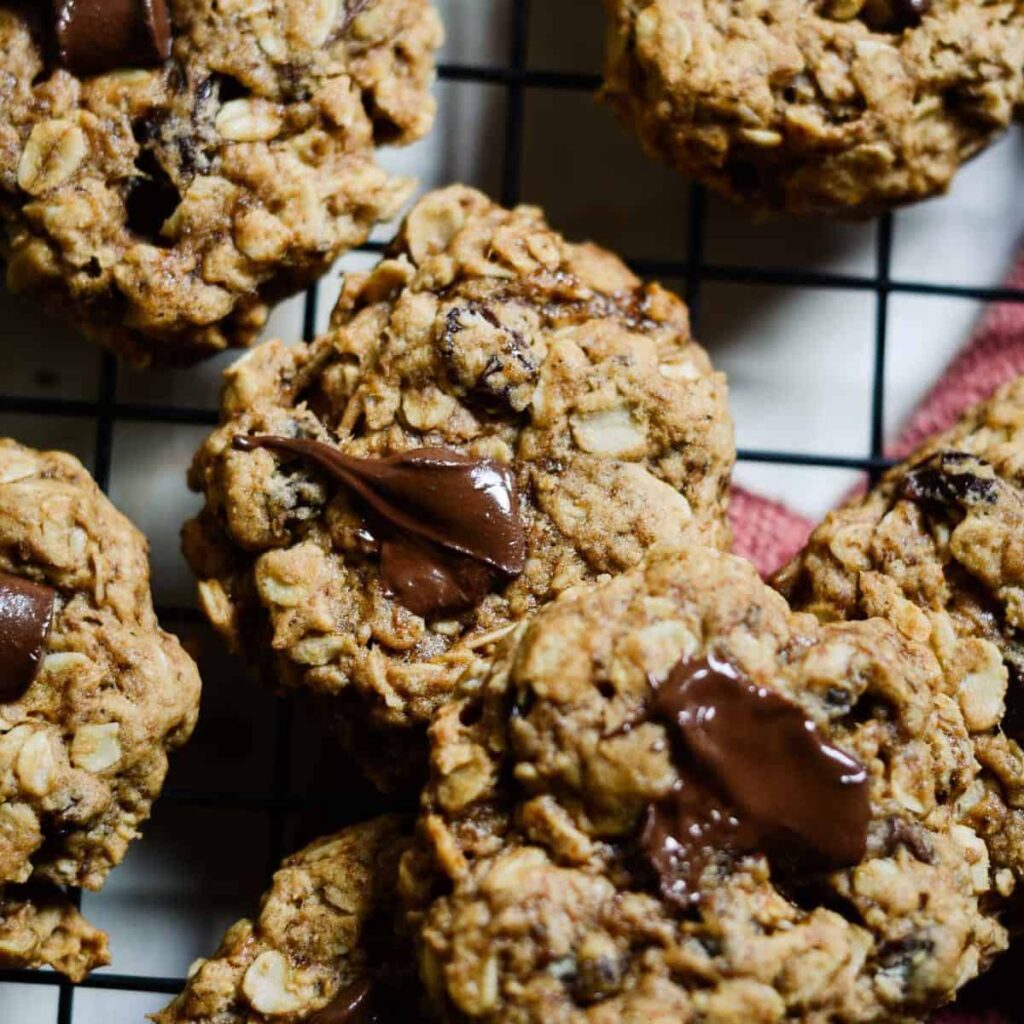 This eggless oatmeal cookie recipe creates a soft and chewy snack that is irresistibly delicious with chocolate chips and raisins.
You won't believe there's no egg in these!
Plus, they only take 15 minutes to prepare.
Source: Beside The Mountain
Vegan Gingerbread Christmas Cookies
First things first, what's Christmas without festive gingerbread cookies?
Generally, gingerbread cookies are not vegan because they usually contain butter at the very least (and sometimes other things too)!
But you can still enjoy lighter, healthier gingerbread cookies with these vegan options.
1- Vegan Gingerbread Cookies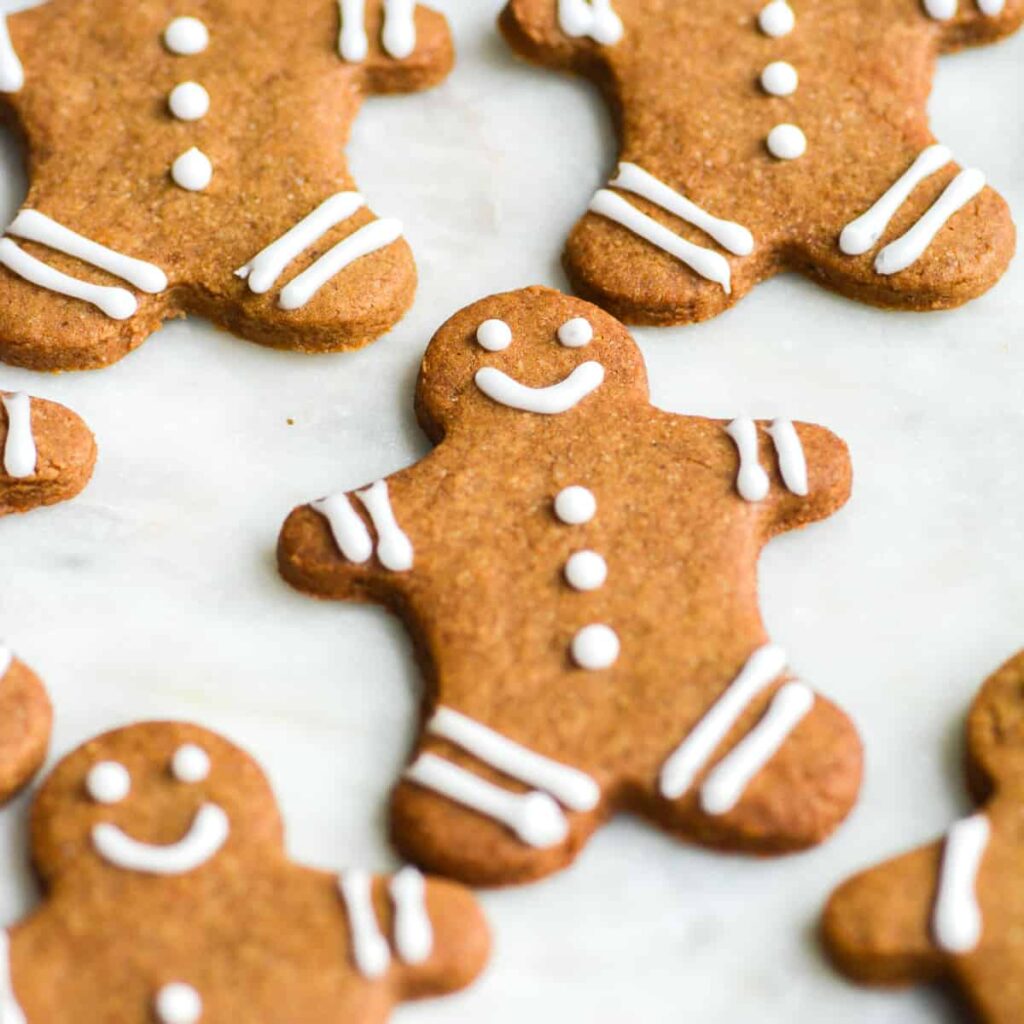 Vegan Gingerbread Cookies are deliciously spiced, perfectly crispy, and incredibly easy to make.
Not to mention, they are an absolute joy to decorate with a bit of royal icing!
Whether you're a seasoned baker or an eager novice, these cookies are sure to bring festive cheer to your holiday season.
Source: Earthly Provisions
2- Vegan Gingerbread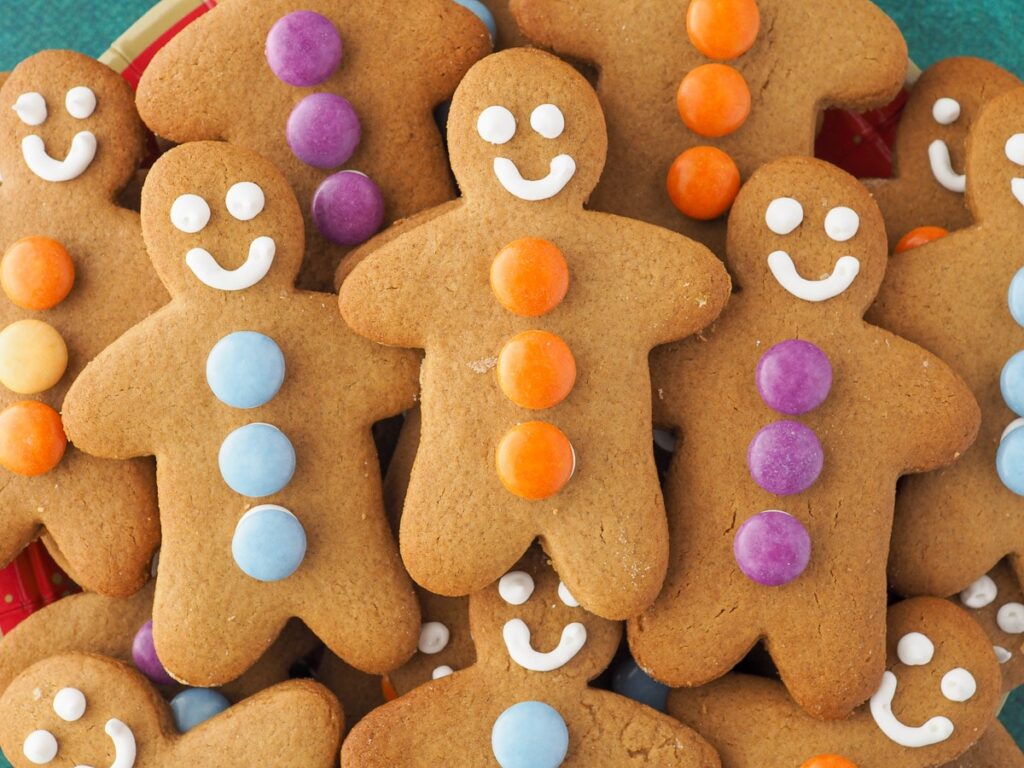 These homemade vegan gingerbread cookies are a delightful plant-based option that serves as a wonderful alternative to the classic gingerbread.
They are versatile and can be shaped into gingerbread men, stars, houses, and much more!
Let your creativity flourish with these delectable treats.
Source: Keep Calm & Eat Ice Cream
3- Gluten Free Gingerbread Xmas Cookies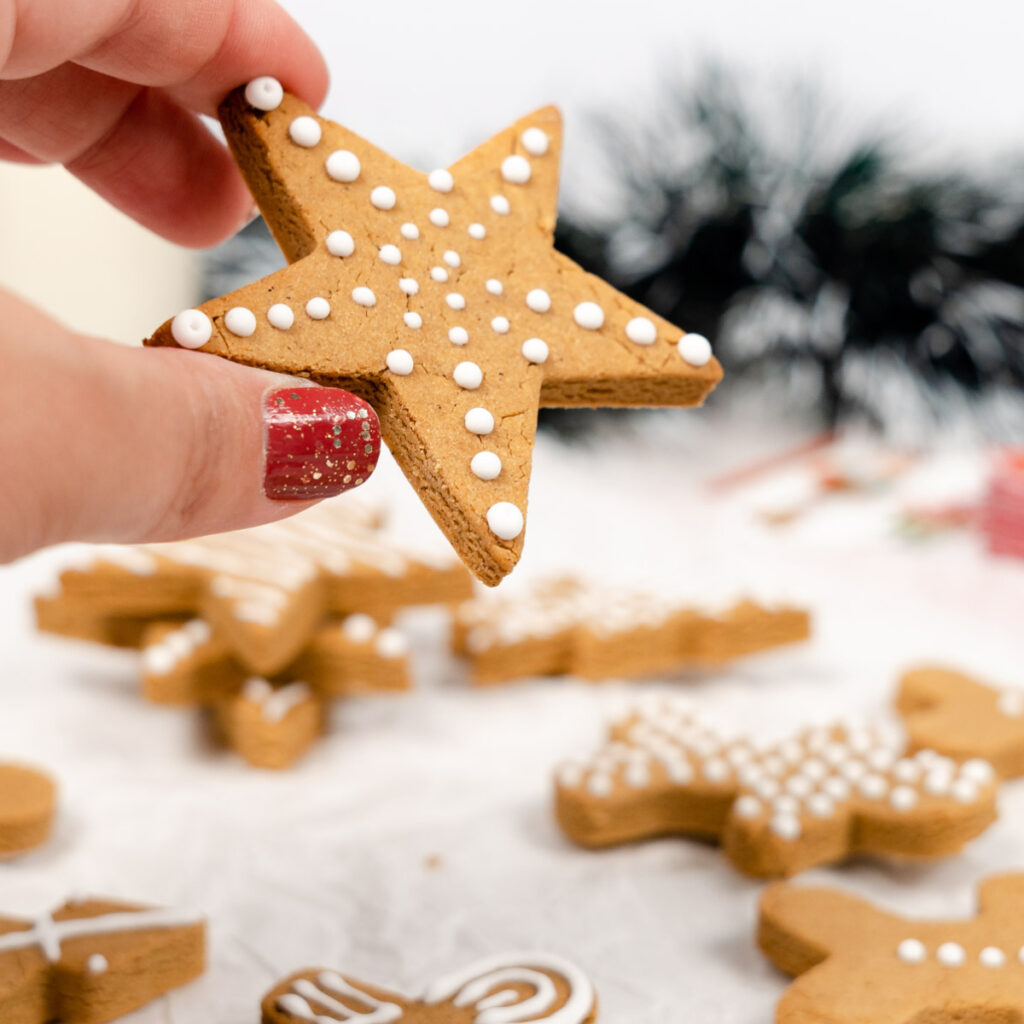 Indulge your senses with the fragrance of homemade vegan gluten-free gingerbread cookies.
These delightful treats are soft, chewy, and perfectly spiced.
Made with simple ingredients, they can be ready in just over 30 minutes.
Source: Plant Based Folk
4- Gingerbread Christmas Biscuits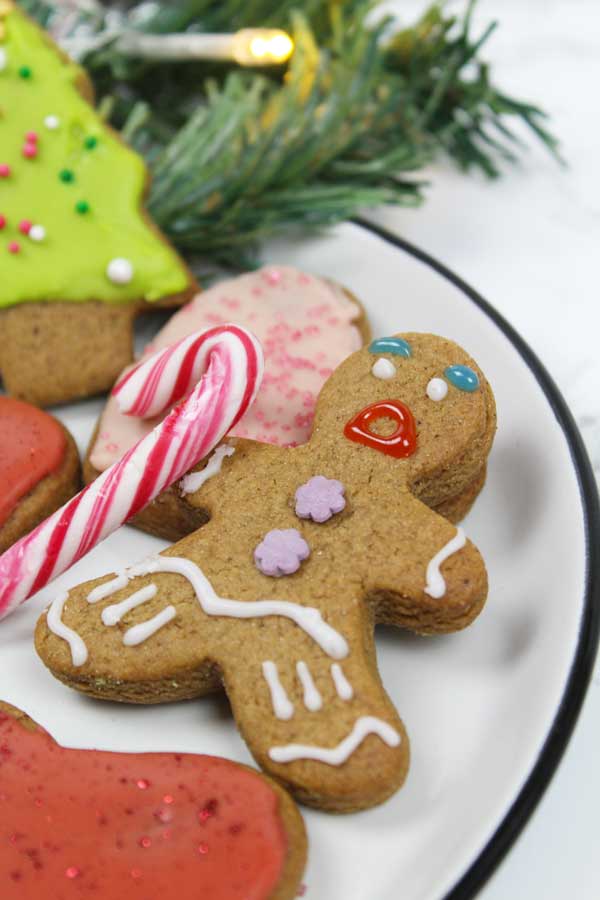 These delightful Christmas vegan gingerbread men biscuits are wonderfully soft and chewy, and you can decorate them however you please.
They make lovely edible gifts and are perfect for festive snacking!
Plus, they are eggless and dairy-free!
Source: Baked By Clo
5- Healthy Gingerbread Man Cookies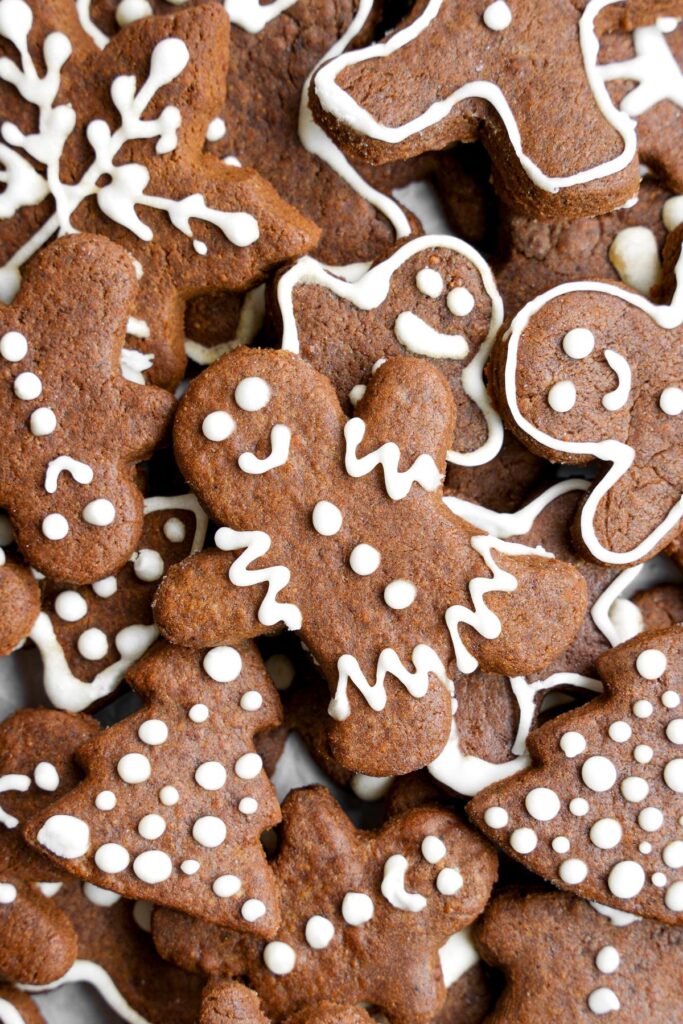 These Healthy Vegan Gingerbread Cookies are a delightful twist on the classic favorite.
They're soft, chewy, and ideal for decorating.
Plus, this recipe is vegan, oil-free, gluten-free, refined sugar-free, dairy-free, and made with wholesome plant-based ingredients!
Source: The All Natural Vegan
6- Crunchy Vegan Gingerbread Cookies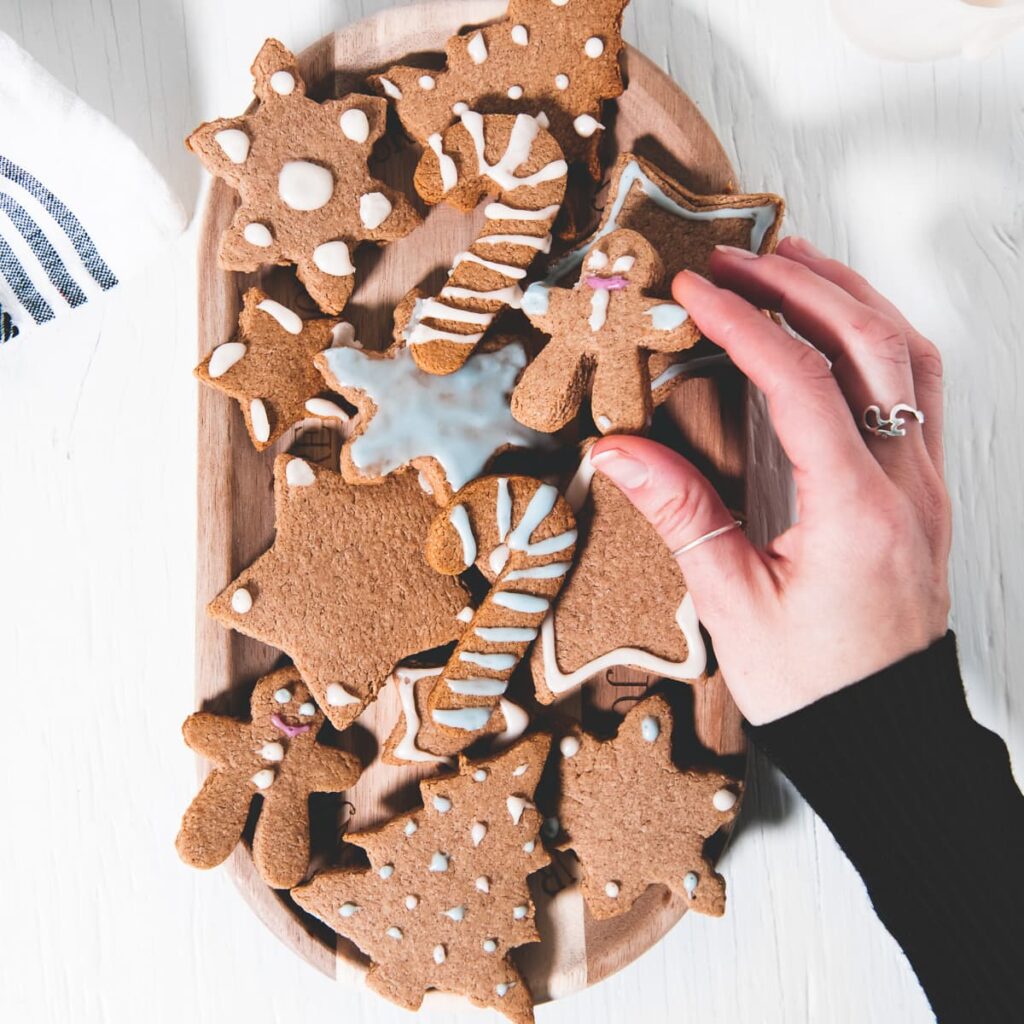 These delectable Crunchy Gluten-Free Vegan Gingerbread Cookies are the ultimate guilt-free holiday treat!
Indulge in their scrumptiousness while enjoying their low-sugar, molasses-free, and high-protein goodness.
Source: Beet of the Wild
7- Vegan Lebuchken Christmas Cookies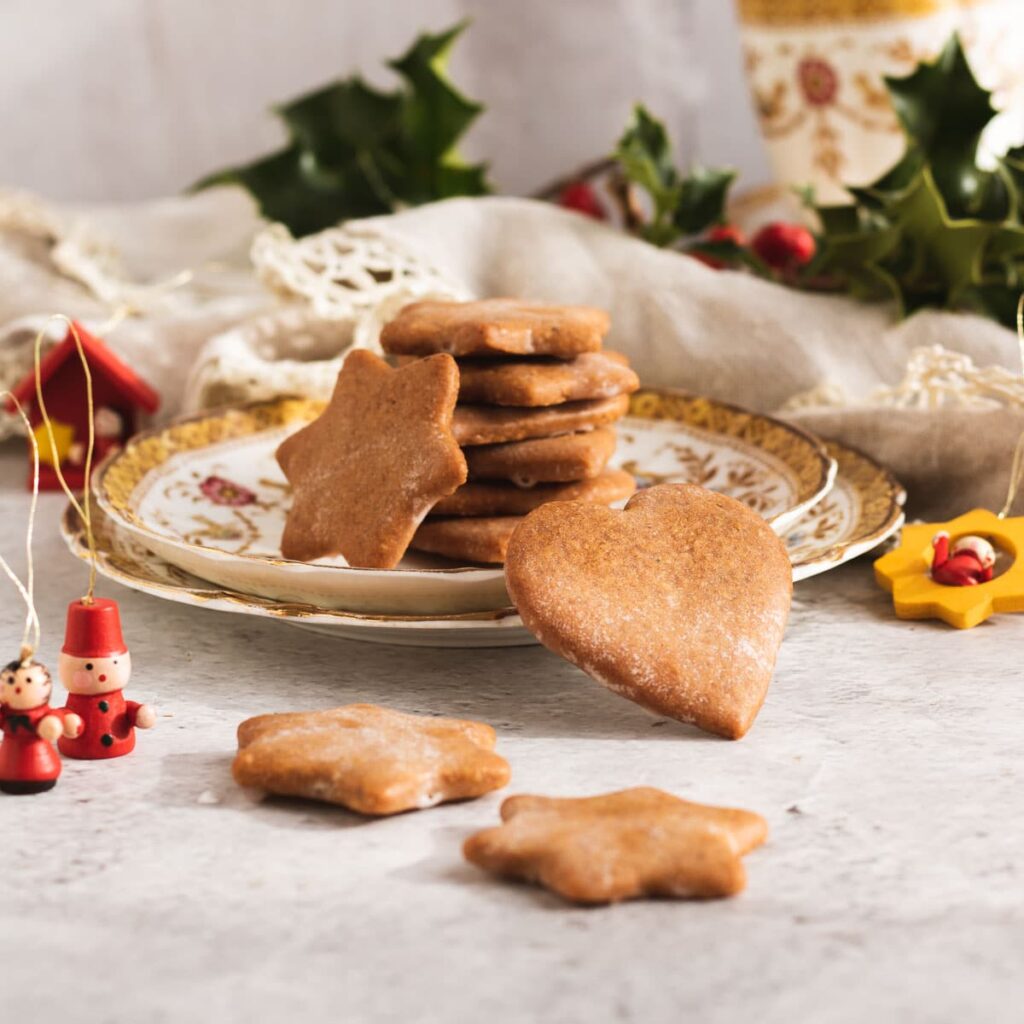 These vegan cookies are super fun to make and fun to eat too!
They make the house smell glorious when they're being baked, which is always a bonus, and can be decorated in a variety of ways too!
Source: The Vegan Larder
Vegan Christmas Sugar Cookies
Vegan sugar cookies are an excellent option for the Christmas or holiday season because they are so easy and fun to make!
Many sugar cookie recipes are "cut out" style, and you can use a shaper to create so many fun and festive shapes!
Check out these vegan sugar Christmas cookies and see what you think!
1- Easy Stacked Sugar Cookie Christmas Trees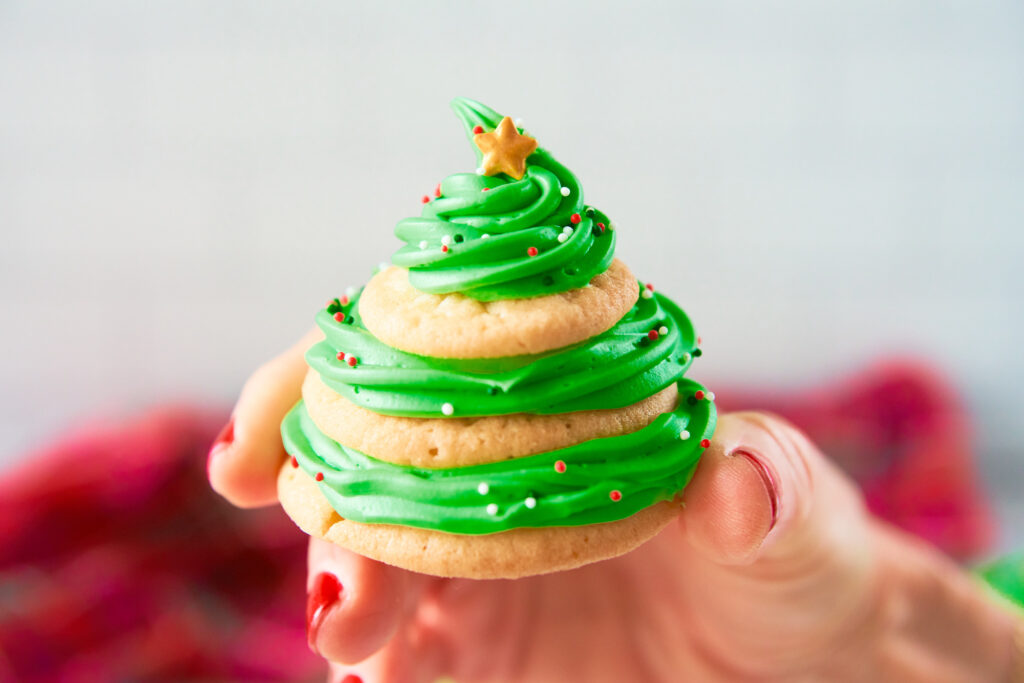 These stacked sugar cookie Christmas trees are the ultimate holiday treats! Soft and chewy sugar cookies with vanilla icing, all stacked for a show-stopping centerpiece.
They'll steal the show on your cookie table with a great payoff for your effort!
Source: Wow It's Veggie
2- Vegan Sugar Cookies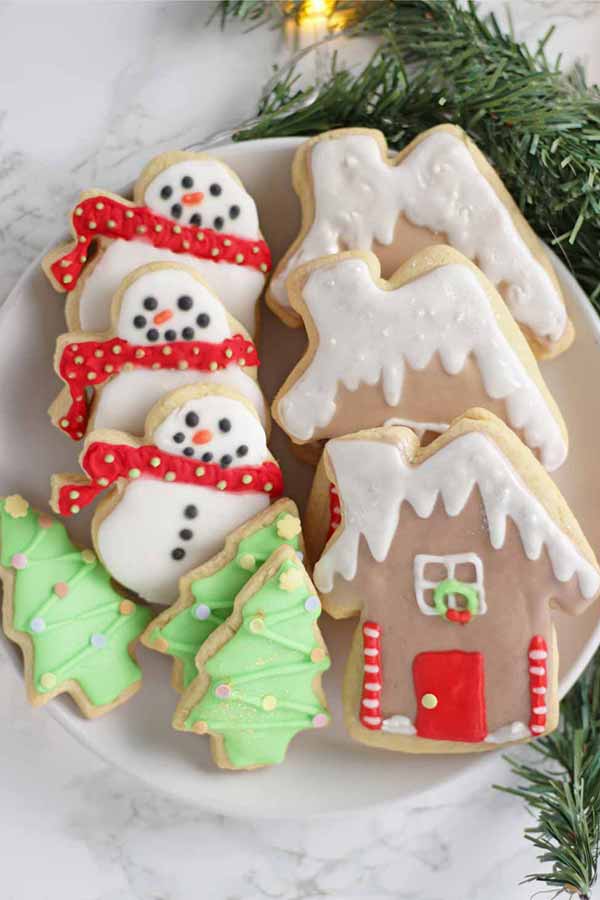 These vegan sugar cookies are delightfully sweet and soft, with a perfect amount of crunch.
They're great for any special occasion, be it Christmas, Easter, or another celebration.
Top them with eggless royal icing for an extra adorable edible treat!
Source: Baked by Clo
3- Sugar Cookie Icing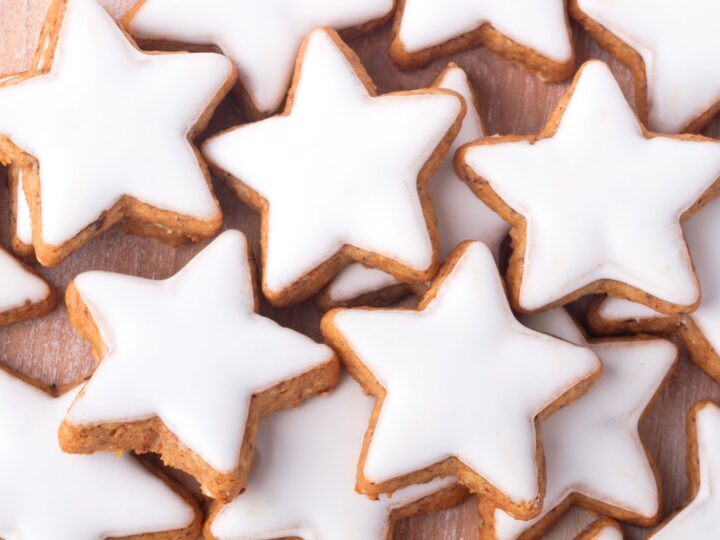 This sugar cookie icing recipe is incredibly easy to make, requiring just three or four simple ingredients.
You can easily customize the flavors and colors to match any occasion throughout the year.
So go ahead and have some fun experimenting with different combinations!
Source: Chew Out Loud
4- Cut Out Vegan Xmas Cookies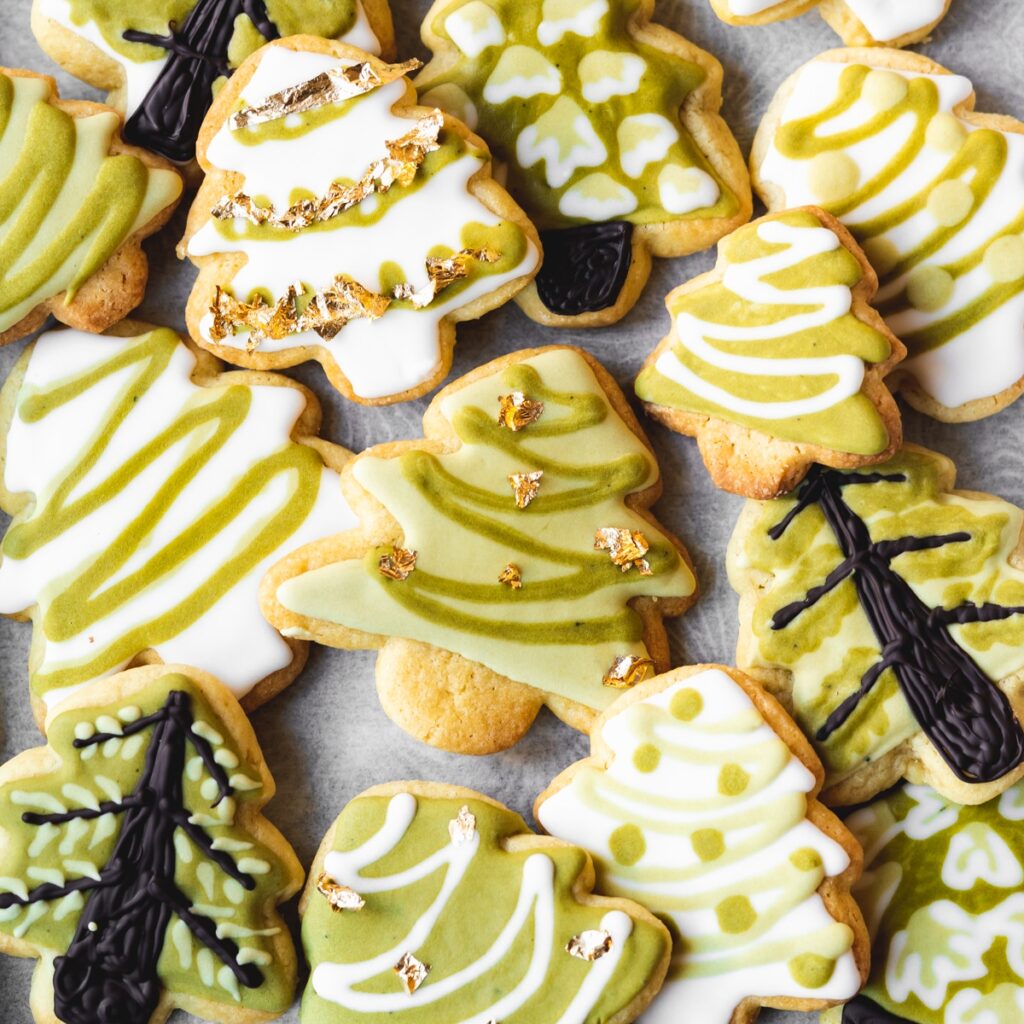 These delightful cut-out vegan Christmas cookies are soft, light, and buttery.
They're beautifully decorated with naturally colored vegan royal icing, making them perfect for a fun Christmas baking project.
The cute designs are fun to make, and it's double-cool because you can design them however you want.
It's a double-win for a festive and fun holiday season.
Source: Addicted To Dates
Healthy Vegan Christmas Cookies
Just because something is vegan doesn't always mean it's healthy.
Lucky for you, these vegan Christmas cookies are lighter and healthier than some other options you may find.
And the best part is they're still super tasty! Check them out and see for yourself…
1- Healthy Vegan Almond Cookies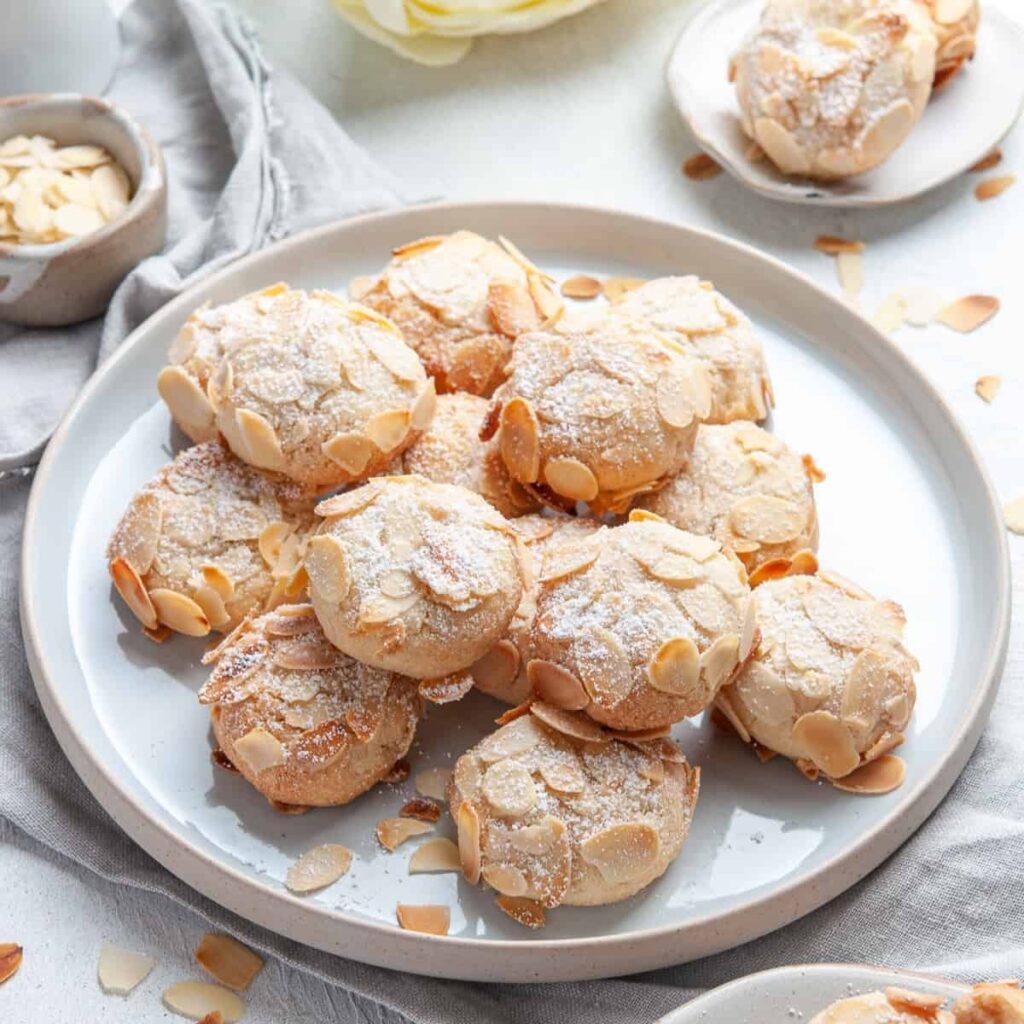 Check these amazing Vegan Almond Cookies! With only 5 ingredients, they rival their egg-white counterparts in appearance and taste.
This recipe is a delightful adaptation of regular cookies that use egg whites (these use aquafaba instead).
Try them out and prepare to be amazed!
Source: It's Not Complicated Recipes
2- Vegan Snickerdoodle Cookies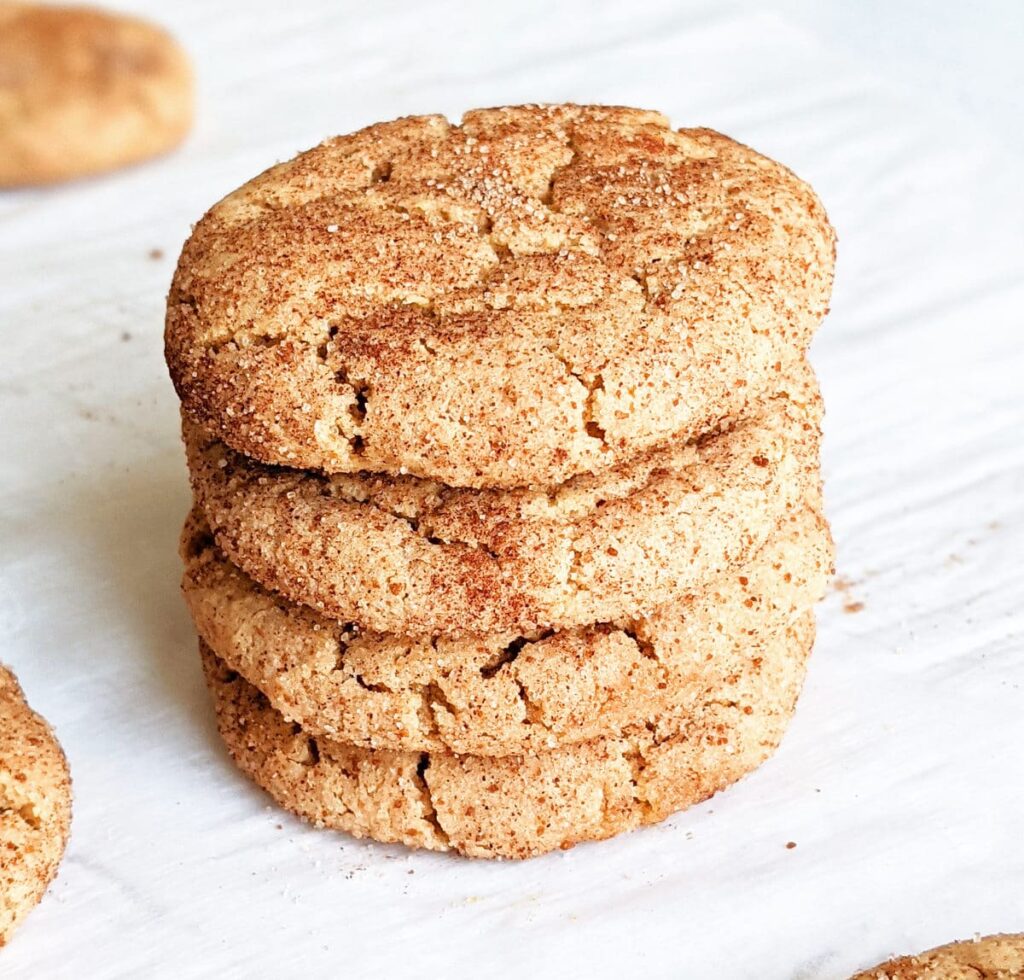 These vegan snickerdoodle cookies are absolutely delicious! They have a slightly crispy exterior and a soft and chewy interior, perfectly capturing the essence of classic snickerdoodles. Plus, they're made without oil for a healthier twist on the traditional recipe, but you wouldn't even realize it!
Source: Health My Lifestyle
3- Vegan Eggnog Cookies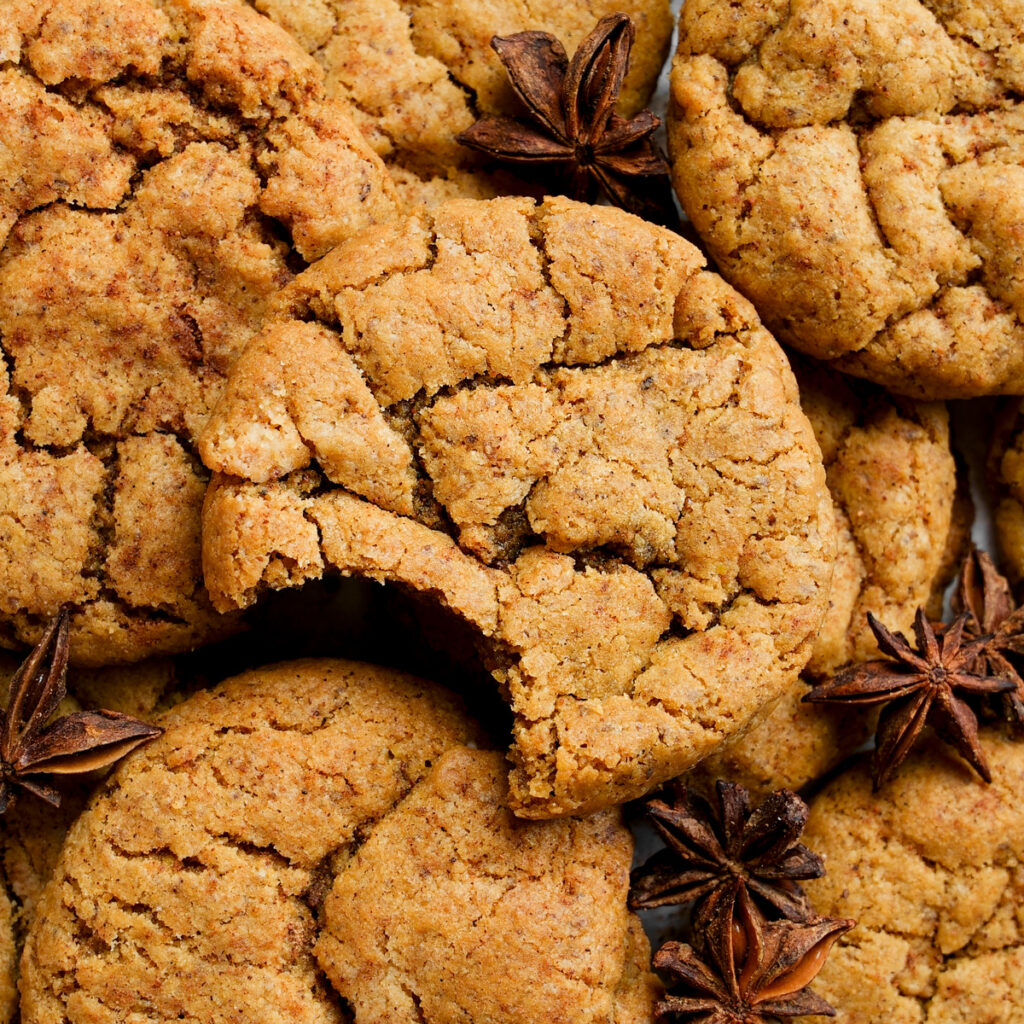 These Chewy Vegan Eggnog Cookies are the perfect treat for the holiday season. They're incredibly easy to make and capture the authentic flavor of eggnog. Plus, they're vegan, oil-free, gluten-free, and refined sugar-free!
Source: The All Natural Vegan
4- Vegan Chai-Spiced Cookies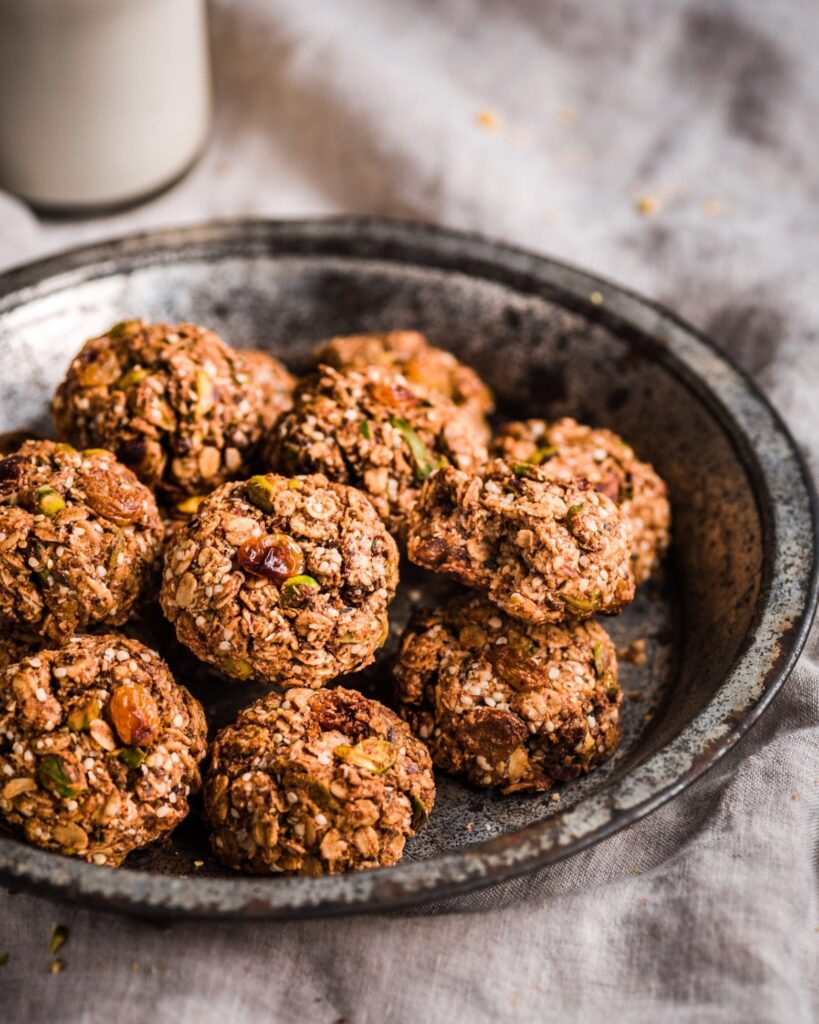 These delightful Chewy Vegan Chai-Spiced Cookies draw inspiration from Indian masala chai and oatmeal cookies.
They showcase a homemade chai spice blend, and are not only healthy, but also vegan, gluten-free, and free of added oil.
Indulge in these cozy, yet nutritious treats for breakfast, as a snack, or as a dessert.
Source: Rainbow Plant Life
5- Pretzel Reindeer Bites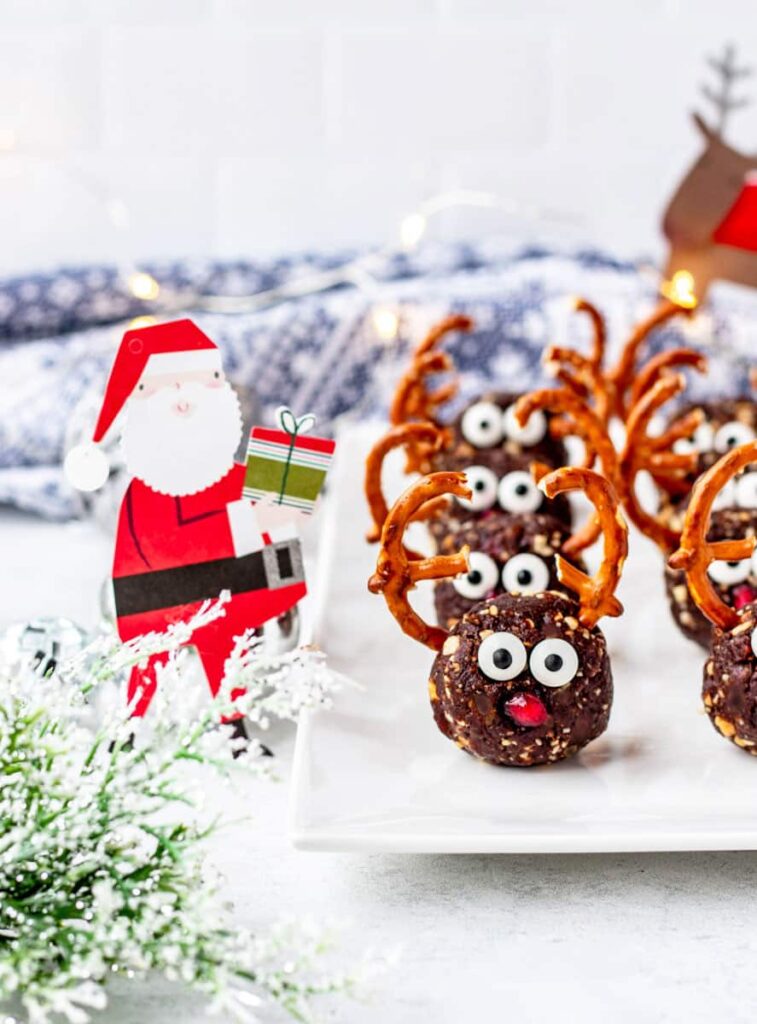 These chocolate Pretzel Reindeer Bites are a delightful and nutritious Christmas treat.
They're low in sugar and made with a handful of simple ingredients.
Prepare these adorable reindeer balls in advance for an effortless snack to delight kids and guests throughout the holiday season.
(Vegetarian, dairy-free, and gluten-free-friendly options available)!
Source: Haute & Healthy Living
6- Vegan Chocolate Cookies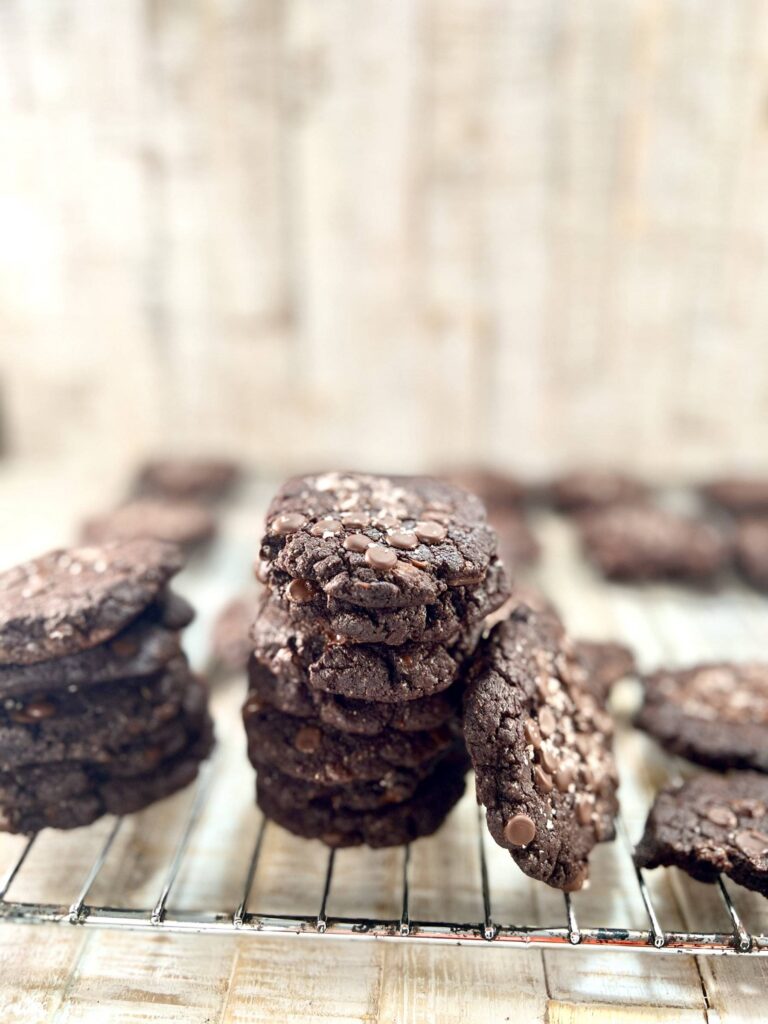 Are you in search of a simple yet delightful recipe for vegan chocolate cookies? Well, your search ends here! These cookies are bursting with flavor and have an irresistible texture that'll keep you coming back for more. Plus, they're quick to prepare, with just 20 minutes of prep time, and they'll be out of the oven in a jiffy.
Source: Let's Go Tomato
7- Healthy Protein Balls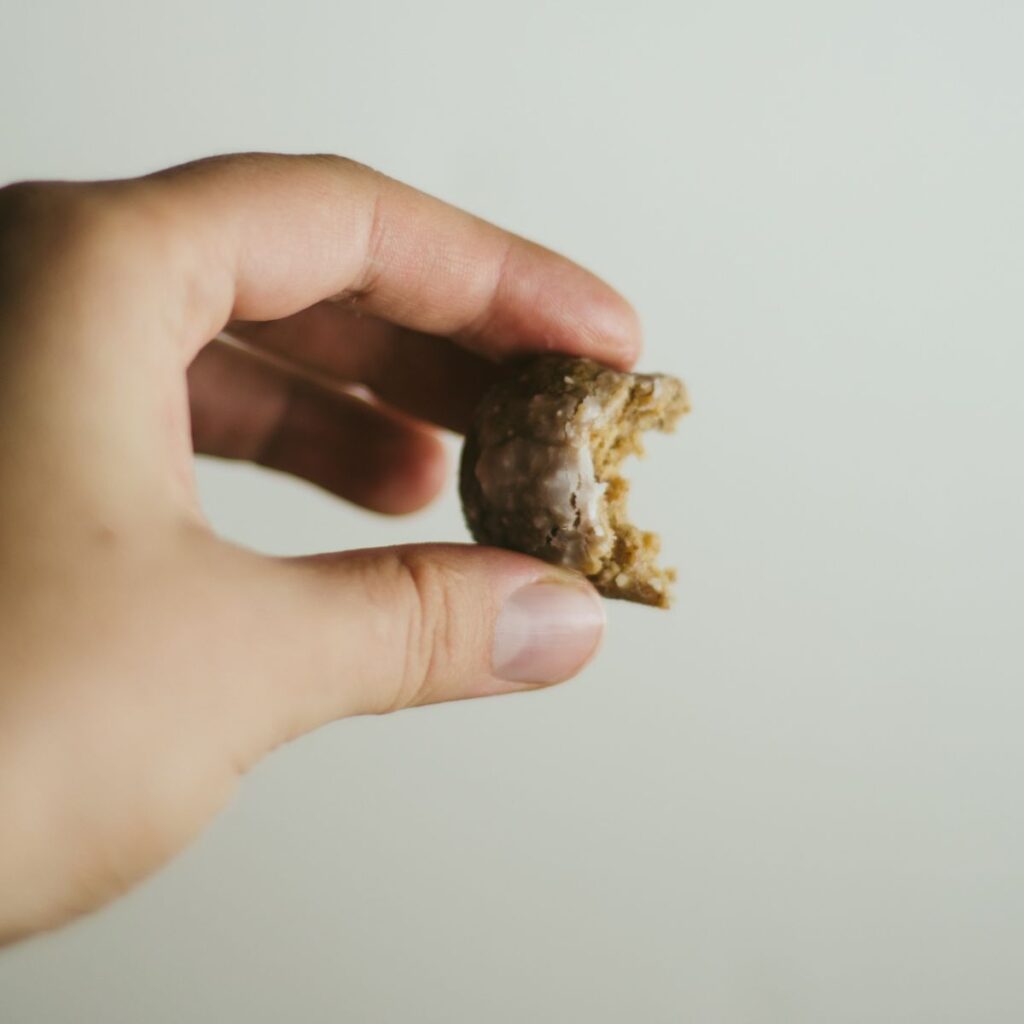 These healthy protein balls are made with just 9 whole ingredients.
Dates and fresh ginger are the secret to binding them together and adding a burst of flavor.
This snack is packed with protein from almonds, oats, and hemp hearts.
Source: Beside The Mountain
Yummy Vegan Christmas Cookies
If you're having a Christmas or Holiday party and need healthier fun dessert options to keep everyone in the holiday spirit, these festive vegan Christmas cookie recipes are just what you need.
They are super yummy, easy to make, and your omni guests
won't even believe they're vegan!
1- Yummy Vegan Holiday Cookies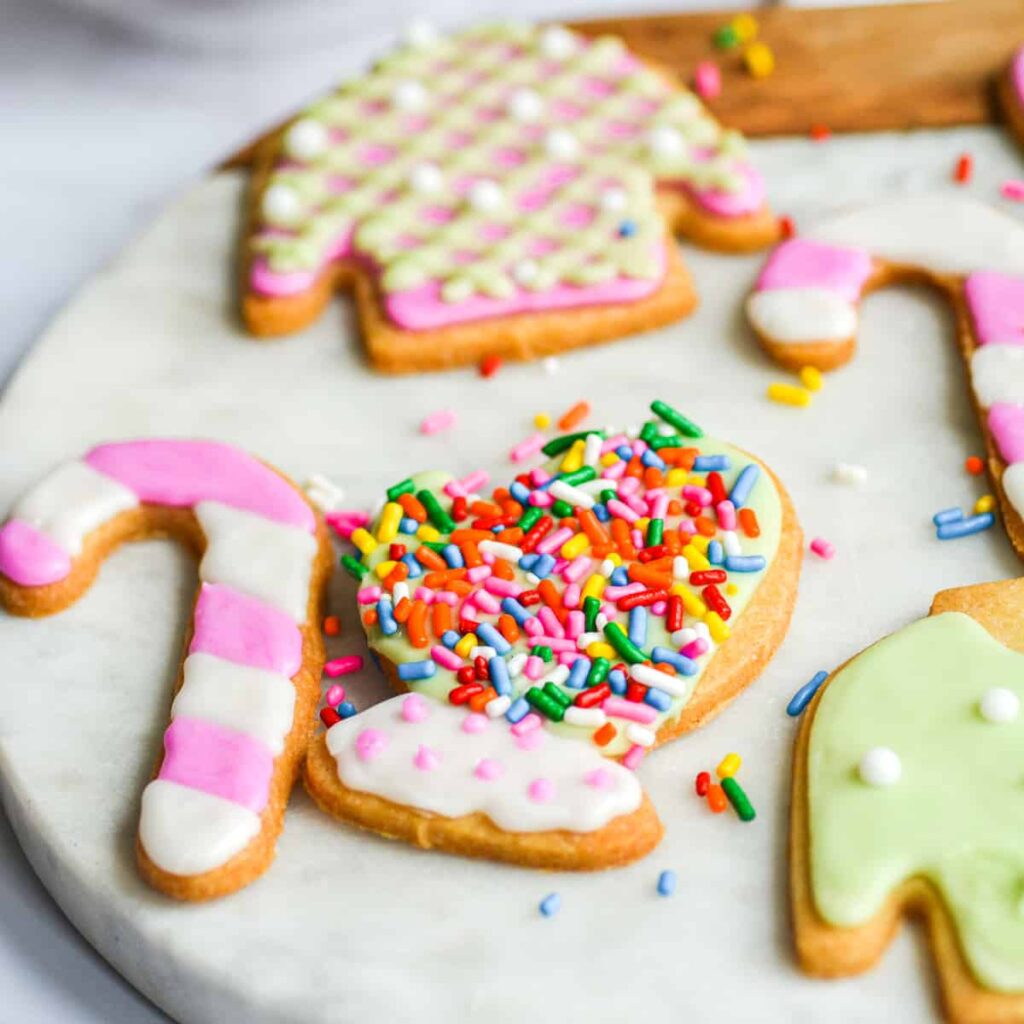 Looking for a delicious treat for the holidays? Look no further!
Try out this delightful Vegan Holiday Cookie Recipe that is not only easy to make but also requires just 7 simple ingredients.
The best part? These cookies are incredibly fun to decorate, making them a perfect addition to your holiday plans.
Source: Earthly Provisions
2- Thumbprint Cookies With Icing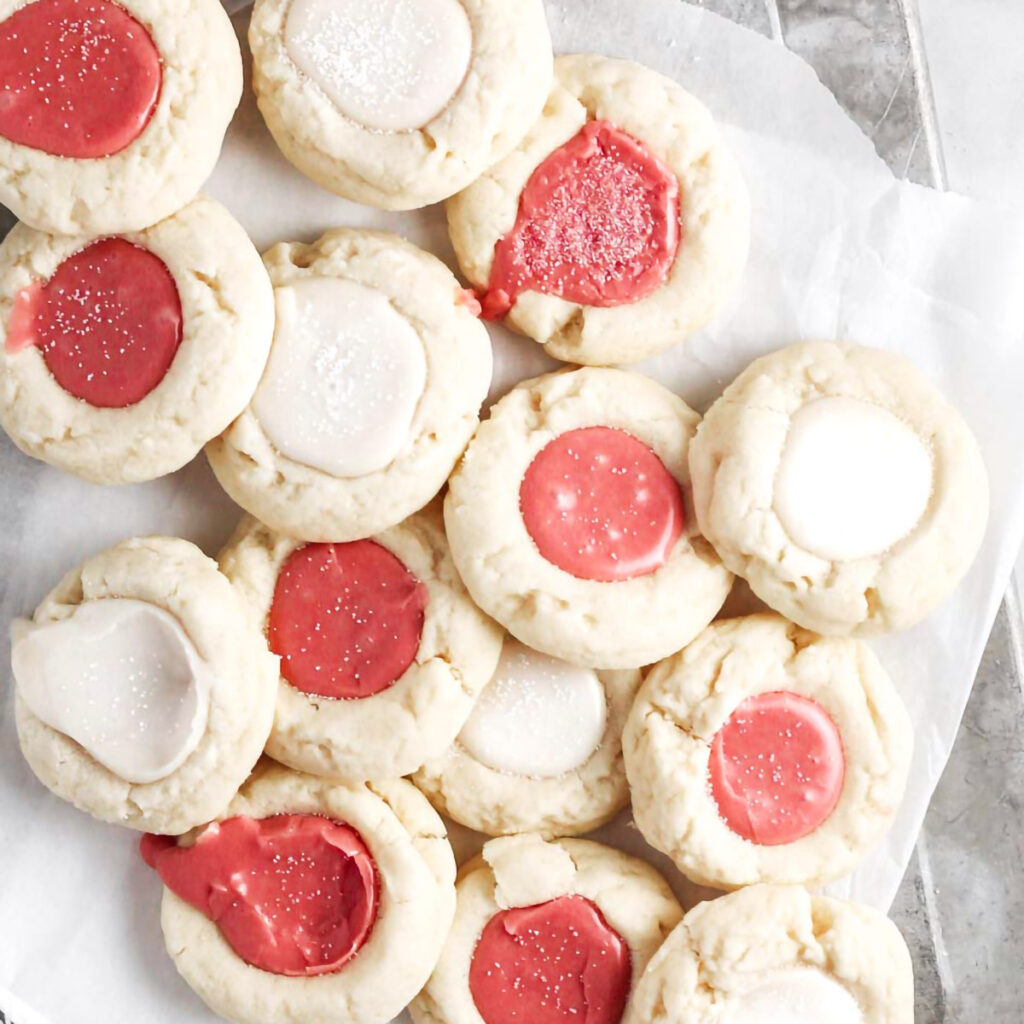 Elevate your classic thumbprint cookies by adding a delightful vegan icing.
These soft, buttery treats are egg-free and gluten-free.
The two-ingredient icing is irresistibly delicious.
Amp up the festive vibe with natural food coloring and sprinkles for a perfect finishing touch.
Melt-in-your-mouth goodness awaits!
Source: Savor the Spoonful
3- White-Chocolate Cranberry Christmas Cookies
These vegan white chocolate cranberry cookies are truly irresistible.
The perfect balance of sweetness and deliciousness without being overpowering.
Get ready for a delightful surprise – white chocolate and cranberries together in one recipe!
Source: Wow It's Veggie
4- Gluten-Free Matcha Shortbread Cookies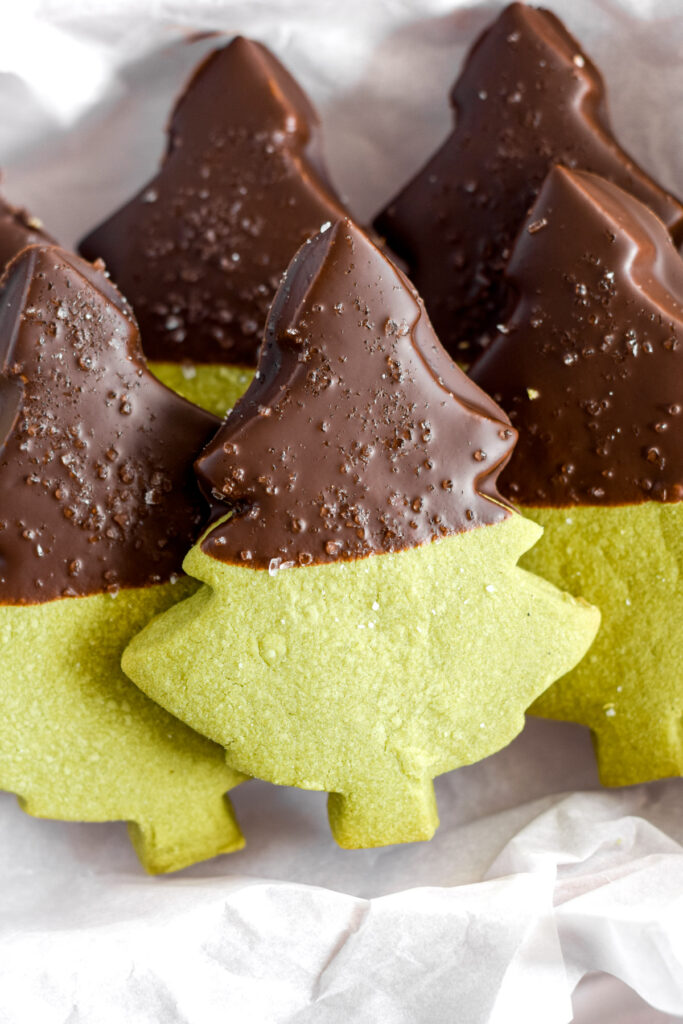 These chocolate-dipped matcha shortbread cookies are deliciously buttery, creamy, and add a unique twist to the classic shortbread recipe.
Plus, they're gluten-free and easily made vegan.
The ultimate holiday cookie recipe!
Source: Olivia's Kitchen
Key Takeaways: Delicious Vegan Christmas Cookies
It's easy to make vegan treats that are just as delicious as the real thing.
These vegan Christmas cookies are light, healthy, and still taste amazing.
So if you need a healthier option for your holiday festivities this year, give these recipes a try – your guests won't believe they're actually vegan!
Happy holidays!