These tasty trail mix cookies are so adaptable! They are vegan, plant-based, and can be adjusted to be low-calorie as well to support your weight loss goals.
Ready in just 20 minutes, they are the perfect nutritious snack to curb your sweet tooth cravings. And they can even be made ahead for an easy breakfast on the go!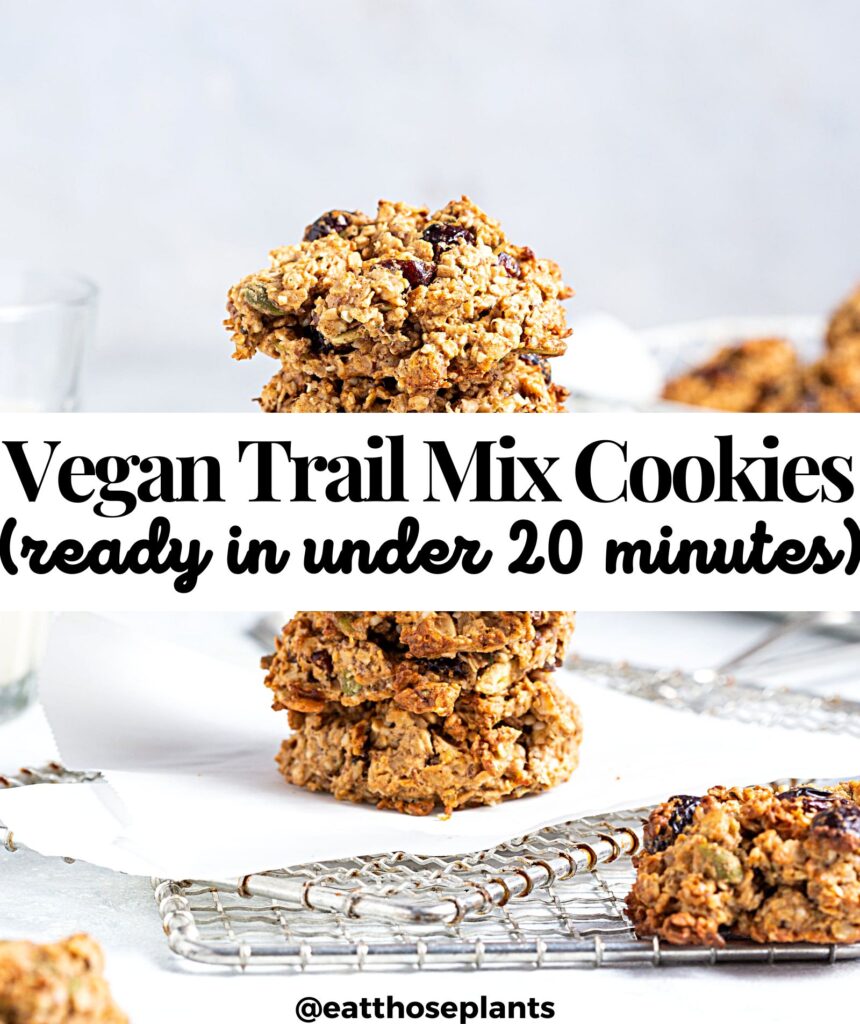 This post contains affiliate links, which means if you click a link and make a purchase, I may earn a small commission at no additional cost to you. See the full details
here
.
Vegan Trail Mix Cookies Overview
Makes 16 cookies
Prep time: 8 minutes
Cook time: 12 minutes
Calories: 246
Fat: 18
Carbs: 14
Protein: 9
RELATED: Vegan Carrot Cake With Cream Frosting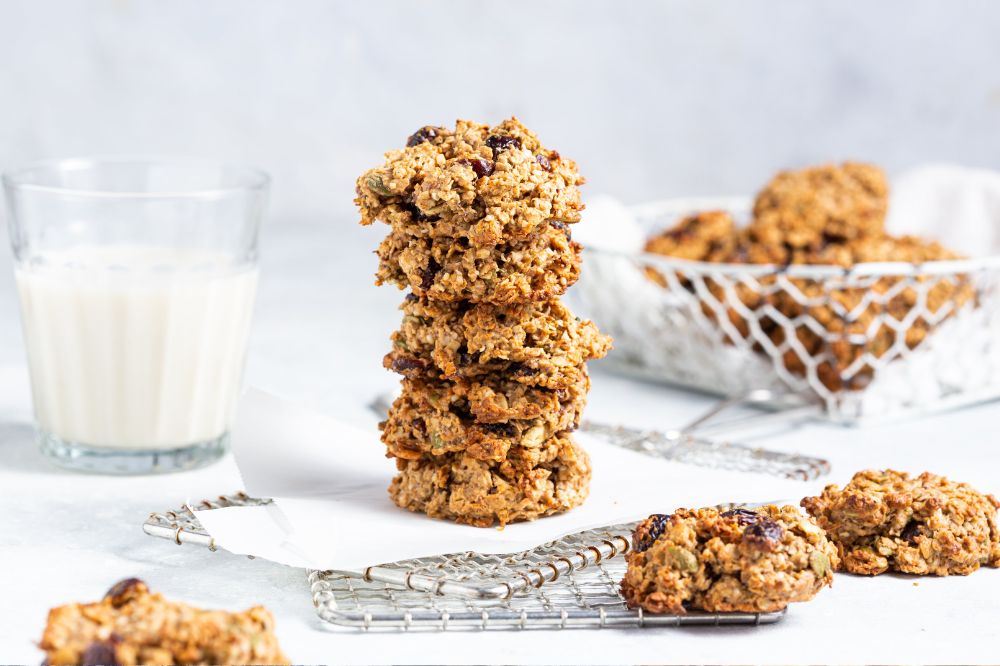 Vegan Trail Mix Cookies Ingredients
2 cups (180g) quick or rolled oats
¼ cup (45g) hemp seeds
¼ cup (30g) pumpkin seeds
½ cup (65g) dried cranberries
2 tbsp. ground flax seeds
4 tbsp. water
½ tsp. baking soda
½ tsp. baking powder
1 medium overripe banana peeled
¾ cup (60g) almond butter (sweetened) or substitute for peanut butter
1 tsp. vanilla extract
¼ cup (85g) maple syrup
salt to taste
RELATED: Vegan Banana Muffins (Plant-Based Dessert Recipe)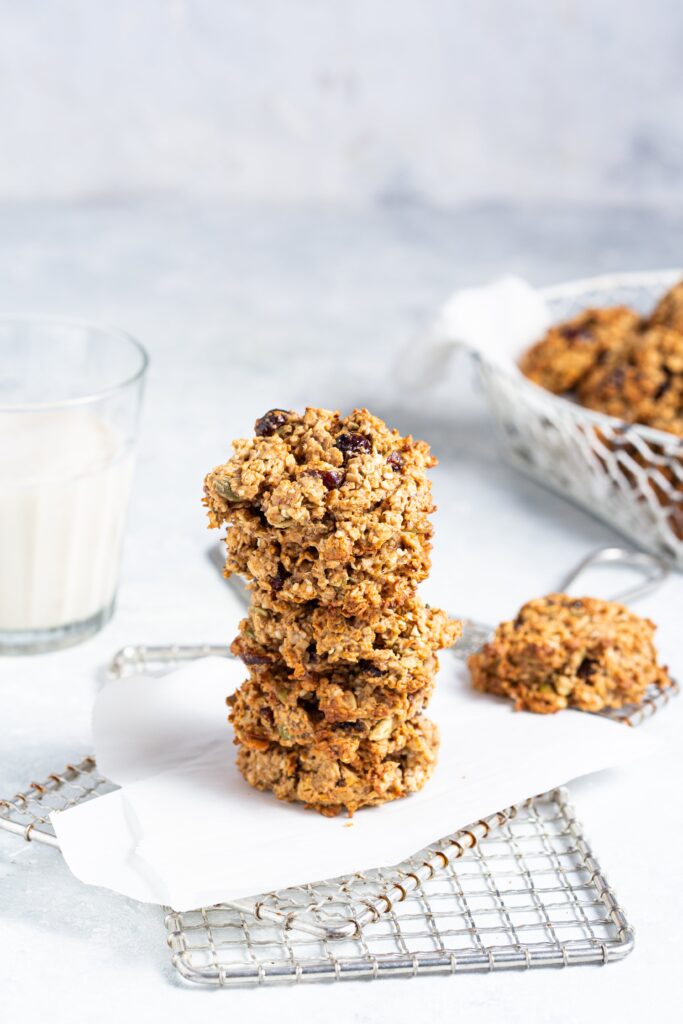 Vegan Trail Mix Cookies Instructions
1. Preheat the oven to 350°F (180°C). Line 2 baking sheets with parchment paper.
2. Mix the ground flax seeds with the water and set aside.
3. In a large bowl, mix together the oats, hemp seeds, pumpkin seeds, dried cranberries, baking soda, baking powder, and a small pinch of salt.
4. In a separate bowl, mash the banana and add in almond butter (or peanut butter), maple syrup, and vanilla extract. Mix well to combine.
5. Pour the wet mixture into the dry ingredients and mix well. Spoon out 16 even scoops onto the lined baking sheets, press down to flatten a little, and bake for 12 minutes.
6. Once baked, remove from the oven and place the cookies onto a wire cooling rack. Once cooled these cookies can be stored in an airtight container for up to 5 days.
RELATED: 8-Ingredient Peanut Butter Christmas Cookies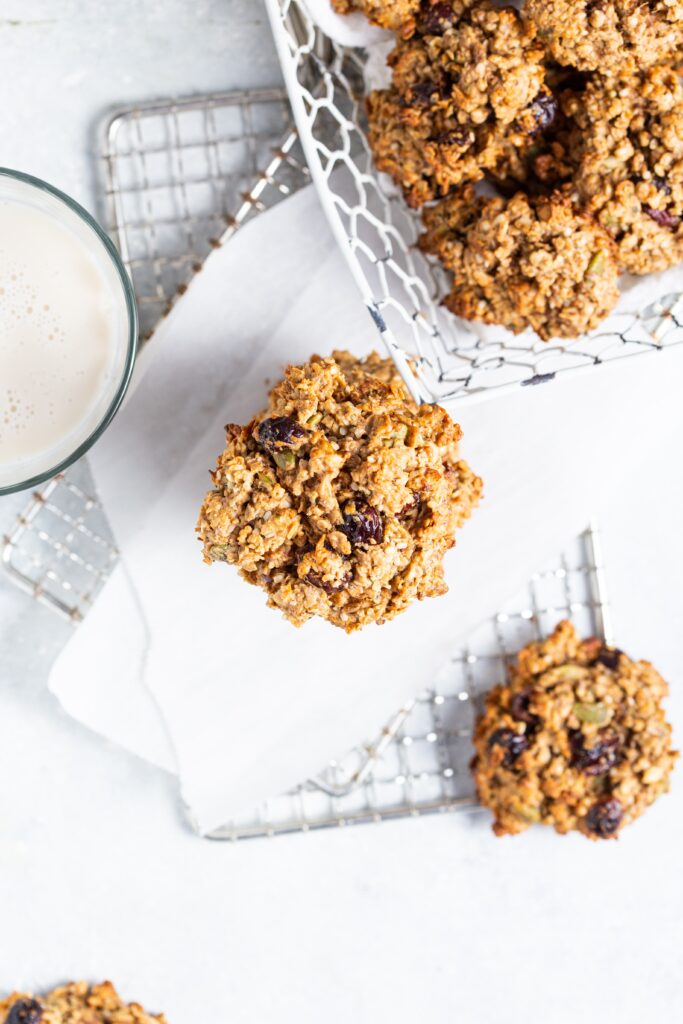 Tips & Tricks – Trail Mix Cookies
If you are open to using artificial sweeteners in place of maple syrup, you can save extra calories.
My favorite zero-calorie sweetener is liquid sucralose.
It lasts a LONG time (I've had the same bottle for well over a year and it's not even near gone.)
It's 100x sweeter than sugar, so a little goes a long way.
For best results, you use the actual concentrate as a starter and put water in it so that it's diluted.
It sounds a lot more complicated than it is but trust me – it's worth it!
I lost so much weight with this little product and I couldn't be happier with how it all went.
Check out these tasty plant-based recipes next:
Simple Vegan Oat Cookies (Easy Breakfast On The Go)