This 30-day flat belly challenge diet plan is the best 30-day challenge for flat stomach goals! Doing these flat tummy exercises and 30-day challenge is going to have you looking good and feeling right for the summer (or anytime)!
So read on to discover exactly how to slim your waist and trim down in just 30 days!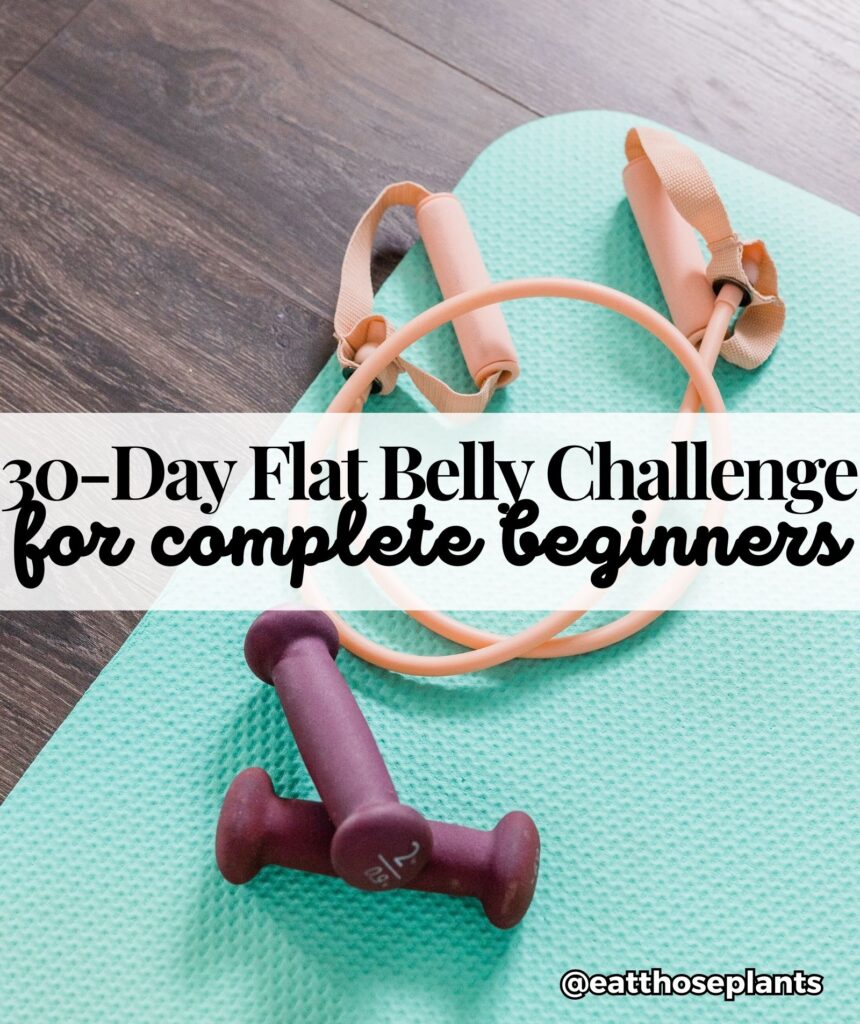 This post contains affiliate links, which means if you click a link and make a purchase, I may earn a small commission at no additional cost to you. See the full details
here
.
30-Day Challenges Work GREAT With Intermittent Fasting
I want to tell you right now based on personal experience, that 30-Day Challenges plus intermittent fasting equal incredible weight loss results.
If you're anything like me, you want to get the maximum effect with as little discomfort as possible.
Am I right, or am I right?
That's why if you're trying intermittent fasting, it's true that you don't have to exercise.
Just the calorie deficit alone will help you lose weight – especially if you're coming from a calorie-dense diet that has you overloading your body with tons of calories all day and night.
BUT… as we all know, exercise will help speed up the process.
And what we want is fast, safe, easy weight loss, yes?
So this 30-day ab challenge will be effective even if you don't use intermittent fasting to lose weight.
But if you're really serious about burning fat fast and shedding those extra pounds, you might consider combining intermittent fasting with this 30-day abs challenge.
Blending the two accounts for maximum transformation in the least amount of time!
30-day Flat Belly Challenge Diet
The best 30-day flat belly challenge diet is going to be one that incorporates whole foods like fruits, vegetables, and lean proteins.
Eating a balanced diet full of fresh produce, quality fats, and proteins will help fuel your workouts and keep you feeling energized throughout the day.
Plus, an effective diet plan should include plenty of hydration to keep your abs looking tight and toned!
Make sure to stay away from processed foods, refined sugars, and trans fats.
No matter how much you workout, "you can't outrun (or outcrunch) a bad diet!"
The PERFECT Ab 30-Day Flat Belly Challenge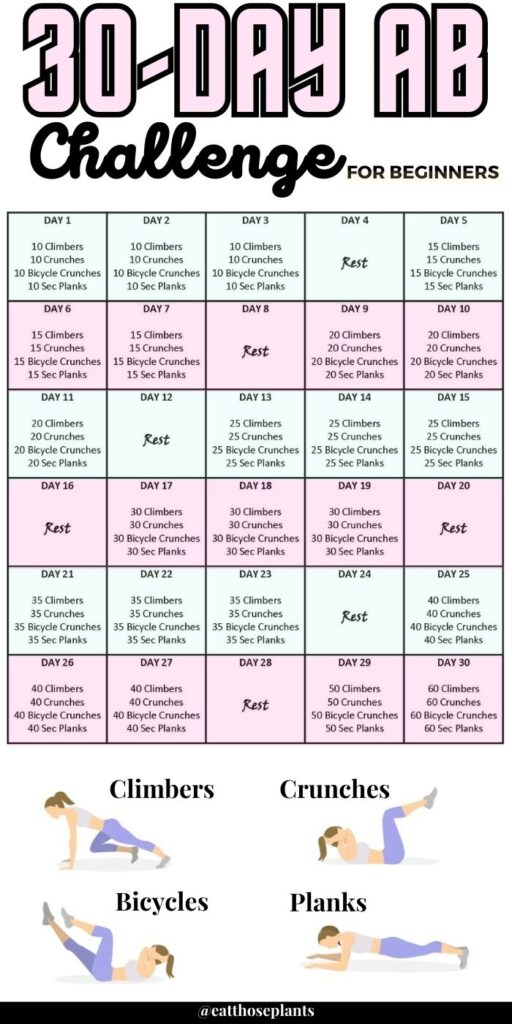 This 30-day flat abs challenge will help you get that slim, sexy, hourglass figure that you've always wanted.
Here's how it works:
Each day you'll have four exercises to work through.
Each exercise will have a designated number of repetitions (or, reps) to complete.
If you're brand new to exercises like those in this 30-Day Ab Challenge, you'll want to just do one set. That means go through the whole routine one time
If you've got a bit of experience and can handle more, shoot for two or even three sets for a greater burn!
Check Out The Great Ab Exercises In This Challenge…
1- Mountain Climbers
Start in a plank position.
Pull your right knee into your chest as far as possible.
Switch legs, pull one knee out, and bring the other knee in.
Keep hips down, run knees in and out as fast as possible. Alternate inhaling/exhaling as you go.
2- Crunches
Lie on your back.
Place hands either at the side of your head, crossing your chest, or beside you.
Tense your abs, lifting your torso off the floor while also using your abs to raise your legs into the air.
Hold for 1-2 seconds.
3- Bicycle Crunches
Lie on your back.
Place hands either at the side of your head, crossing your chest, or beside you.
Tense your abs, lifting your torso off the floor while also using your abs to raise your legs into the air.
Hold for 1-2 seconds.
4- Planks
Planks help build amazing core strength and are the perfect foundation for all other exercises for your entire body.
Get on your hands and knees with your forearms on the floor. Place your elbows beneath your shoulders.
Raise your torso off the ground with the balls of your feet touching the ground.
Tighten your core and your glutes. Keep your back flat. Imagine your body is like a table.
Hold for the designated number of seconds (or longer if you please!)
Want To Lose Even MORE Weight On This Challenge?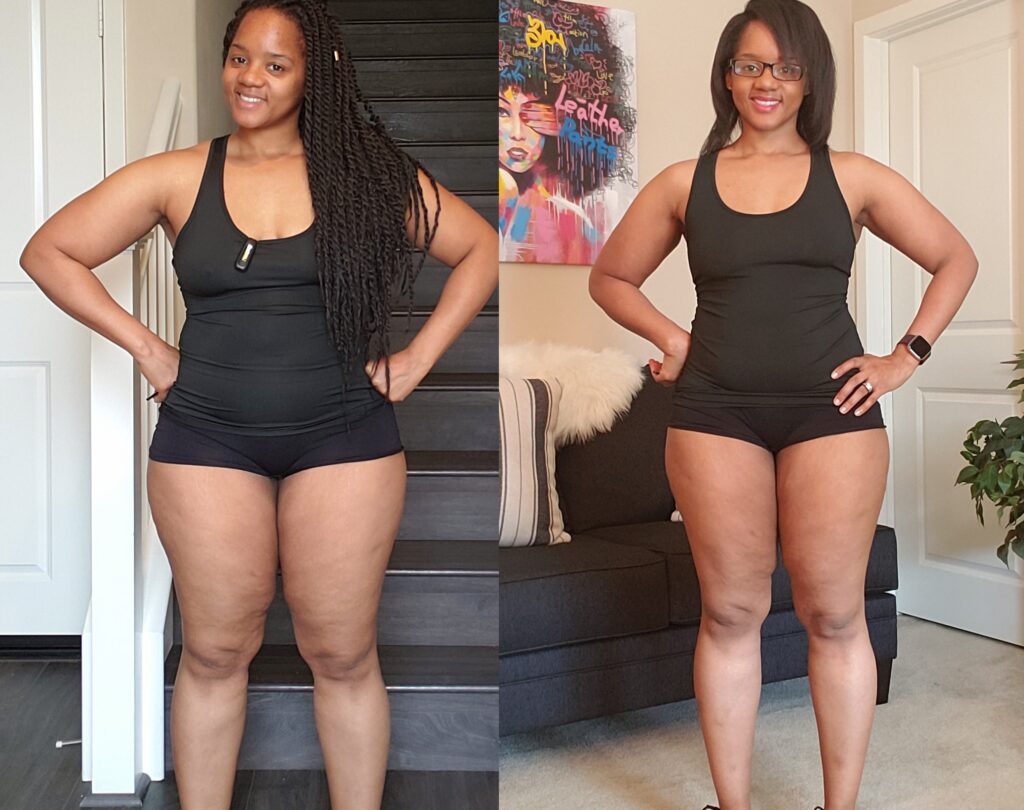 If you need to lose weight really fast and jumpstart your fat-loss process, do this 30-day fitness challenge while replacing some of your meals with tasty, simple, low-calorie smoothies on the smoothie diet!
It's a weight loss program that includes all the tools you need to lose weight, from a simple meal plan, tons of quick, easy, delicious smoothie recipes, and step-by-step instructions to walk you through the entire process.
It's a three-week program but honestly, you will start to lose weight in just two or three days.
After one week you'll be super happy. And if you make it to two weeks your mind will be completely blown!
It works so well you'll think it's magic. But it's not. It's real weight loss and fat loss that will give you the confidence boost you need.
Check out the smoothie diet right now!
Good luck!
P.S. If you're wanting to try it and see it at a discount, buy it now! When I first saw it for cheaper I hesitated, then the price went up and I had to wait a LONG time for the next discount (and it wasn't that much off.) Don't lose out and have to pay more than you need to!