Are you looking for a delicious, low-calorie salad dressing? If not, you should be!
If you're trying to lose weight, one of the best things you can do to improve your results is to replace high-calorie foods with lower-calorie ones.
It makes the weight loss process so much easier!
I know you probably hate counting calories, restricting your diet, and eating foods you don't enjoy just for the sake of losing weight.
Same girl, same.
But what if I told you there's a secret weapon that might completely transform your desire to eat loads of low-calorie, belly-filling, nutrient-dense vegetables and lose massive amounts of weight without even trying?
Lucky for you, that's what I've got in store for you, dear friend!
My favorite uber-delicious, low-calorie, creamy salad dressing that'll have you drop weight so fast you'll think it's magic!
RELATED: What A Day Of Plant-Based Intermittent Fasting Looks Like (Daily Routine)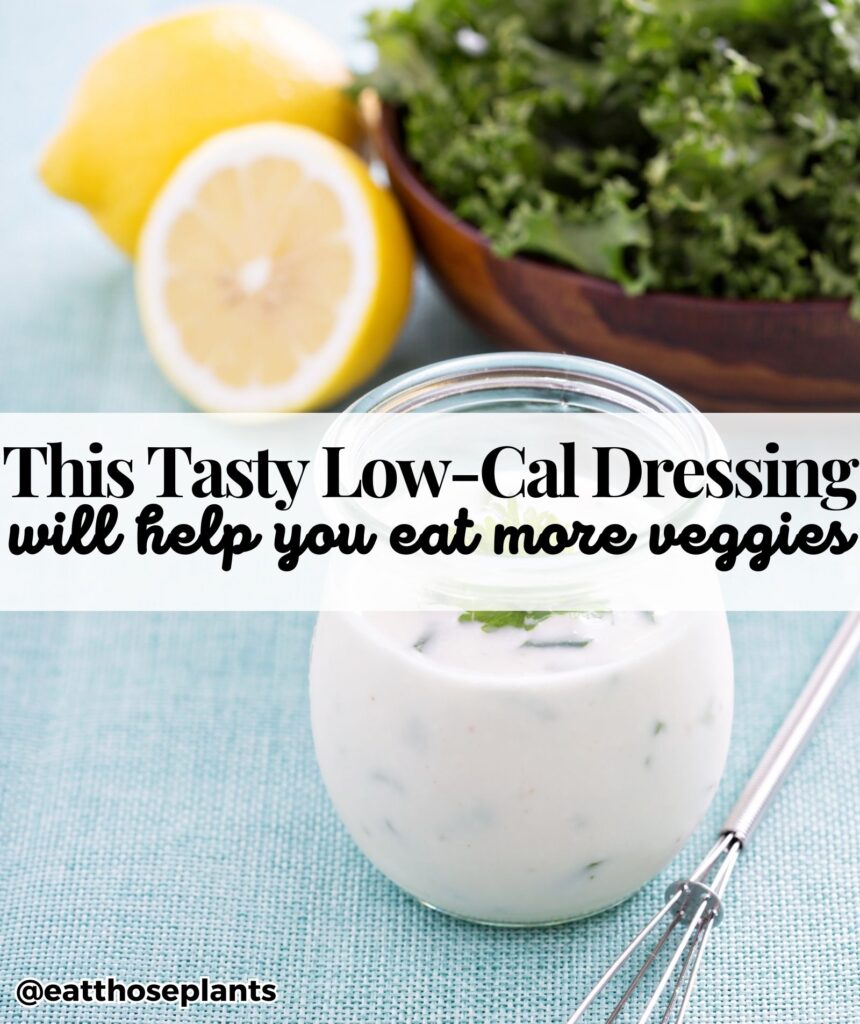 This post contains affiliate links, which means if you click a link and make a purchase, I may earn a small commission at no additional cost to you. See the full details
here
.
The Problem With Low-Calorie Foods
The problem with losing weight is, of course, we're told to eat more fruits and veggies.
So, naturally, we default to eating more salad.
It's the fastest, easiest way to get more veggies into your diet.
Now I don't know about you, but I'm usually down for a big salad, but salad dressing has always been a big problem.
I hate, hate, HATE light, watery type dressings. I NEED that creamy texture to coat every last inch of my salads, or it's no dice.
So I've tried lower-calorie or reduced-fat salad dressings purchased from the grocery store.
And you know where this is headed…
They are downright AWFUL, aren't they?
And they still have way too many calories for me to be happy.
I don't want a big ass salad with a small dollop of nasty dressing!
I want a big ass salad with HUGE gobs of creamy, tasty sauce on top!
Enter this low-calorie, belly-slimming, plant-based salad dressing recipe to save the day!
Super Low-Calorie Salad Dressing For Weight Loss
The magic ingredient in this super-easy salad dressing recipe is tofu!
Now, even if you don't think you like tofu, I think you should give this creamy salad dressing a try.
You see, once blended, the tofu turns super creamy!
It has such a neutral flavor that you can easily create different flavors based on how you season it!
When you want Mediterranean inspired dressings, add things like turmeric, garam masala, and curry seasoning.
If you desire a spicier, Latin dish, add roasted red peppers, chipotle in adobo sauce, and cumin.
You can even make ranch, cheesy sauce, and basil pesto!
The sky is the limit here, and not a single week goes by that I don't have at least two or three mason jars full of creamy tofu salad dressing in my fridge!
RELATED: 9 Simple Tips For Transitioning to A Plant-Based Diet For Weight Loss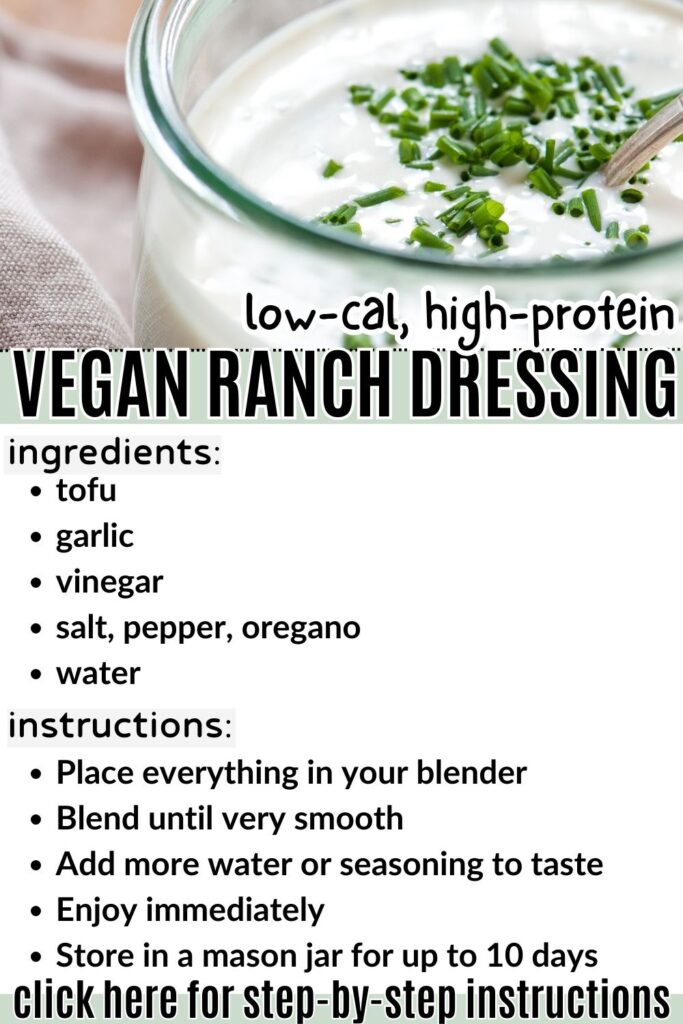 What You'll Need To Make This Low-Calorie Salad Dressing
Before you get started, you do need a few kitchen staples.
First, a high-speed blender is definitely in order.
I use and recommend the NutriNinja because it's high-powered, compact, and a great price! I've had mine for over three years and have never had a problem with it. Don't you just love high-quality products that last a long time?
Next, you'll need a food scale.
Even if you don't count calories, it's still a good idea to form a positive habit of weighing your food!
I recommend the Ozeri food scale.
I actually own two of them and, again, have had them for years. They are low-priced and perfect for quick and easy food measurements.
Now that we've got that covered, here's how to make this quick, easy, creamy, low-calorie salad dressing!
Low-Calorie Tofu Salad Dressing Ingredients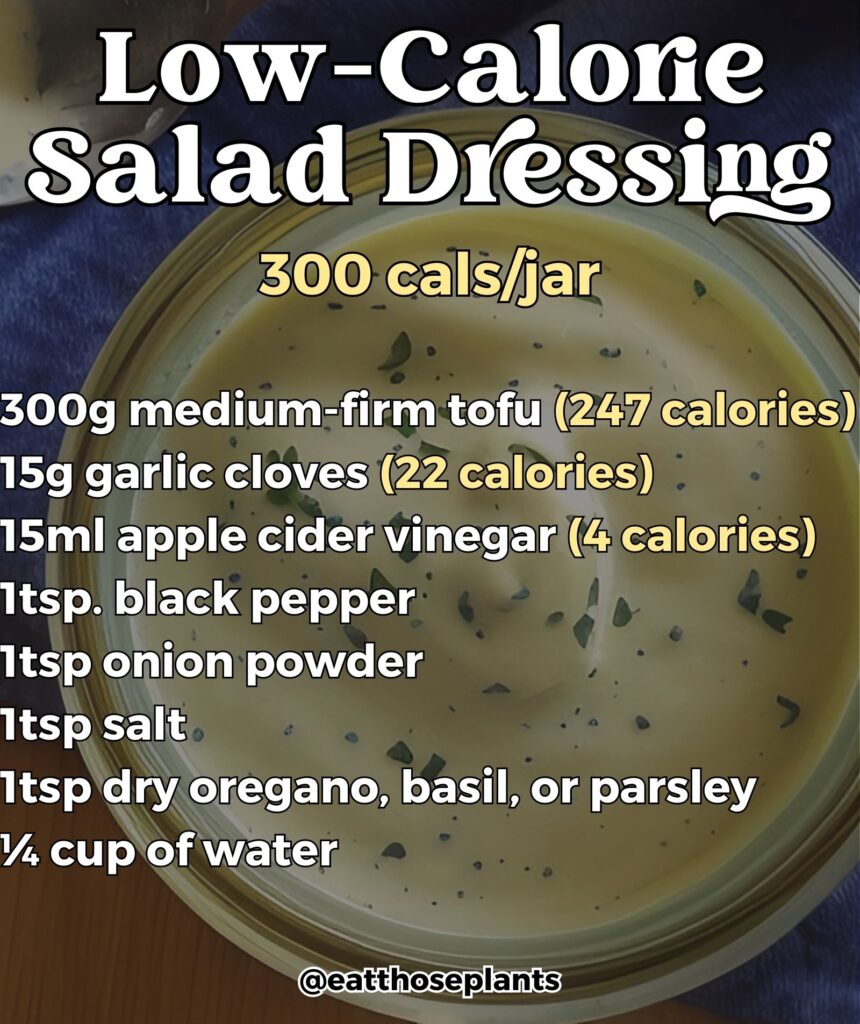 300g medium-firm tofu (247 calories)
15g garlic cloves (22 calories)
15ml apple cider vinegar (4 calories)
1tsp. black pepper
1tsp onion powder
1tsp salt
1tsp dry oregano, basil, or parsley
¼ cup of water
Easy Low-Calorie Salad Dressing Instructions
Place everything in your blender and blend until very smooth. Add more water or seasoning to taste. Store in your refrigerator for up to 10 days.
This recipe will get you an entire jar of delicious, creamy salad dressing for under 300 calories.
You could literally eat the entire jar in one day and not gain weight.
And you won't eat the whole jar in a day – -but you could!
This is my secret weapon for losing weight.
You will love snacking on super low-calorie foods like cauliflower, carrot sticks, celery, and broccoli all day because you can dip it into this dressing and never worry about calories or fat.
You can eat HUGE salads and feel filled to the brim and never have to worry about your waistline.
If you make one change to your diet, let it be this.
You won't be disappointed!
Low-Calorie, Plant-Based Salad Dressing For Weight Loss