This is my update from intermittent fasting for 3 weeks! As explained in my week 1 and week 2 intermittent fasting updates, I chose to try intermittent fasting after failing at literally every other attempt to lose weight.
I learned of intermittent fasting on the Reddit forums, r/fasting, and r/intermittentfasting. But I was too chicken to give it a try!
I thought it sounded weird, that I'd enter "starvation mode", and that I couldn't do it. But I was so desperate to lose weight that I decided "What do I have to lose?" And dove right in!
So I gave it 110%, chronicled my entire experience in a series of blog posts for accountability, and here we are – at update #3!
Don't forget to check out the big before and after one-month fasting reveal at the end!
I hope you like this review of intermittent fasting for 3 weeks!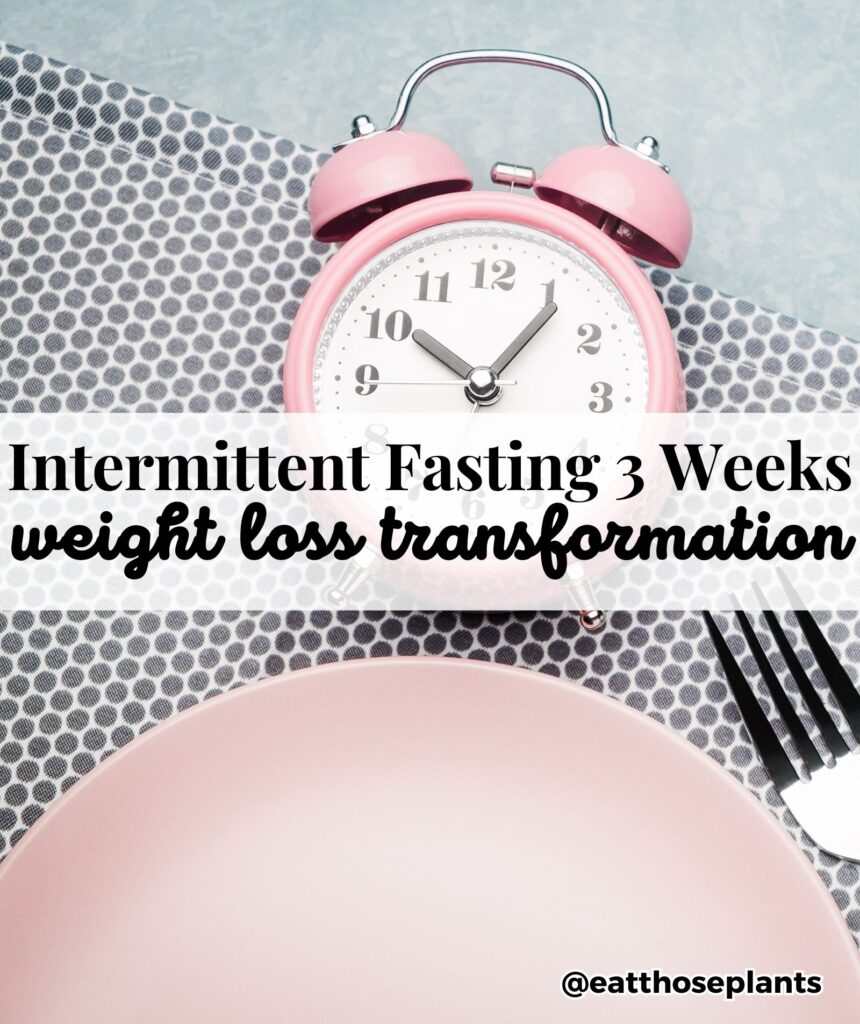 This post contains affiliate links, which means if you click a link and make a purchase, I may earn a small commission at no additional cost to you. See the full details
here
.
Week 3 Intermittent Fasting Weight Loss Plan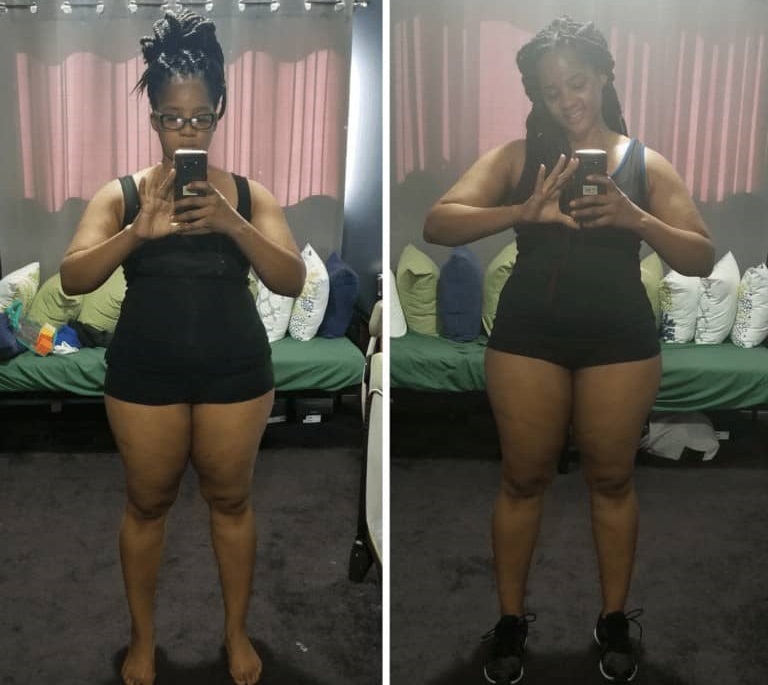 I went into week three with the goal of mimicking week 2. I wanted to continue the 16:8 plan, walk/jog 2 miles most days, and do a little resistance training with these bad boys a couple nights during the week.
The previous 2 weeks I didn't miss a single day of fasting, and week 3 was no different. I crushed it!
Intermittent Fasting 3 Weeks Results
Starting weight: 169.0 | Ending weight: 167.2 | Weight lost: 1.8 lbs
Starting body fat %: 36.6% | Ending body fat %: 36.1% | Body fat % lost: 0.5%
Total intermittent fasting weight loss results
Starting weight: 176.6 | Ending weight: 167.2 | Total weight lost: 9.4lbs
Starting body fat %: 38.8% | Ending body fat %: 36.1% | Total body fat % lost: 2.7%
General Observations – 3 Weeks Intermittent Fasting
This week was probably the most uneventful with intermittent fasting, but I think this is a GOOD thing. The newness and excitement wore completely off.
I got a little sick for a couple days and didn't exercise or focus as much as I wanted. I began to obsess less over what hour I was on, didn't track any calories or eat particularly clean.
And I even FINALLY allowed myself a sugary treat! The family and I went to the pier and ate churros. What was amazing is that it wasn't a craving. And I haven't had any additional sugar since.
This is pure magic because I could literally put away an entire box of candy without issue. I feel like my sugar addiction has truly been cured. Over 3 weeks with only one sugary treat and zero cravings? Eureeka!
I really like the "blahness" of this week. Usually, with a new diet or fitness program, I'm super excited in the beginning.
When week 3 or 4 hits and I lose steam, or life happens, it's so easy to fall completely off. With this, there's literally only ONE requirement — don't eat for at least 16 hours.
Everything else is extra.
Meaning with very little effort I stayed on target. That's really important to me for sustainability.
Exercise – 3 Weeks Intermittent Fasting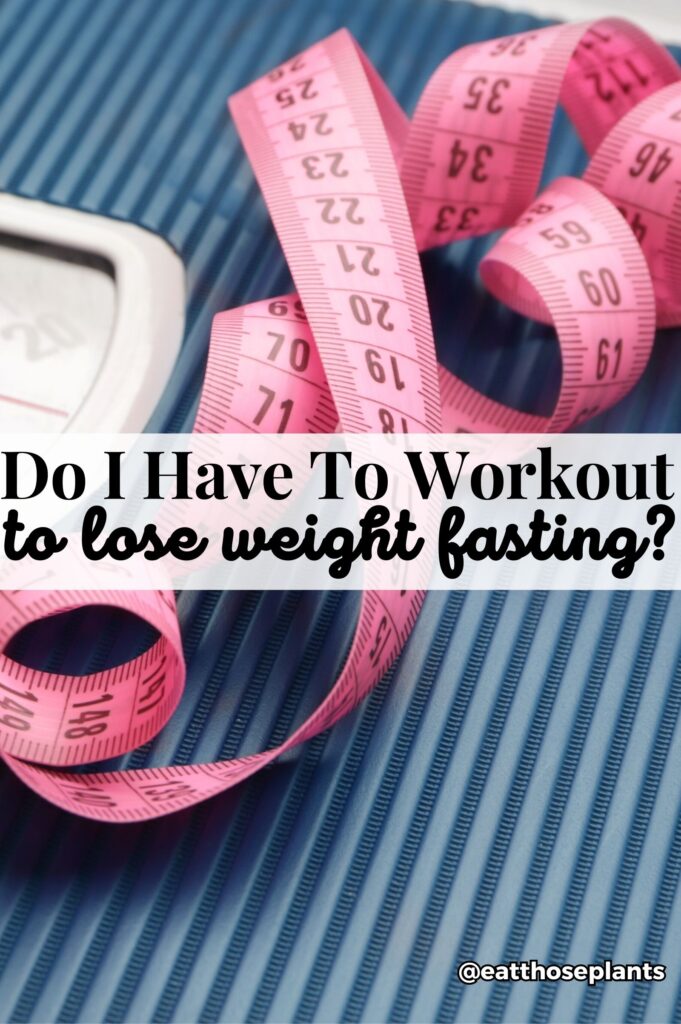 Like I said, my activity plummeted hard this week. I didn't go to the gym at all, and only jogged/ran outside 2 days (maybe 3). I only also lifted weights exactly once, for 22 minutes.
These days I do a lot of walking or jogging in place and confidently recommend that for you to try if you have problems staying consistent with working out.
But back then I'd yet to discover that neat little trick!
Give it a try and see how much easier it makes weight loss for you! 🙂
3 Weeks Intermittent Fasting Diet Plan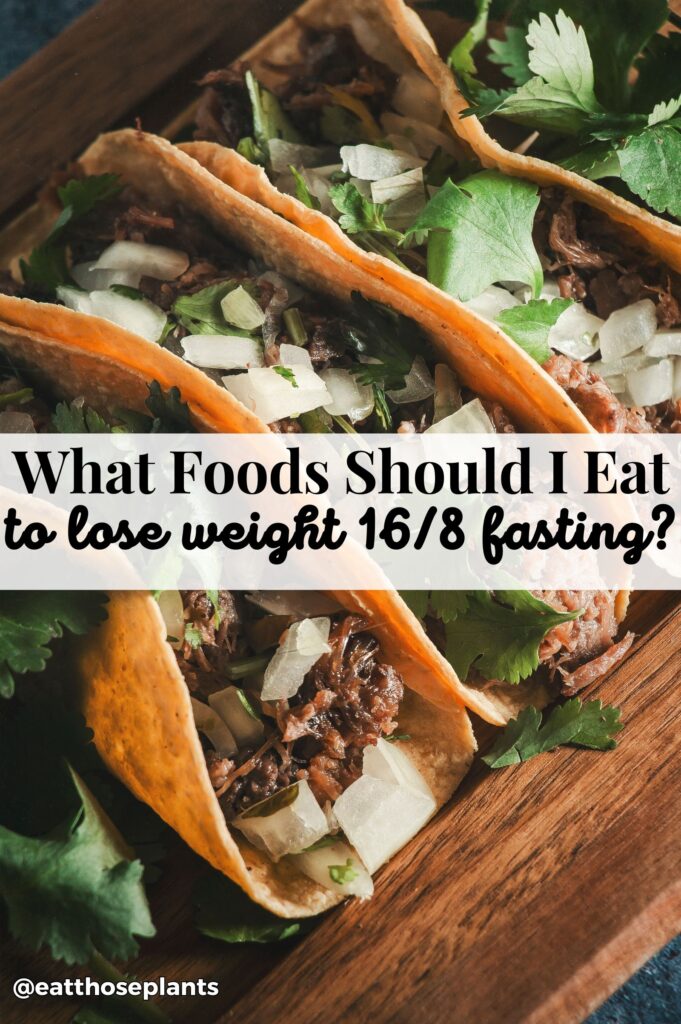 Generally, I expected to eat well the entire time fasting, but my diet was kinda "whatever" for my third week of fasting.
Again, this took place before I transitioned to a plant-based diet, so nothing was really out of character.
I ate a big salad most days, but one day I went to the pier on the beach and ate shrimp, potatoes, garlic bread, fries, and churros! It was so enjoyable!
I was happy to be able to keep a moderate diet but not be perfect and still lose weight!
Benefits Of Intermittent Fasting 3 Weeks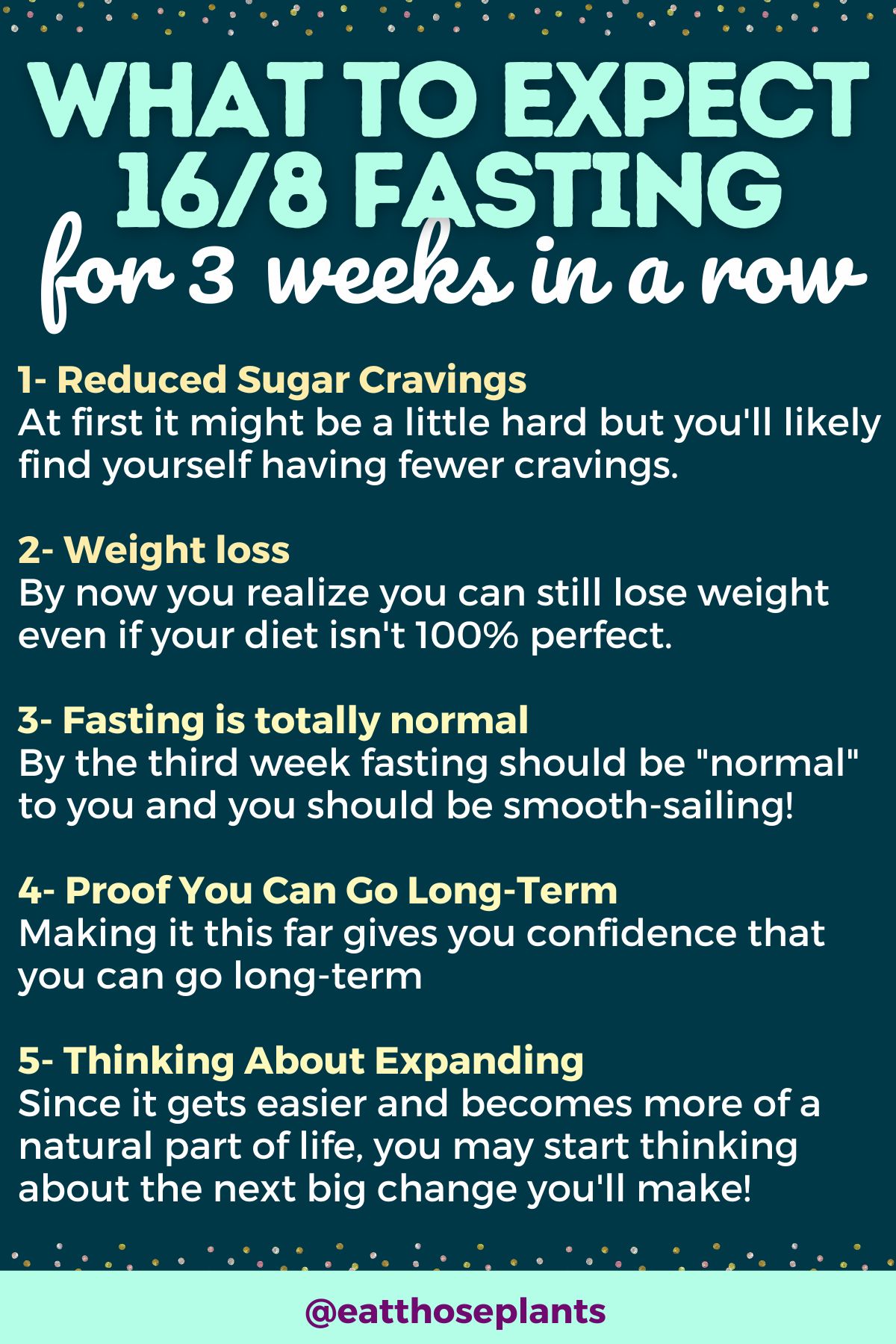 Sugar cravings zero: I think this is the biggest takeaway and probably will remain so
I still lost weight: With zero effort on my part, I still lost as much weight as I would have with a "normal" diet plan with working out hard
Fasting is way easier than ever: I started hitting super long stretches before eating (like 20 hours some days!). This is by accident. Just not as hungry!
Proof that it's sustainable: If literally ALL I have to do at the very least is just not eat, I'm convinced it's going to work for the long-haul. Most of the time I have the energy to work out and eat clean. But it's nice to know that if I don't, I'm still good. By contrast with low-carb dieting you lose weight but if you come off low carb for a week you start to gain almost immediately. No thanks.
Desire to push forward: I've yet to actually do this yet, but since this is becoming a more natural and easy part of life, I'm thinking of other ways I can accelerate weight loss next!
3 Weeks Intermittent Fasting – Final Thoughts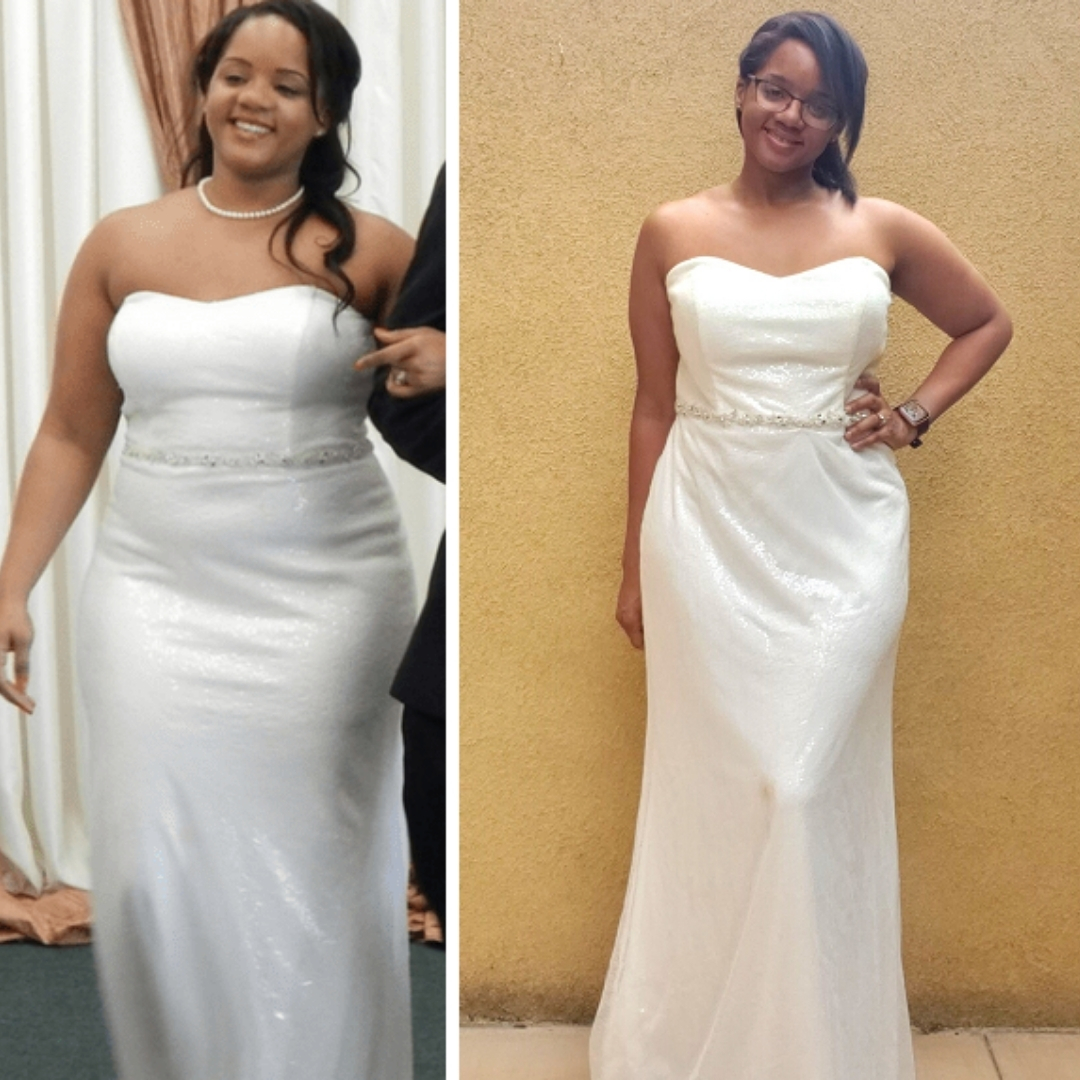 I hope you enjoyed my review of intermittent fasting for 3 weeks!
Again, this all happened in May of 2018 and my approach has changed some since then, but if you're new to fasting I hope my personal journey is useful for you to know what to expect.
I have transfered to a plant-based diet now (hence the site title "Eat Those Plants" lol), and I will sing it from the rooftops that it is still such a beneficial change for anyone who wants to get serious about losing weight and keeping it off.
HOWEVER, it's not 100% necessary to get the ball rolling in the right direction!
You CAN lose weight even if you never intend to go plant-based or vegan – all starting with intermittent fasting!
So, I hope you give it a try and see what works for you!
I know that if you put your mind to it, you can lose all the weight you want, feel amazing about yourself and where you're headed in life, and finally get that dream body you crave and deserve.
Happy fasting!
Intermittent Fasting Week By Week