Looking for quick, easy, and flavorful meatless meals that can help you lose weight and enjoy what's on your plate? These seven soy curls recipes are just what you need!
Whether you're aiming for your first Meatless Monday or are a bit deeper into your plant-based or vegan journey, these delicious dinners are sure to please.
Here are seven of the best vegan soy curls recipes.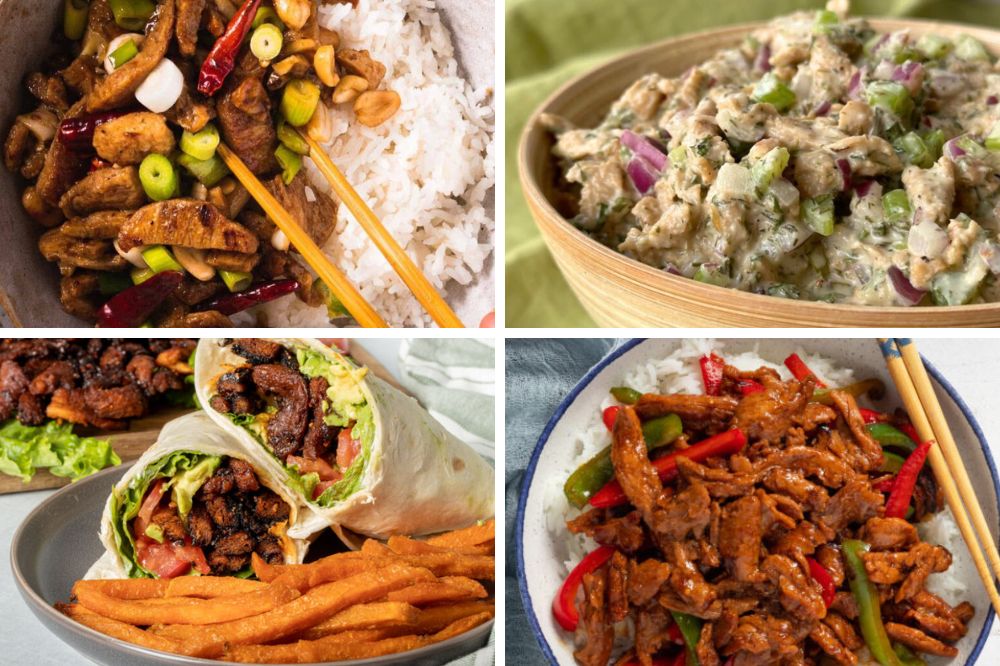 This post contains affiliate links, which means if you click a link and make a purchase, I may earn a small commission at no additional cost to you. See the full details
here
.
What are soy curls?
Soy curls are delicious vegan protein option made from whole soybeans.
They are a great source of plant-based protein and can be used in a variety of dishes, making them a popular choice among vegans and vegetarians.
Unlike processed soy products like some frozen vegan "meats", soy curls are minimally processed and contain no artificial ingredients or preservatives.
They are also gluten-free, making them an excellent choice for those with further dietary restrictions.
RELATED: Easy Crispy Tofu Stir-Fry Bowl Recipe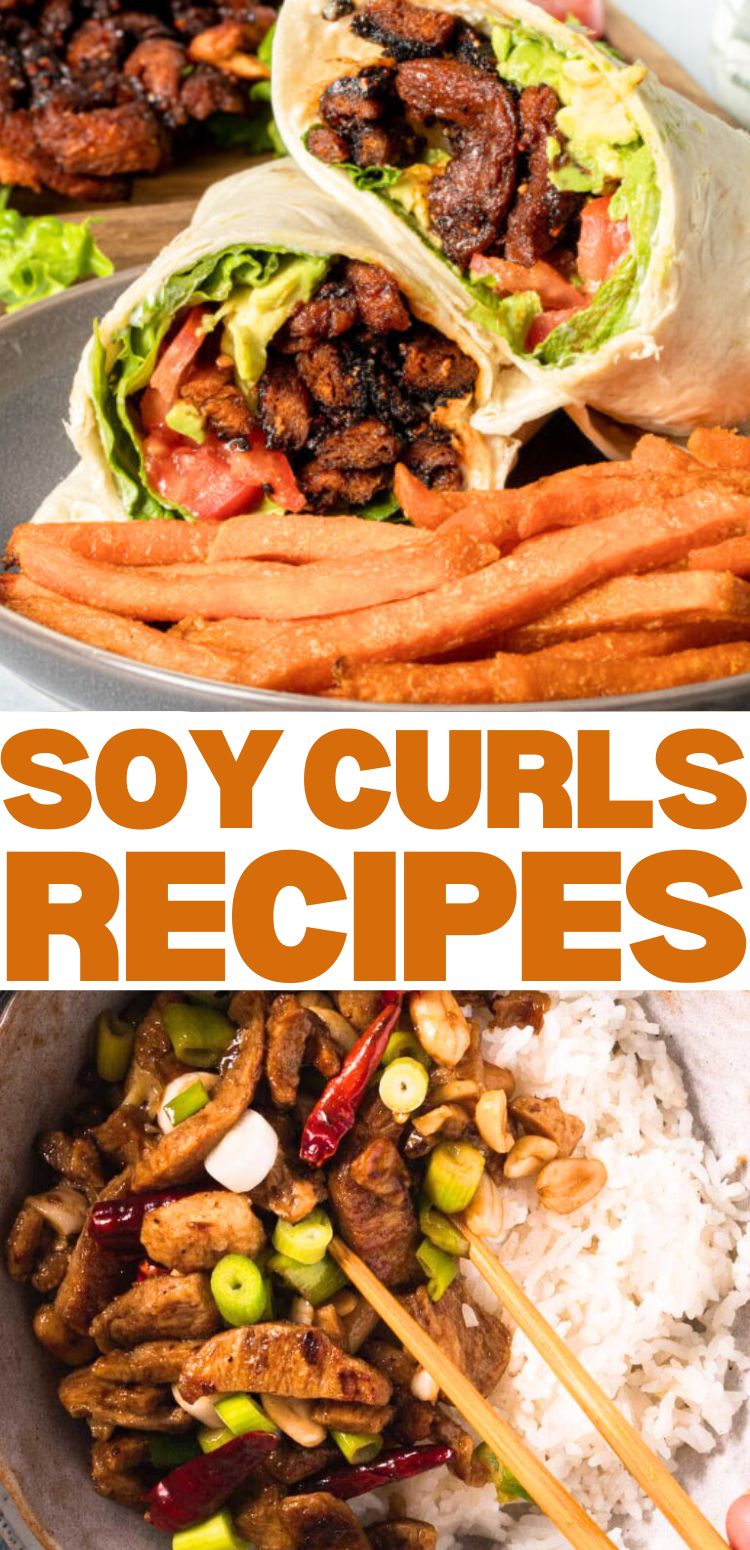 Why choose soy curls over other alternatives?
One of the biggest things about eating more plants and less meat is that it can be hard if you feel you have to throw out everything you've ever known.
Soy curls are a great alternative to meat as they provide the same texture and flavor without compromising on nutrition.
They are low in fat, high in fiber, and super easy to work with!
Many other vegan meats contain all sorts of nasty fillers and also tons of oil. And that's horrendous for weight loss or management.
Plus, soy curls have a neutral flavor but are excellent at absorbing the flavors of any spices you add.
It's kind of a no-brainer when you look at things from that perspective!
RELATED: 17 Plant-Based Food Swaps That Will Help You Lose Weight
How do you prepare soy curls?
You'll see in the recipes listed below that you can prepare soy curls in plenty of ways.
But the main first step is to rehydrate them in water for about 5-10 minutes before cooking.
Then, the possibilities are endless.
You can bake them, fry them, air fry them, use them in soups and stews, or marinade them.
Heck, you can probably even barbecue them if you want to and I could imagine that turning out pretty good (though I've yet to try that.)
RELATED: Where Do You Get Your Protein?": A Plant-Based Guide
Where can I get soy curls?
I started buying soy curls on Amazon initially because I just wanted one bag to try them out.
But over time they can get pretty pricey.
Since I almost replaced my meat 100% with soy curls, I found a better deal buying bulk from Nuts.com!
I think I wound up getting 10 pounds of soy curls for around $70 there. Give or take a few bucks.
That can sound like a lot if you compare it to meat prices at the store, but it's a great deal over buying one bag at a time.
Plus, while soy curls are great for weight loss and much better than meat, it's even more nutritious to focus on whole plant-based foods as much as possible.
So I'm eating even less soy curls than I'd eat in meat in "the before times", but I'm eating fewer meat substitutes overall, so they go a LONG way!
RELATED: What Is TVP (Textured Vegetable Protein)?
1- Miso Stir Fry With Soy Curls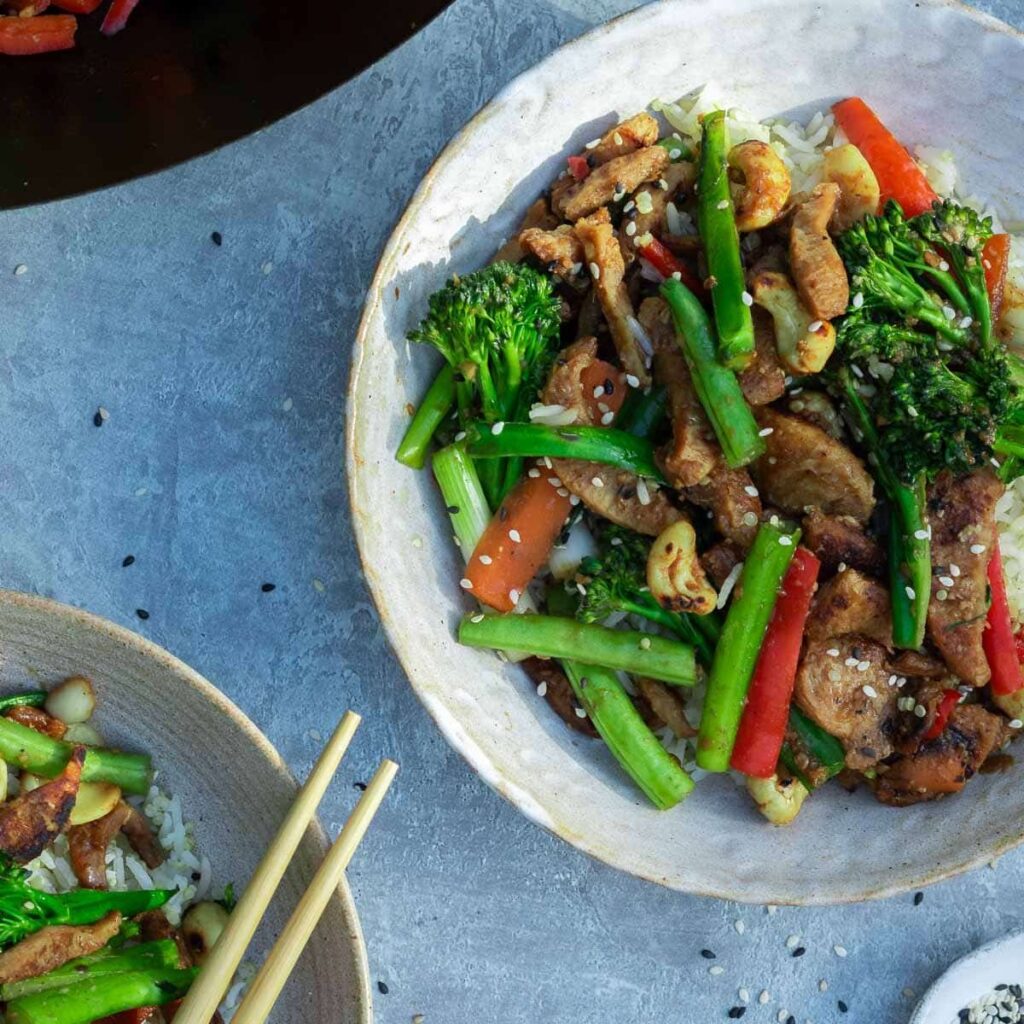 This Miso Stir Fry recipe is one of my favorite ways to enjoy soy curls. It's so easy and packed with flavor and veggies. The best part?
When I shared this with my very NON-vegan dad, he didn't believe me when I said it wasn't meat.
Trust me, the delicious umami-packed miso stir fry sauce and the quick stir fry method will have you craving it every week!
Source: The Vegan Larder
2- Vegan Soy Curls Chicken Salad
Looking for something light and flavorful, especially for warmer spring or summer months?
This Vegan Chicken Salad recipe is simple, nutritious, and filled with protein-rich soy curls – no chickpeas included!
Delight in the ideal texture and flavors of this beloved plant-based dish.
Source: Alternative Dish
3- Vegan Soy Curls Kung Pao Chicken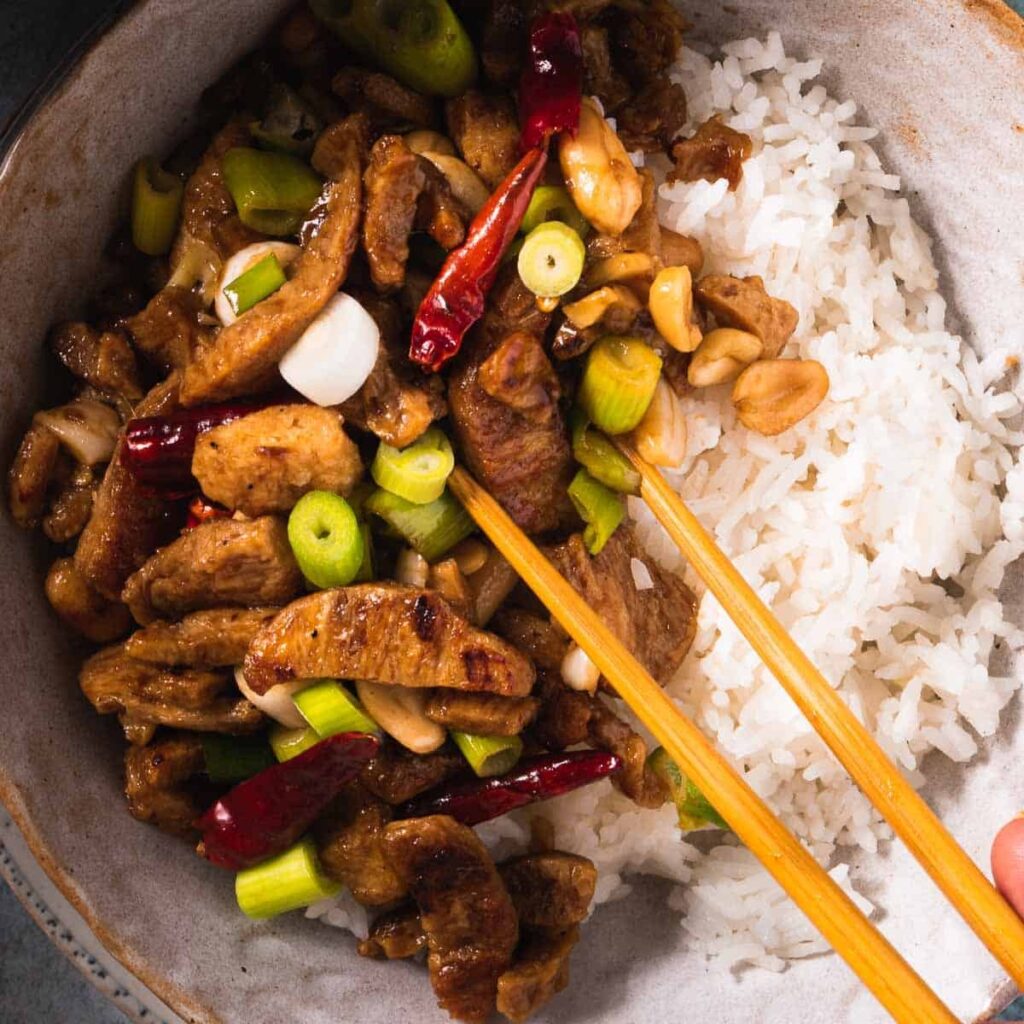 I've been obsessed with making this vegan Kung Pao Chicken on repeat! It's ridiculously easy to make and bursting with flavor.
The spiciness from the chili, the juicy soy curls that mimic chicken, the satisfying crunch from the peanuts, and that irresistible marinade… it's seriously addictive!
Source: The Vegan Larder
4- Soy Curl Bacon + BLT Wraps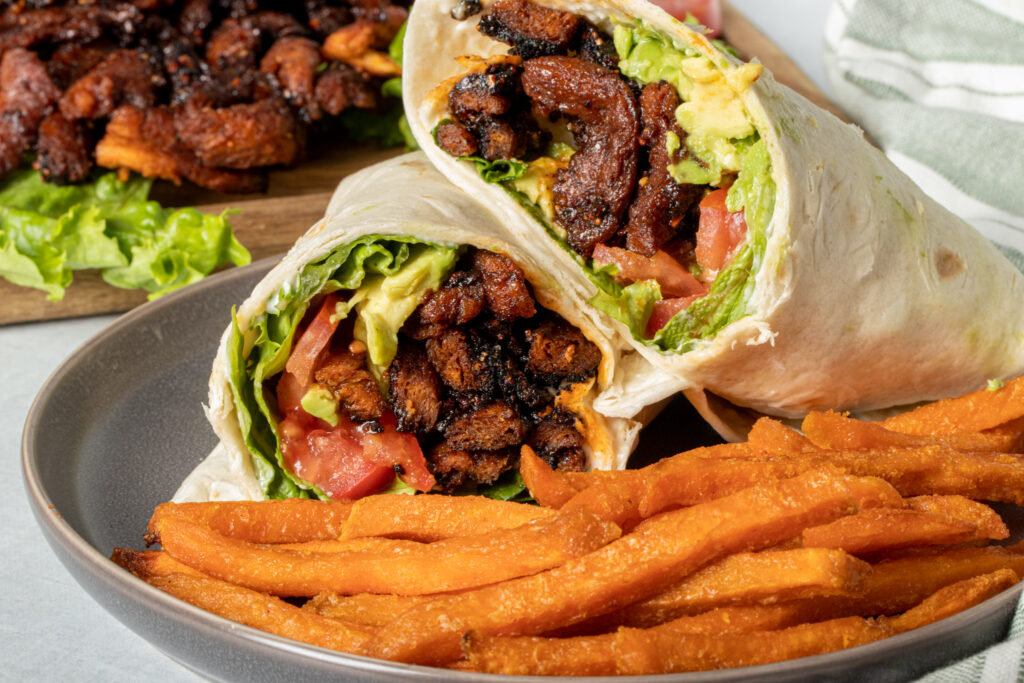 Craving the essence of bacon but want to go lighter on the meat?
This soy curl bacon recipe is absolutely delish!
This recipe will show you how to make the soy curls bacon and then create a BLT wrap for a tasty, simple lunch on the go.
Check it out this week – you won't be disappointed!
Source: Zardy Plants
5- Vegan Soy Curls Carne Asada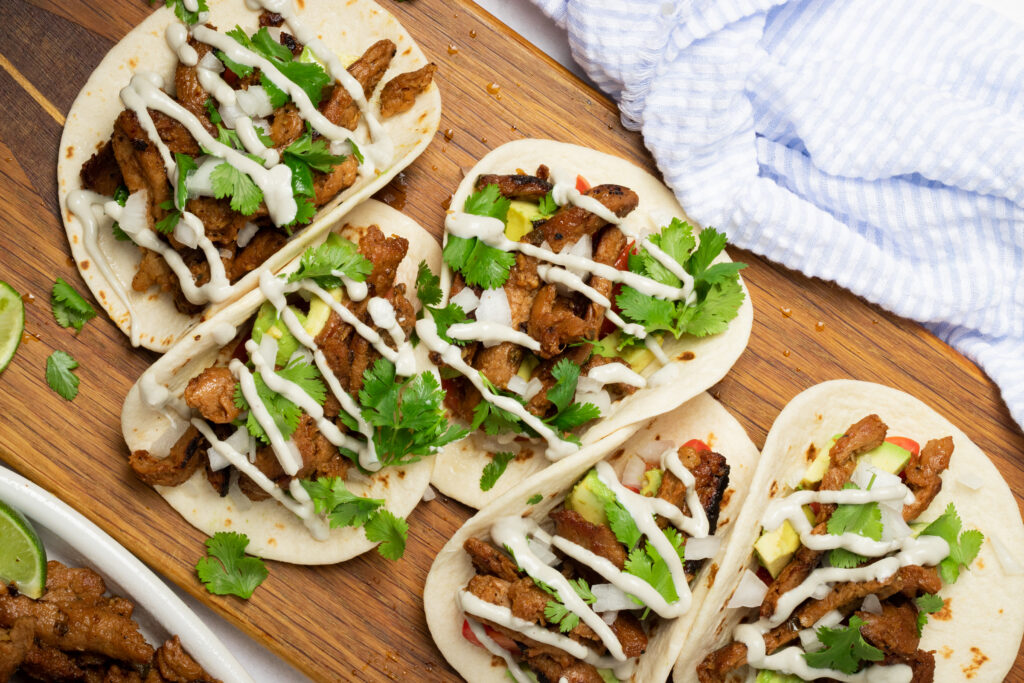 Make your next Taco Tuesday a total success with this flavorful carne asada recipe!
You won't believe how tasty it is (and you'll be coming back for more, I promise.)
Source: Zardy Plants
6- Vegan Chicken & Dumplings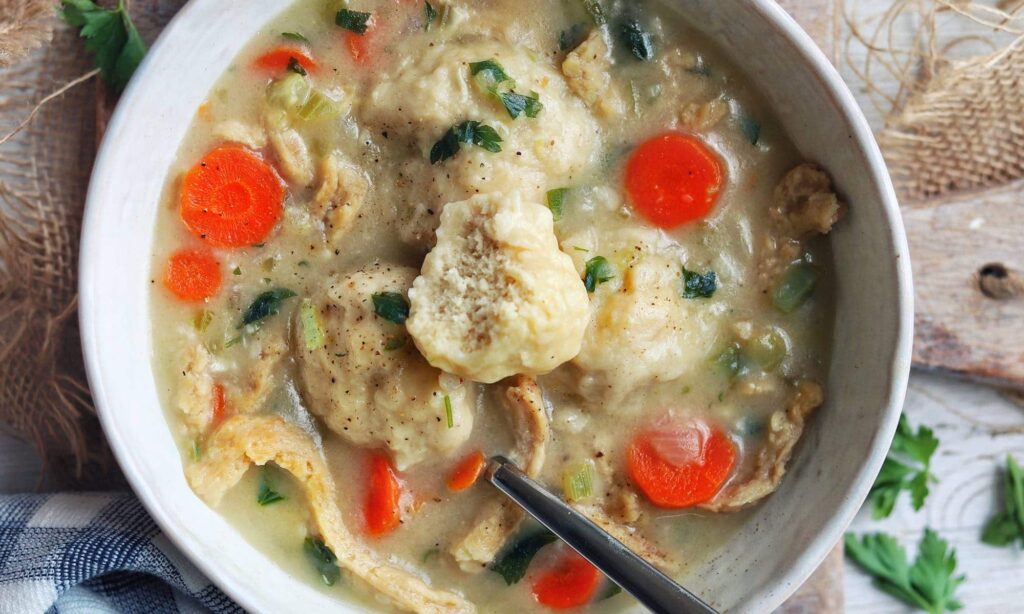 This vegan chicken and dumpling soup is perfect for the autumn season.
It is bursting with flavor, featuring fluffy dumplings that will transport you back in time.
Prepare to be captivated by its rich and nostalgic taste – this soup is truly delightful!
Source: World Of Vegan
7- Vegan Soy Curls Pepper Steak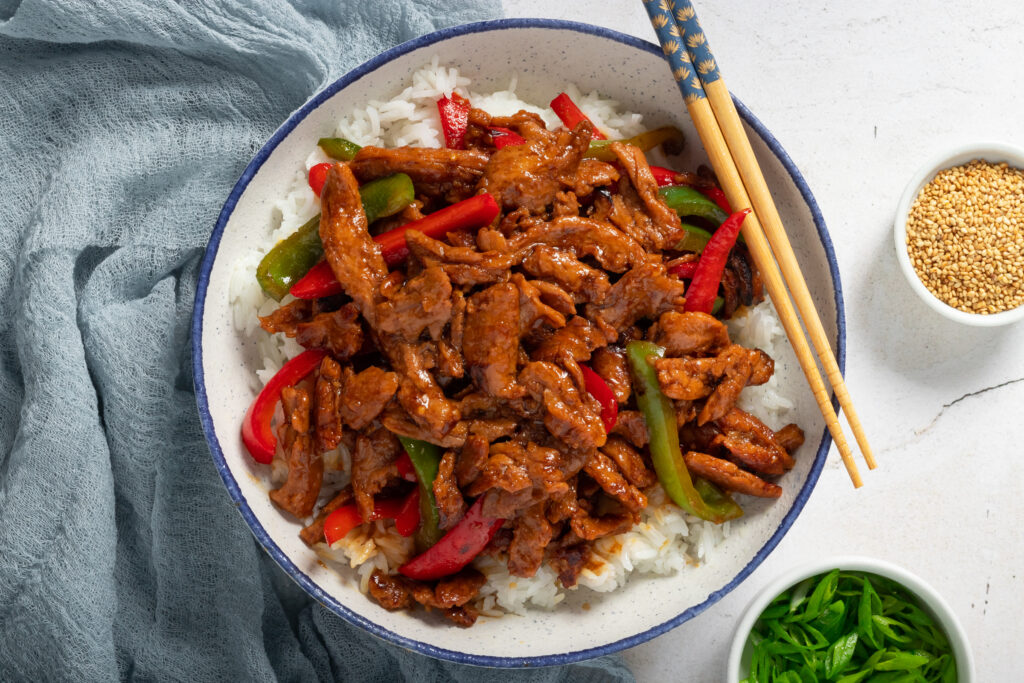 This flavorful and delightful Vegan Pepper Steak is ready in less than 20 minutes, making it a fantastic option for a nutritious weeknight dinner.
It features tender yet chewy soy curls (or any vegan meat substitute you prefer), crisp bell peppers, all coated in a savory umami sauce with a touch of sweetness.
Source: Zardy Plants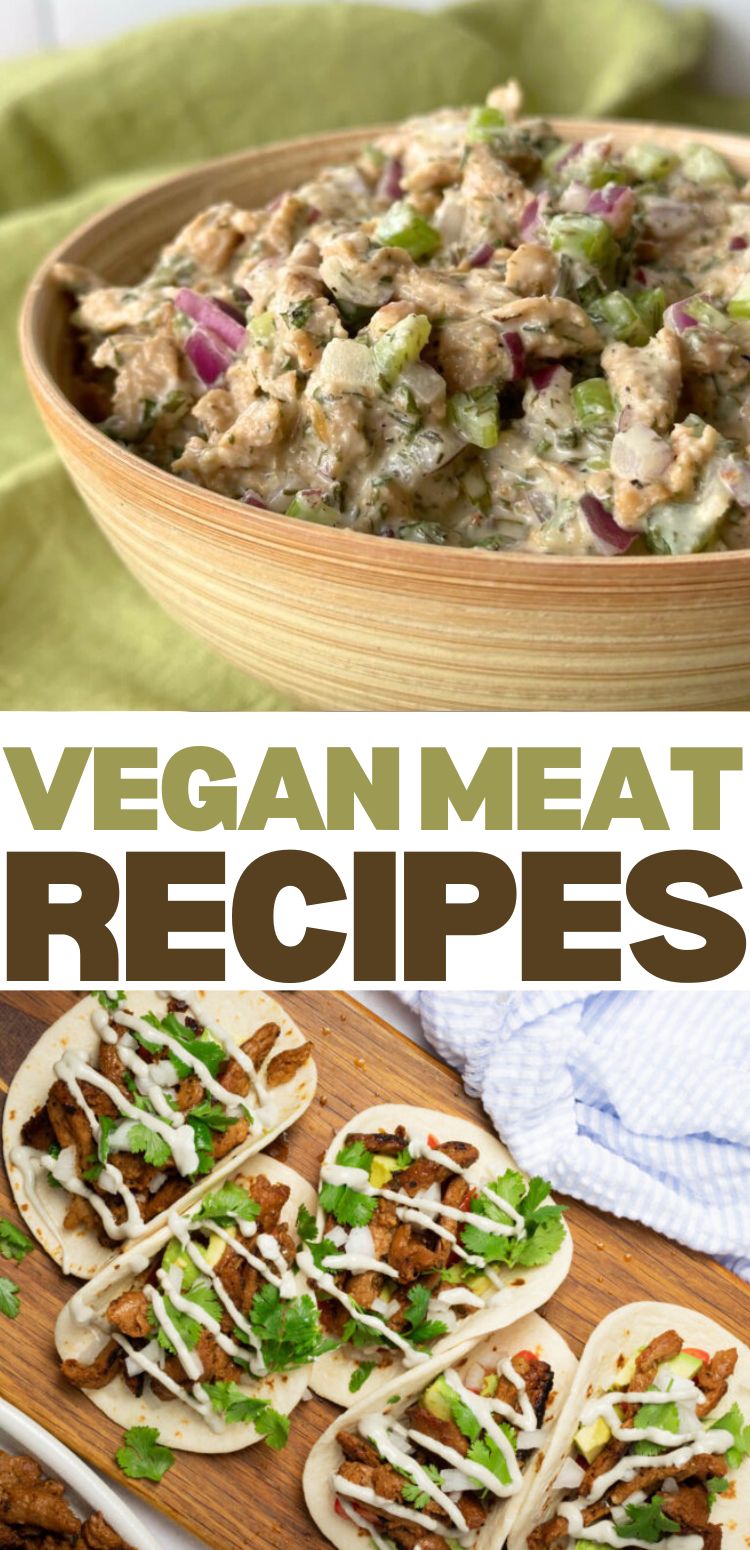 The bottom line
At the end of the day, soy curls are an awesome meat alternative, and they can be a great way to get plant-based nutrition, lose weight, and still enjoy a variety of different cuisines that don't stay too far from what you're used to.
Grab a bag or two of soy curls here, then whip up one of these delicious recipes and I promise you'll understand what I mean!
Bon appetit!