Smoothies are so great for weight loss because they're easy to make, nutritious, and super-filling (depending on what you put in them!)
But if you don't have a huge arsenal of smoothie recipes in your toolbox, you may not know where to start.
In this post, you'll discover 16 of the BEST fat-burning smoothies to help you detox and slim down!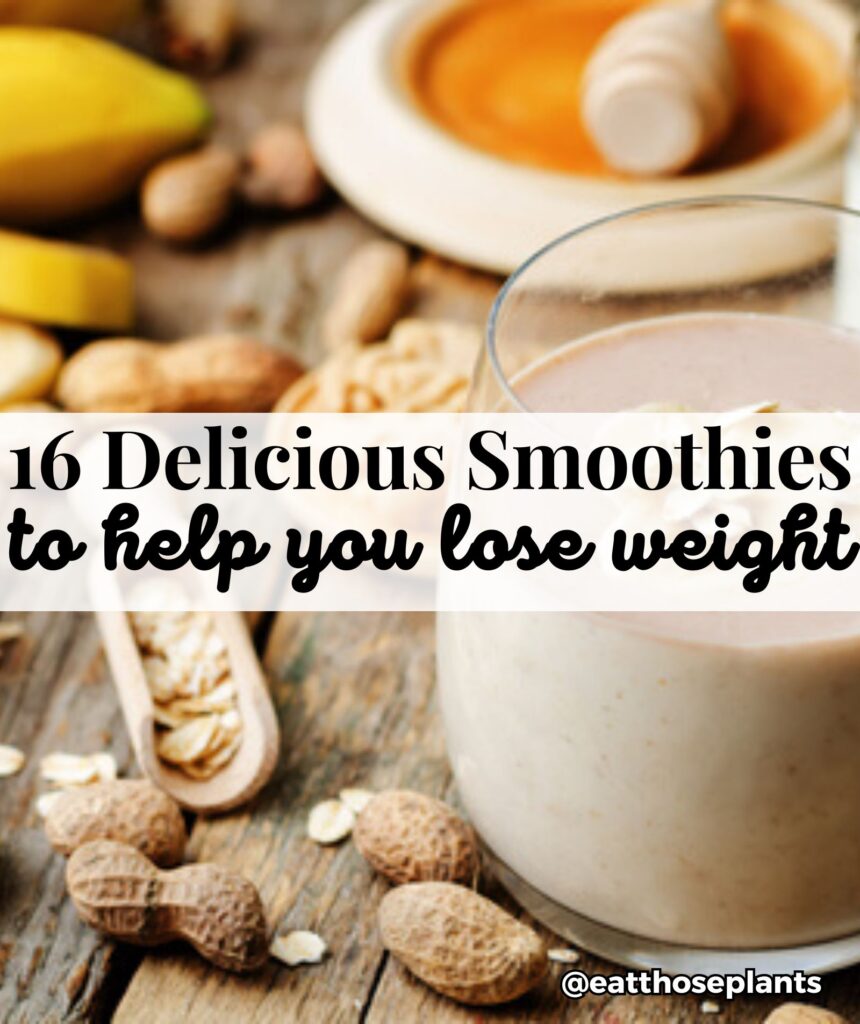 This post contains affiliate links, which means if you click a link and make a purchase, I may earn a small commission at no additional cost to you. See the full details
here
.
Benefits Of Smoothies for Healthy Weight Loss
Smoothies are excellent for achieving and maintaining weight loss for so many reasons. Here are just a few.
1- Smoothies Are Simple
We all know that we need a variety of nutrients and micronutrients from a variety of sources of fruits and vegetables each day. One of the reasons we may crave unhealthy foods or experience hunger pangs is that we are nutrient-deficient.
Sure, you could pop a vitamin and hope to close the gap.
Or, you could drink a cleansing, nourishing smoothie every day to make sure you have a simple way to get everything you need!
Yup — with a smoothie, you'll get all the nutrients you need in one glass without having to fire up the stove, oven, or microwave.
All you have to do is pop the ingredients into your blender (I use and love the NutriNinja) and you're good to go!
2- Smoothies Are Versatile
Sometimes it can be challenging to feel like you're getting enough variety with your palate if you're eating the same fruits and vegetables all the time.
With weight loss smoothies, possibilities are endless!
You can literally try a new smoothie every day and never get bored!
3- Weight Loss Smoothies Save Time
Not only do smoothies take the guesswork out of what you'll be eating and save time because you don't have to actually cook, but you can save even more time by using frozen fruit and veggies!
Frozen fruits and vegetables have actually been shown to retain more nutrients than fresh.
So you save time AND get that benefit as well.
What's better than that?
4- Mobility
Another benefit of weight loss smoothies is that they are the perfect meal if you're on the go!
You can literally toss it in your favorite shaker cup and head right out the door!
5- Easy To Add Nutrition
Low-calorie and packed with healthy vitamins and nutrients your body needs, smoothies are the perfect vehicle for getting your daily nutrients in.
Depending on your needs you can turbo-charge them with things like your favorite plant-based protein powder, green tea or coffee for a caffeine boost, or things like spirulina or moringa for additional health benefits.
6- Smoothies AreFilling
Depending on what you put in your weight loss smoothie and how much you drink, you can be kept full for hours. This means the need to eat less, a more enjoyable dieting experience, and faster weight loss.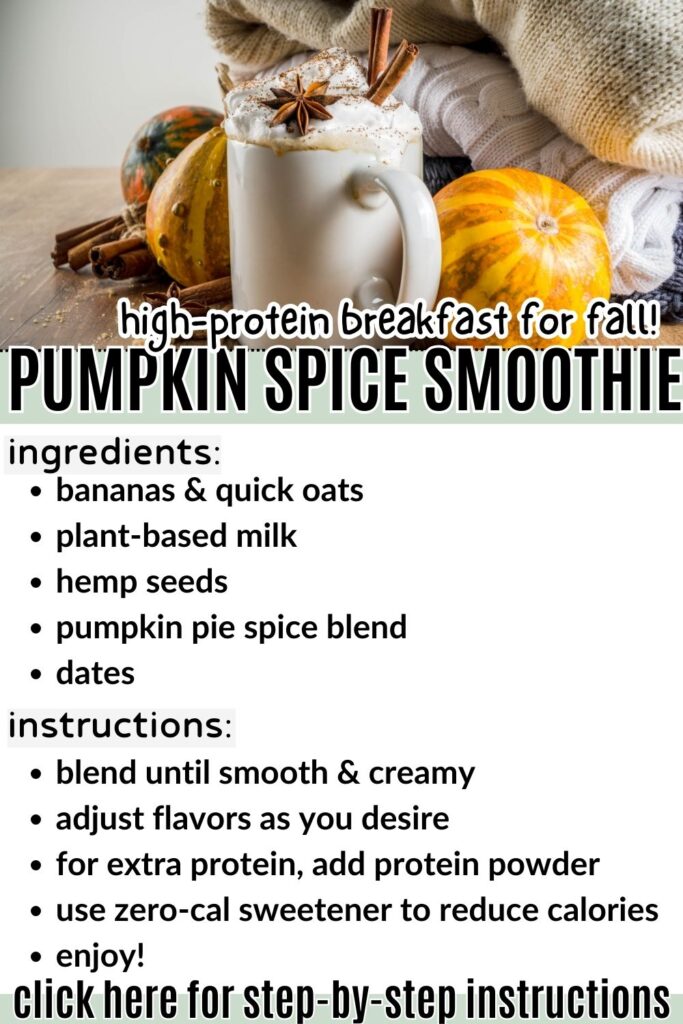 Ready in mere minutes, this dairy-free, vegan Pumpkin Spice Smoothie is perfect for anyone who wants to lose weight, feel great, and enjoy a delicious treat for those fall or winter months!
It's adaptable to your tastes – you can add protein powder before a workout, or reduce calories by subbing the dates for zero-calorie sweetener if that's your preference.
However you choose, this smoothie is an excellent choice for your morning or anytime you need a pick-me-up and want that extra spice vibe.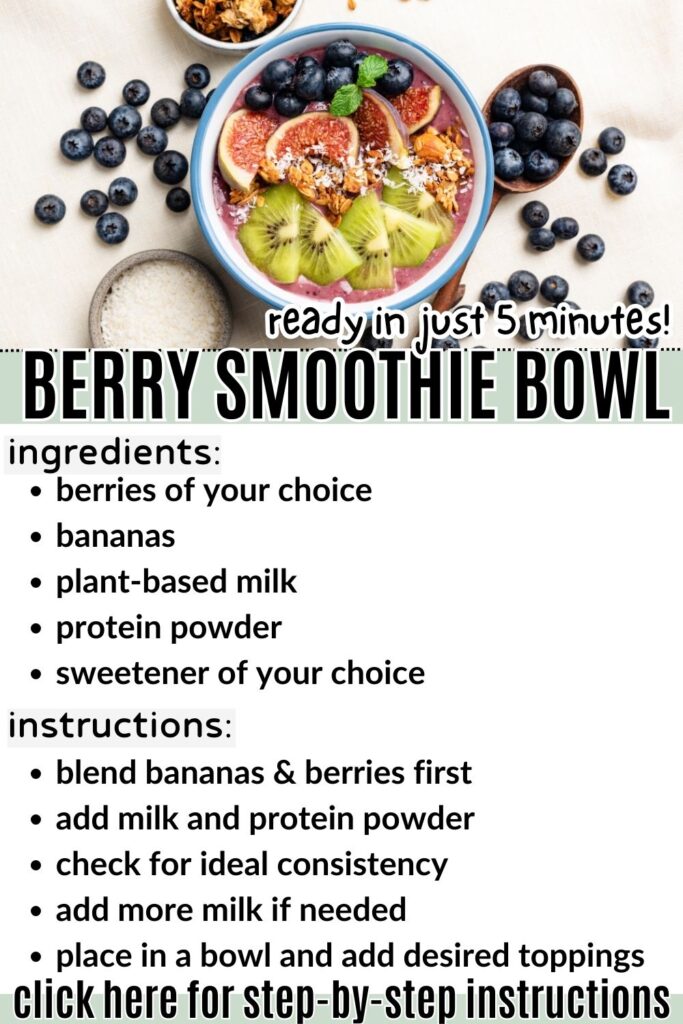 Check out this delicious Berry Smoothie Bowl that's perfect for those busy mornings on the go! Packed with protein and fiber, this vegan-friendly bowl will keep you energized throughout the day.
Plus, it only takes five minutes to prepare!
Start your morning right with this nutritious and refreshing option.
Who doesn't want to get rid of a bloated belly? From time to time we all need a digestive, tummy-flattening boost. This delicious smoothie is loaded with bananas, cucumbers, coconut water, ginger, and organic apple cider vinegar, which is a total beat at reducing bloating and gas.
Just pop all the ingredients in your blender (we recommend the NutriNinja) and enjoy!
Calories: 180
Carbs: 0g
Fat: 3g
Protein: 2g
This delicious weight loss smoothie has an extra special treat for sluggish early mornings – caffeine! Chocolate and java blend well to give you an energy-boosting, tasty treat that is loaded with protein to keep you full all morning long, well into the afternoon.
You will need protein powder for this one. This low-carb chocolate protein powder is delicious, and highly recommended!
Do you struggle to get your green veggies each day? If so, this delicious spinach smoothie will help with that! The pineapple hides the taste of the greens very well, leaving you a healthy liquid meal that is super-tasty, too!
Spinach is a powerhouse ingredient. It is loaded with vitamins A, K and C, as well as magnesium, iron, manganese and folate.
Calories: 250
Carbs: 31g
Fat: 15g
Protein: 3.8g
This gorgeous, delicious watermelon strawberry smoothie is not only tantalizingly sweet, but it has an omega 3 fatty acid powerhouse ingredient – chia seeds!
Chia seeds are loaded with antioxidants, and full of fiber and protein which combine to help you lose weight.
Head on over to Eat, Thrive, Glow for the recipe!
Okay, this apple, peanut butter, and banana smoothie is amazing. It has heavier ingredients and is so super-filling that it literally functions as a complete breakfast!
If you enjoy peanut butter, this is THE morning treat for you.
Loaded with healthy fats, plant-based proteins, tons of fiber and healthy carbs, not only is it a complete breakfast but it covers all three macronutrients (protein, fat, carbs) in one blow. Impressive, huh?
Head on over to Eat, Thrive, Glow for the recipe!
Calories: 377
Carbs: 70g
Fat: 10g
Protein: 8g
This delicious detox weight loss smoothie has spinach, unsweetened almond milk, frozen pineapple, banana and chia seeds. The almond milk makes it super creamy, while the chia seeds and spinach combine to give it a serious nutrient-boosting profile.
Toss the ingredients together in your NutriNinja and you'll be full of healthy protein, fat and carbs in no time!
Total: 272 calories
Last but not least, this peachy pear weight loss smoothie is absolutely mouth-watering! Sweet and creamy, it's loaded with vitamins and minerals to keep your body operating at peak performance.
Peaches contain fiber, potassium, magnesium, vitamin A and vitamin C. They reduce inflammation and contribute to glowing skin.
High in antioxidants, pears aid natural weight loss.
Unsweetened almond milk is also rich in antioxidants and helps with gorgeous, radiant skin.
Total: 272 calories
Weight Loss Smoothies – An Excellent, Healthy Choice
Losing weight can be tough, especially for busy women like you. But if you want it to be different this time around, you must make a change.
Fast, convenient, and complete, weight loss smoothies may be just the change you need to see real results in the mirror and on the scale.
Give these delicious, easy smoothies a try and feel the difference.
Get 21 Days Of Tasty Weight Loss Smoothies!
If you need to lose weight really fast and jumpstart your fat loss process, check out the smoothie diet!
It's a weight loss program that includes all the tools you need to lose weight, from a simple meal plan, tons of quick, easy, delicious smoothie recipes, and step-by-step instructions to walk you through the entire process.
It's a three-week program but honestly, you will start to lose weight in just two or three days.
After one week you'll be super happy. And if you make it to two weeks your mind will be completely blown!
It works so well you'll think it's magic. But it's not. It's real weight loss and fat loss that will give you the confidence boost you need.
Check out the smoothie diet right now!
Good luck!
P.S. If you're wanting to try it and see it at a discount, buy it now! When I first saw it for cheaper I hesitated, then the price went up and I had to wait a LONG time for the next discount (and it wasn't that much off.) Don't lose out and have to pay more than you need to!
Related Weight Loss Tips: