Enjoy a delicious vegan or plant-based Whole Wheat Banana Bread that's perfect for breakfast or as a snack.
This recipe combines the sweet flavors of ripe bananas and figs with the heartiness of whole wheat flour.
It's easy to make and will leave your taste buds satisfied.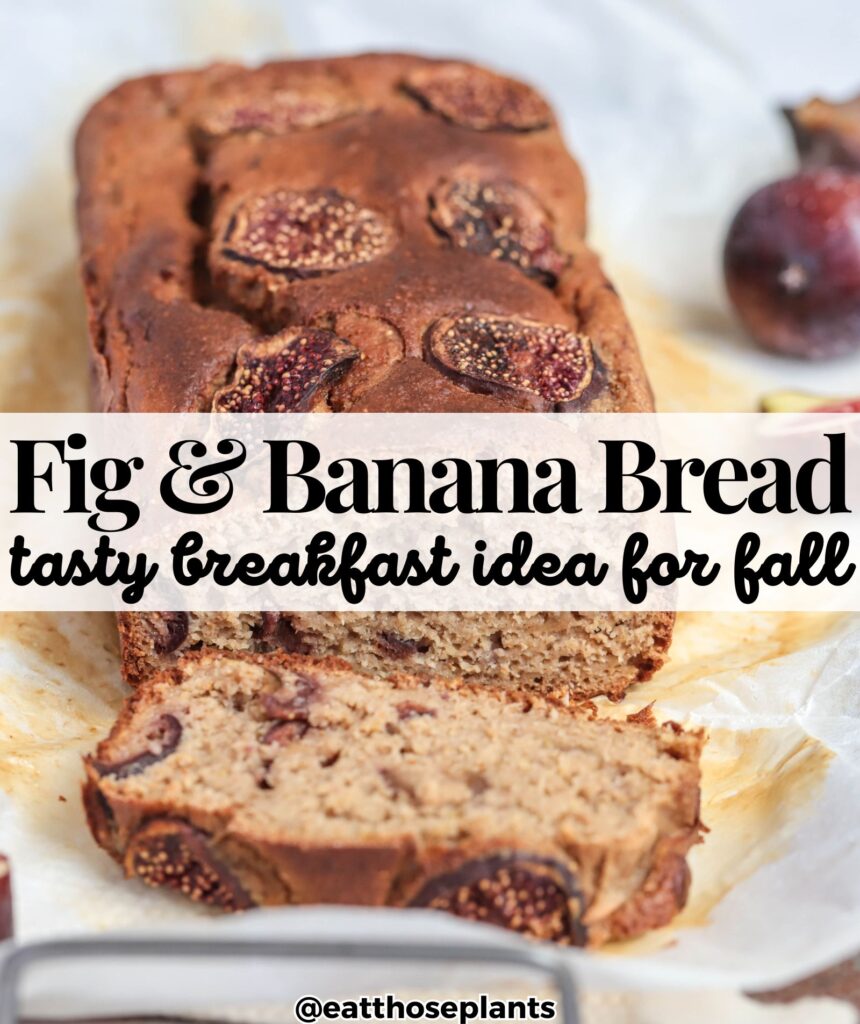 This post contains affiliate links, which means if you click a link and make a purchase, I may earn a small commission at no additional cost to you. See the full details
here
.
Nutritional Overview (per serving)
Servings: 10
Calories: 146
Fats: 1g
Carbs: 32g
Protein: 3g
Fiber: 4g
Ingredients
2 bananas, mashed
5 mashed figs + 2 extra, sliced for topping
2 flax eggs (combine 2 tbsp. flax meal + 5 tbsp. water)
4.2 oz. (120g) vegan Greek yogurt
2.7 oz. (80ml) maple syrup
1 tsp. vanilla extract
6.3 oz. (180g) whole wheat flour
1 tsp. ground cinnamon
1 tsp. baking soda
½ tsp. sea salt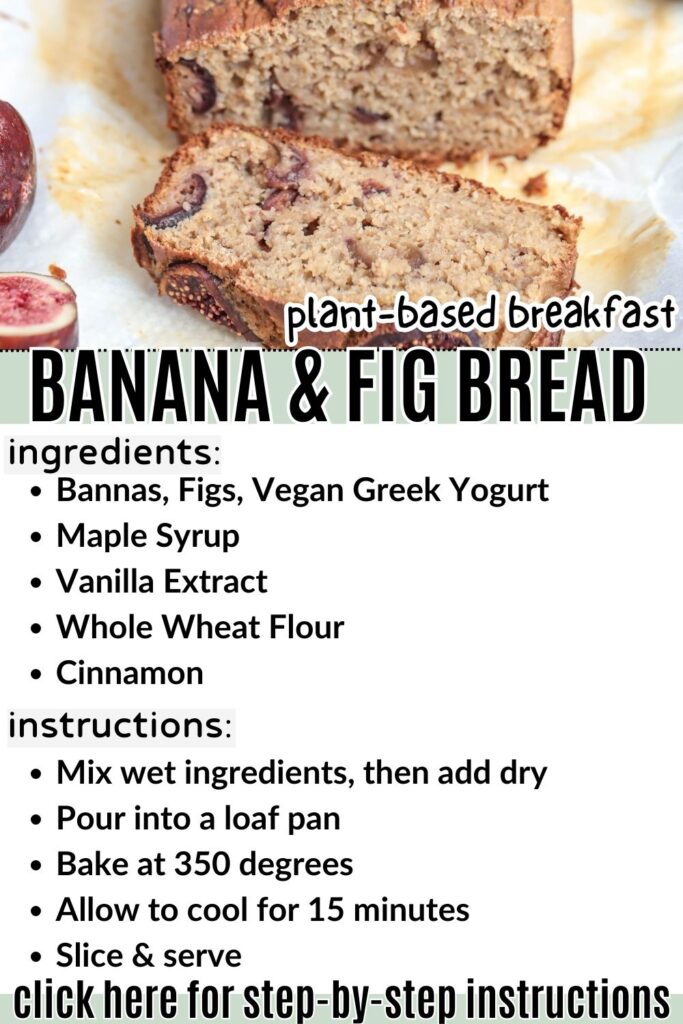 Cooking Instructions:
Preheat the oven: Preheat your oven to 350°F (180°C). Prepare a silicone loaf pan or line a regular loaf pan with baking paper.
Mix wet ingredients: In a mixing bowl, combine the mashed bananas, 5 mashed figs, flax eggs, vegan Greek yogurt, maple syrup, and vanilla extract.
Combine dry ingredients: In another bowl, combine the whole wheat flour, ground cinnamon, baking soda, and sea salt.
Mix wet and dry ingredients: Add the dry flour mixture to the wet ingredients and stir until just combined. Be careful not to overmix the batter; a few lumps are okay.
Pour into the loaf pan: Pour the batter into the prepared loaf pan and evenly distribute the 2 sliced figs over the top.
Bake: Place the loaf pan into the preheated oven and bake for about 55-65 minutes, or until a toothpick inserted into the center comes out clean. To prevent excessive browning, cover the loaf with foil around the 45-minute mark.
Cool: Allow the loaf to cool in the pan for 15 minutes before removing it and letting it cool completely on a wire rack.
Serve: Once cooled, slice and serve. This delicious Whole Wheat Fig & Banana Bread is perfect on its own or with a cup of your favorite beverage.
Serving Ideas:
Spread a bit of almond or peanut butter on slices for added flavor.
Enjoy with a side of fresh fruit or a dollop of Greek yogurt.
Conclusion
This Whole Wheat Fig & Banana Bread is a delightful and nutritious treat that's easy to make and even easier to enjoy.
With the goodness of whole wheat, sweet bananas, and succulent figs, it's a satisfying option for breakfast, a snack, or dessert.
Store any leftovers in an airtight container for 3-5 days at room temperature.
Enjoy!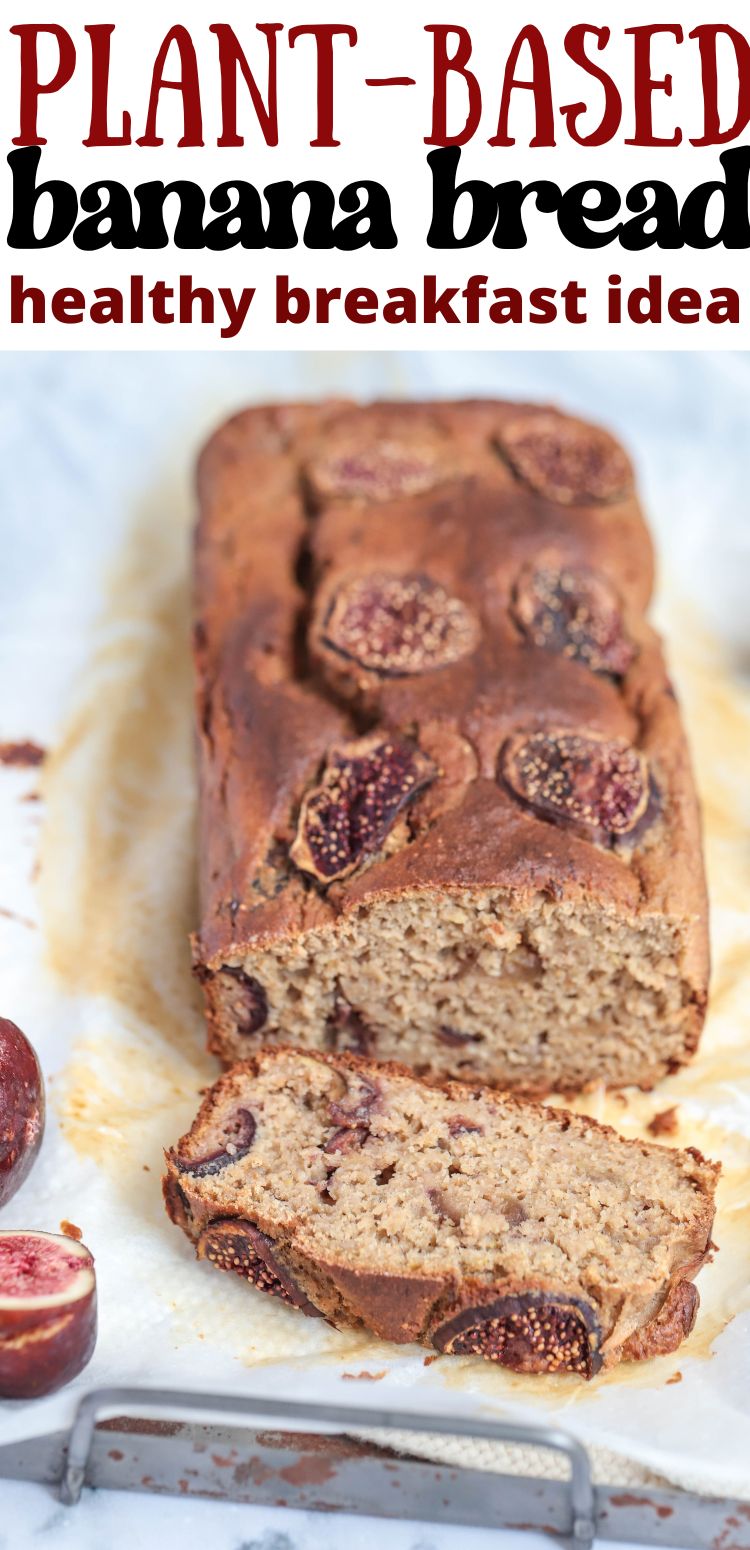 Try These Vegan Breakfast Recipes Next