Start your day with a delightful autumn-inspired twist on your morning routine – Plant-Based Pumpkin Overnight Oats!
This recipe is a fantastic way to savor the flavors of fall while treating yourself to a quick and nutritious breakfast that practically prepares itself.
With just a few simple steps, you can enjoy a creamy, dreamy bowl of pumpkin-flavored goodness in no time!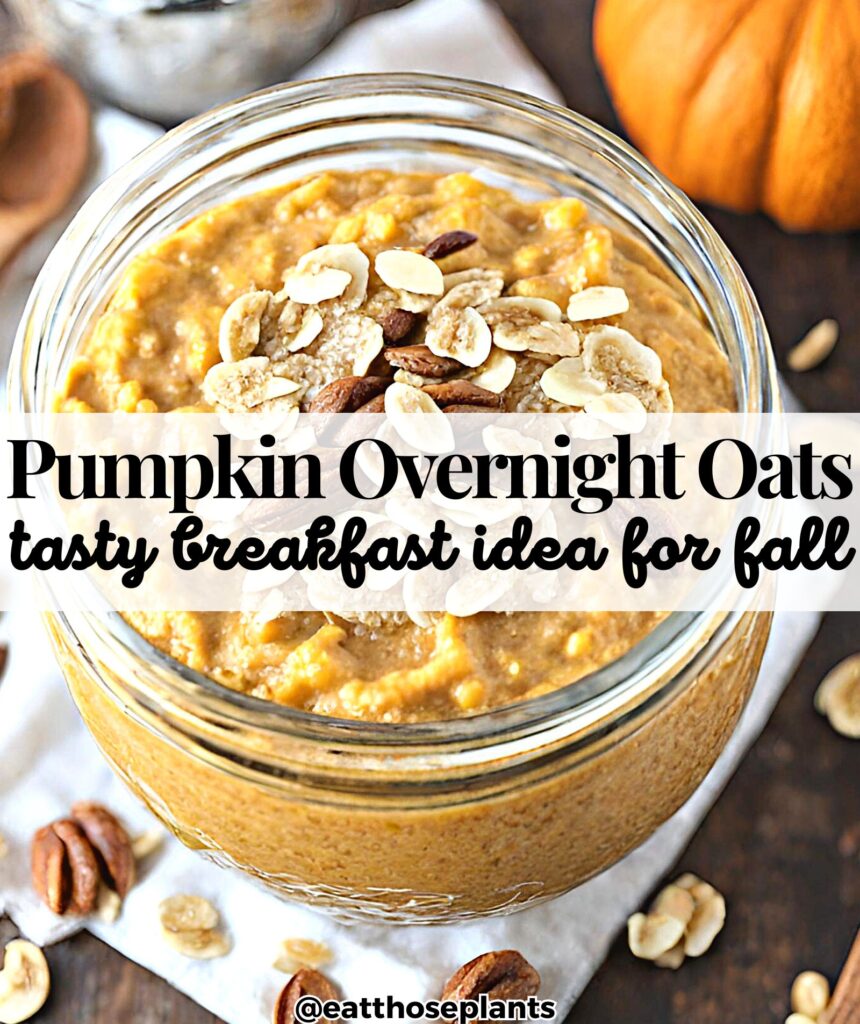 This post contains affiliate links, which means if you click a link and make a purchase, I may earn a small commission at no additional cost to you. See the full details
here
.
Ingredients
Plant-based milk (unsweetened, like cashew, almond, or soy)
Pumpkin puree (canned or homemade)
Maple syrup (or agave as an alternative)
Vanilla extract
Old-fashioned rolled oats
Instructions
In a mixing bowl, combine oats, pumpkin puree, maple syrup, vanilla extract, and pumpkin pie spice.
Pour in the plant-based milk and stir until all the ingredients are well combined.
Optionally, you can add your favorite mix-ins like fruits, nut butter, or yogurt for extra flavor and texture.
Transfer the mixture to mason jars or any airtight container.
Refrigerate the oats overnight or for at least 8 hours, allowing them to soak and develop their delicious texture.
How Long Do Overnight Oats Need to Soak?
For the best results, allow oats to soak overnight for a minimum of 8 hours. If you're in a hurry, a quick soak of 2-4 hours will suffice, but the texture may not be as perfect as overnight oats.
How Long Do Overnight Oats Last?
Properly stored in an airtight container in the refrigerator, these oats can last up to 5 days. They're at their best on days 1-3, but they're still good to eat on days 4 and 5, making them a convenient meal prep option.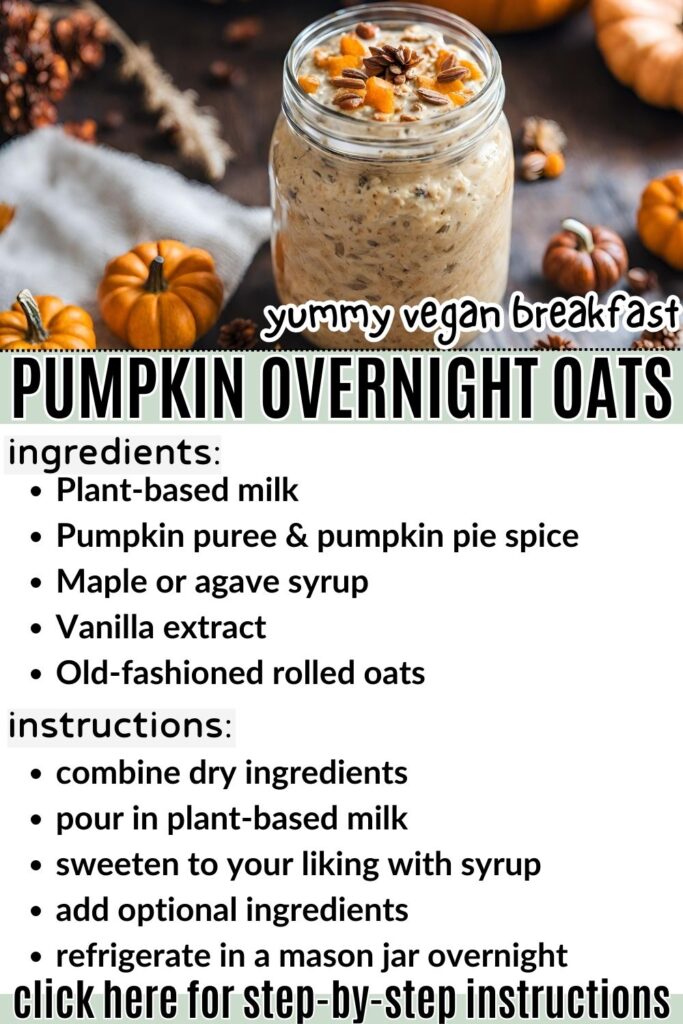 What Can I Mix In With My Oats?
Get creative with toppings! Add fresh or dried fruits, nuts, seeds, or spices to customize your breakfast.
Consider flavor combinations like blueberries and pecans with maple syrup, coconut flakes and almonds with a hint of lemon zest, or apples paired with cinnamon and maple syrup.
Drizzle extra maple syrup or your favorite natural sweetener for an added touch of sweetness.
Tips and FAQs
For a crunchy texture, reserve some toppings to add just before eating.
Feel free to experiment with different fruits, nuts, nut butter, granola, seeds, and spices.
Yes, you can warm up your overnight oats! Simply microwave them for a minute and add more milk if needed.
However, freezing overnight oats is not recommended as it can alter their texture and result in excessive wateriness.
Enjoy your Vegan Pumpkin Overnight Oats as a cozy, wholesome morning treat that's both easy to prepare and bursting with the rich flavors of autumn!
You'll have breakfast ready on the go in no time while nourishing your body for overall well-being.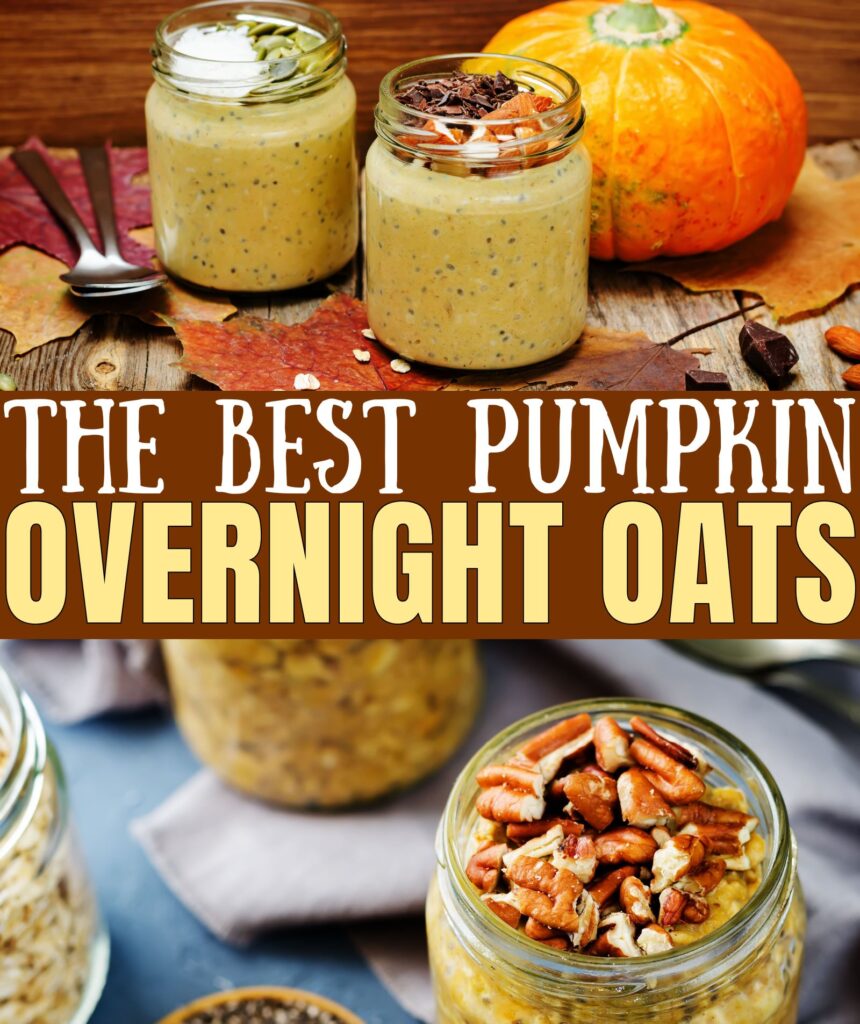 Try These Vegan Breakfast Recipes Next